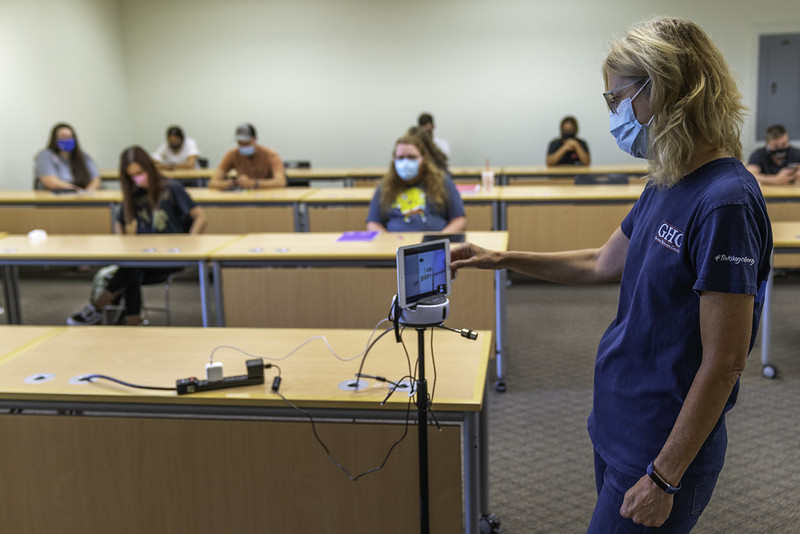 Georgia Highlands College has announced it will transition from housing Divisions to housing Schools this fall semester, allowing for more rapid and innovative curriculum design that meets workforce needs and prepares students for continuing their studies even into graduate school.
This announcement comes on the heels of several new programs that started this fall at GHC, including pathways in sports management, film production, graphic design, and a new bachelor's in health science.
As of fall semester, GHC will oversee five schools: School of Business and Professional Studies, School of Health Sciences, School of Humanities, School of Social Sciences and Education and School of STEM (Science, Technology, Engineering and Mathematics).
"The realignment of academic disciplines that came with the move from Divisions to Schools provides for greater opportunities to spread ideas and increase undergraduate research possibilities," Chief Academic Officer Dana Nichols said.
Nichols said an academic School represents a grouping of related academic disciplines with dean-level leadership dedicated to constantly advancing instruction and high-impact practices. This transition, Nichols said, will better impact a student's experience at GHC by allowing deans to have a more targeted focus.
For instance, bringing multiple Divisions together into the School of STEM under one dean allows for multidisciplinary studies and research that previously wouldn't have been as easy to organize.
"When I arrived at GHC in 2018, Academic Affairs was organized into five large teaching Divisions with deans but no Division Chairs," Nichols said, adding that in this situation the deans had to focus on scheduling and other operations rather than specifically targeting curriculum innovation and practices.
Division Chairs were put into place on Aug. 1, 2019 and have been highly effective in their roles, Nichols said, and getting the Division Chairs in place and trained was the first step toward the establishing of Schools.
"Now, the Division Chairs can assume some of the critical operational functions, such as scheduling, and free the deans up to focus on the big picture and long-term goals for their areas," Nichols said. "Regardless of what labels we use, GHC has always provided – and will continue to provide – top-notch education at an affordable price."
For more information about GHC, please visit highlands.edu