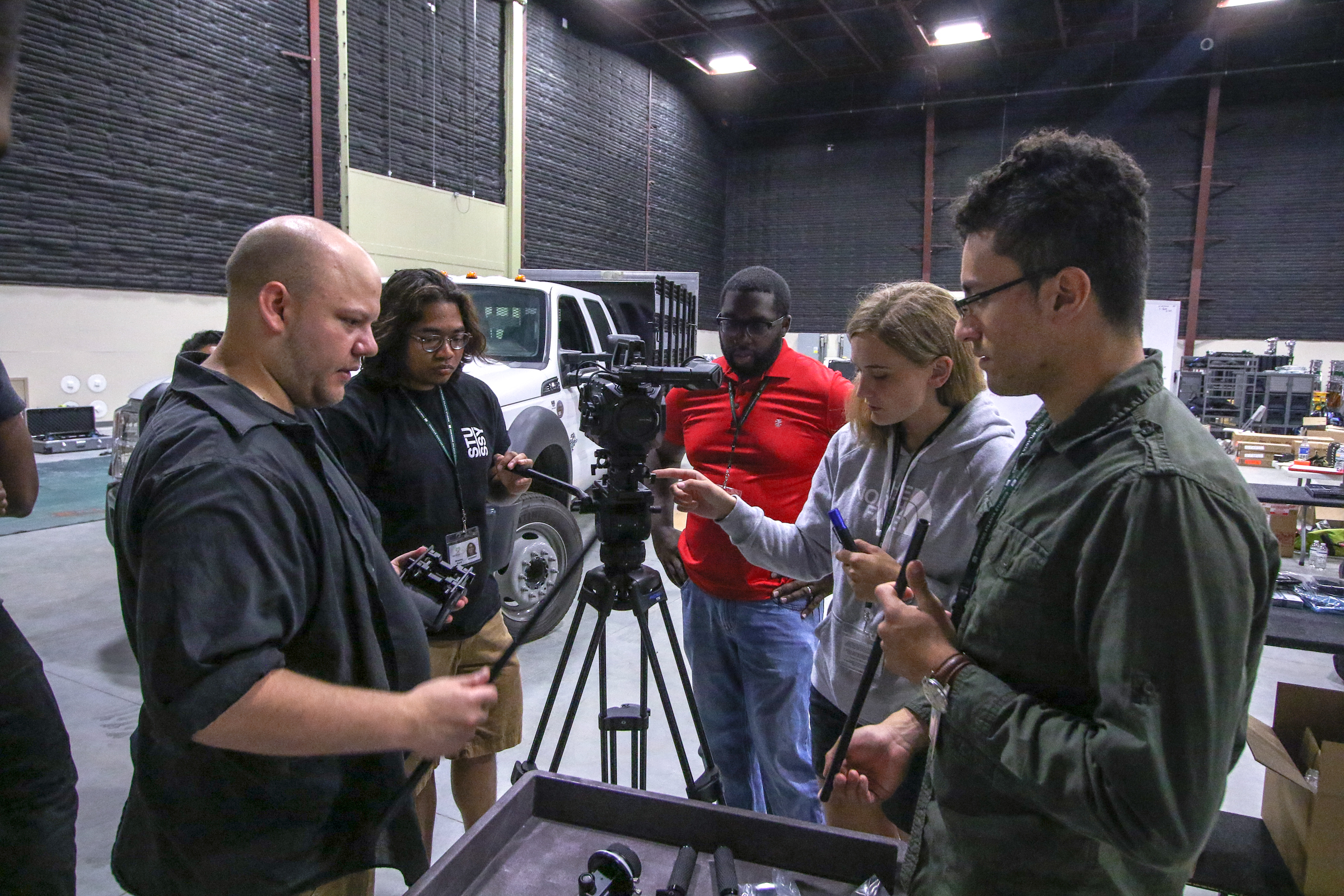 Students will now have the opportunity to learn the skills necessary to work in one of the fastest growing film industries right here in Georgia with a new pathway offered at Georgia Highlands College. Starting this fall, GHC students in the new film pathway will choose between a Film Studies or a Film Production track putting them on the path to join any one of the hundreds of productions currently being filmed in Georgia for movies like Marvel's "Avengers" series or Netflix shows like "Stranger Things."
"The ability to tell a story is a fundamental skill that proves useful in many modern career paths," Humanities Chair Seth Ingram said. "Visual media is now more than ever a common tool of human communication. The skills acquired in our film studies program not only focus on the art aspects of film but also on film as a vocation."
Since the State of Georgia's creation of the Georgia Entertainment Industry Investment Act, Georgia has established itself as a leading production hub for both feature films and television productions.
"This act has created a workforce need on film sets across Georgia," Ingram said. "The Georgia Film Academy (GFA) was established to serve this demand by training students to be set ready upon completing the program. The GHC and GFA partnership will provide students choosing a path in production to be workforce ready while allowing the student the option to continue their education towards a higher degree. The GFA Production Track capstones by offering students the opportunity to apply for an onset internship on a major production. The internships are focused within specific departments of the film production."
The Georgia Film Academy is a collaboration of the University System of Georgia and the Technical College System of Georgia created by state leadership to meet education and workforce needs for high demand careers in Georgia's film and creative industries.
The GFA higher education program offers rigorous professional training, and may lead to union-covered film and television production craft internships and placement in creative industries apprenticeships and jobs.
The Film Studies Pathway will prepare students to enter a baccalaureate program for film or media studies. Completion of the second pathway, Film Production, will earn graduates an associate degree, preparing students to jump immediately into an on-set film career.
The courses will be taught by Ingram as well as Assistant Professor of Humanities Amy Gandolfi.
Ingram, a film scholar, has been with GHC for years working in technology while also working independently as a writer, director and producer for the film and television industry. He is well known in the Rome community as the director of the Rome International Film Festival (RIFF), which will celebrate its 17th year this November.
Gandolfi, also a film scholar, taught the courses Film History, Film Aesthetics and Analysis, and Media, Ethics and Society at Georgia State University. Among other courses within the GHC's Communication Department, she has been teaching Introduction to Mass Communication at GHC since 2014.
In addition to instructors with a history in film, Georgia Highlands College has a track record of graduating students with undeniable talent in the field. For example, alumnus Keitravis Squire co-owns the independent production company Imprint Studios and has received numerous accolades and awards for his work. His short film, "Midnight Blue," won numerous awards, including Best Film Noir Short, Gold Award in the April 2018 Independent Shorts Awards, Special Mention in the 2018 Global Shorts competition and recognition as a Semi-Finalist in the 2018 Los Angeles CineFest.
"The Film Studies Pathways at GHC have already been met with an overwhelming response and the classes are filling up fast for the fall of 2020," Ingram said. "As the program continues to grow, GHC hopes to expand the offerings and the program in the not-so-distant future."
For more information on the Film Studies Program, please visit https://sites.highlands.edu/division-of-humanities/film. Interested parties can register for a virtual information session on June 16 at 10AM by visiting this link.
PICTURE: Students working in a class at the Georgia Film Academy. GHC has a partnership with GFA that provides students choosing a path in production to be workforce ready while allowing students the option to continue their education towards a higher degree.