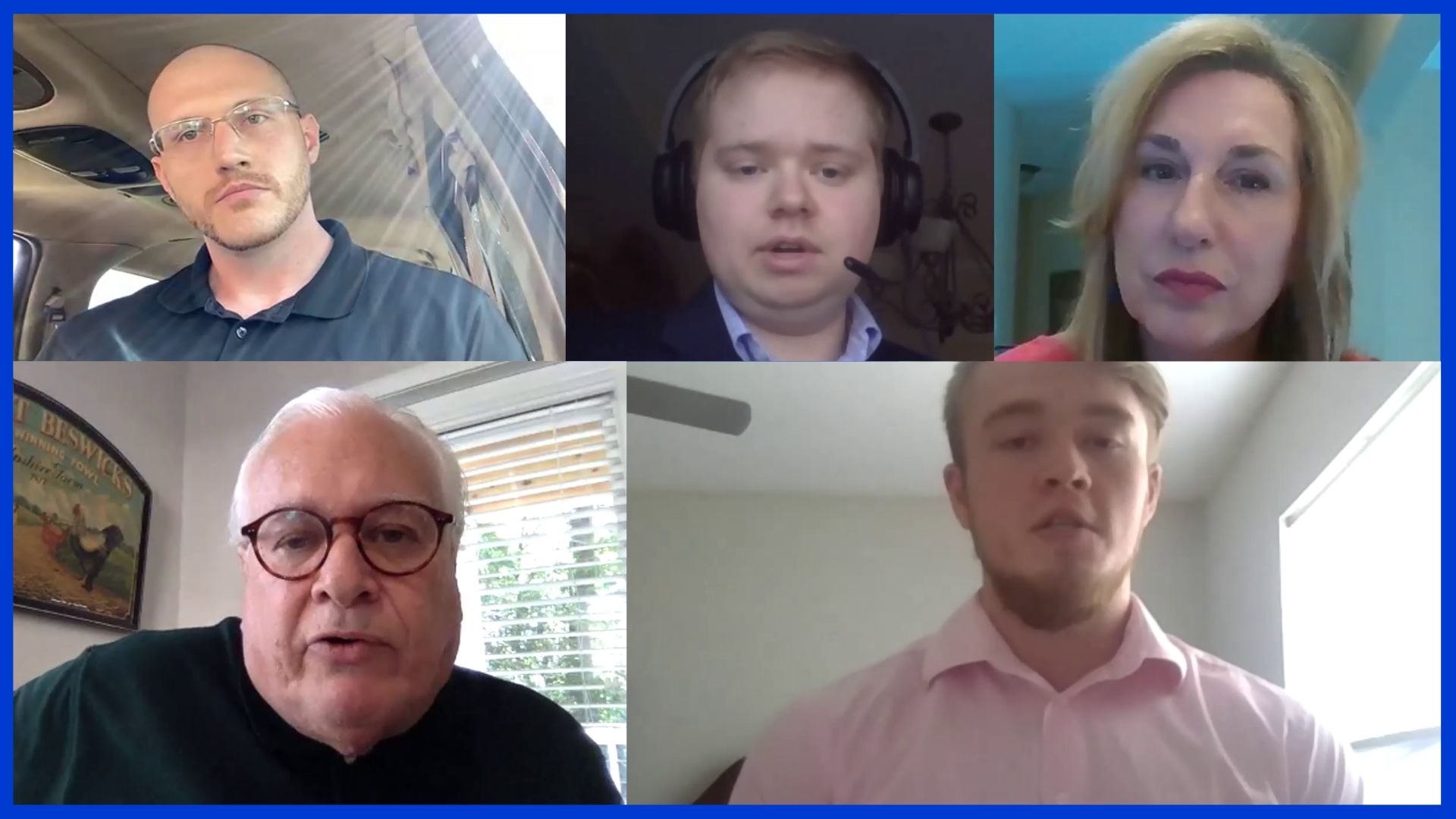 Some of Georgia Highlands College's best and brightest students have worked together to propose products and ideas to help make the world a better place. In the vein of the popular television series "Shark Tank," GHC launched the Charger Innovation Challenge (CIC) this spring, with a virtual competition being held in late April.
"The Charger Innovation Challenge is very similar to the television series 'Shark Tank,'" Social Sciences Curriculum Coordinator Patrick Manna said. "The only difference is that we are not asking students to create a business or marketing plan. One of the primary objectives is for teams to identify a void in the marketplace or a need that could be filled by an innovative product or service. Everyone knows 'Shark Tank,' so the general idea is to create a real-world experience pitching to real-world practitioners and to answer questions on their feet as well as encourage critical thinking. We want teams to be innovative and the bring us their 'Big Idea.'"
Manna said the CIC is based on the Bulldog Business Bowl he created while teaching at the Citadel, the military college of South Carolina. It was then modified by Social Sciences Assistant Professor Lucinda Montgomery specifically for GHC students.
"We have a unique student population at GHC, and my goal was to tweak what worked at the Citadel and format it in a way that would provide our student body the opportunity to present their ideas," Montgomery said.
Manna said the CIC is a new venture modeling format and that the questions that need to be answered through the presentations are about the potential market need and the big idea to fulfill that market need.
"Only the student's imagination will limit the ideas we receive," Montgomery said leading up to the competition. "The ideas presented could be anything from solving a problem they have encountered or even an idea to improve on something that is already in the market. The sky is the limit."
Some say that in business there are only detours, not roadblocks. This concept rang true as GHC converted to remote operations in March.
"I do not think the words 'cancel' or 'postpone' ever came to our minds when GHC moved to remote delivery," Montgomery said. "The question that came up in conversations between Pat and I was, 'How do we pivot and continue the competition for students? We go digital.'"
The creation of the CIC allowed students to draw from their classroom experience and translate it to a real-world scenario.
"We hope to provide a real-world experience, enhance student's critical thinking skills, engage local business leaders and provide an opportunity for students to show everyone what they are made of," Manna said. "All of this allows us to expand the GHC brand while engaging businesses and entrepreneurial leaders."
For a competition of such high caliber, only the best judges were recruited.
"Our judges were business practitioners with decades of experience," Montgomery said. "We have a vice president of marketing and customer solutions, a retired member of the New York Stock Exchange, the president of a media company, as well as a franchisee who operates high-traffic restaurant locations in the metro-Atlanta area."
This year's winner is Team Thayer, composed of students Scott Thayer, Nathaniel Carr and Brady Smith.
Smith, who attends the Cartersville site and is majoring in GHC's Bachelor of Business Administration Logistics and Supply Chain Management program, said the team's proposed product aided safety, convenience and sustainability.
"We proposed a disposable product that would be inexpensive to produce and easy to recycle that would allow those working in car shops and hangar's an added benefit of safety and convenience," Smith said. "Safety comes from the ability to immediately dispose of the product after coming into contact with oil or grease, as well as being made from a slick-proof material itself. Convenience, in that it allows those working in the shop to get into customers cars, as well as walk back inside the shop without risking tracking oil grease."
Smith said Thayer presented the idea to the group, and the creative process grew from there.
"As someone that watches 'Shark Tank' weekly and loves the idea of investing into companies, this was a great opportunity," Smith said. "Unlike 'Shark Tank' where I am looking at the show from the point of view of the investor only, I was able to look at our pitch from start to finish as the investor as well as the one with the product. So, while we weren't concerned with selling part of our company, we were concerned with selling our idea, which is the first step to any entrepreneurial beginning."
He said the Charger Innovation Challenge had a direct correlation with what he has learned in the classroom.
"Marketing, procurement, outsourcing as well as our assignments on company strategies has taught me the ways many businesses have been able to begin as an idea, and how to coherently come up with a strategy to get a business off the ground," Smith said.
The long-term goal of the CIC is to evolve into a full-fledged business plan competition that would take place over a full academic year.
PICTURE: From top left to bottom right: Scott Thayer; Nathaniel Carr; Robin Seikerman (Vice President Marketing and Customers Solutions at The Shippers Group); GHC Social Sciences Curriculum Coordinator Patrick Manna; Brady Smith