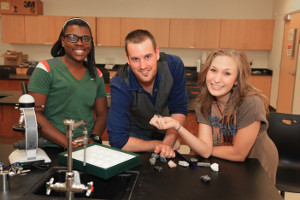 The Douglasville site opened in 2010 and includes classrooms, labs, a student lounge and an auditorium. Serving over 500 students, this site services student needs with a range of resources and activities.
Location & Contact Information
5901 Stewart Parkway
Douglasville, GA 30135
Phone: 678-872-4200
Fax: 678-872-4235
Site photos & map
Hours of Operation
Site Hours are Monday – Thursday 8:00AM – 5:30PM, Friday 8:00AM – 12:00PM
Counseling Hours are Thursday 8:00AM – 5:30PM, and by appointment
Disability Services/Career Counseling Hours are by appointment
The Library is open Monday – Thursday from 8:00AM – 6:00PM
Tutorial Center Hours are Monday & Wednesday 9:00am – 3:30PM, Tuesdays & Thursdays 9:00AM – 2:00PM
Resources:
A Letter from the Campus Dean:
Connie Watjen
cwatjen@highlands.edu | 678.946.1103
Greetings and welcome to Douglasville!
Georgia Highlands College, part of the University System of Georgia, is honored to provide accessible educational opportunities to the residents of Douglas and surrounding counties. Our location is a state-of-the art facility, offering over 30,000 square-feet of instructional space and is the most recent addition to GHC's strategic expansion. The site, which opened on June 1, 2010, includes four classrooms, three computer labs, two science labs, a spacious student lounge and auditorium. This will allow students to complete many of their college core requirements at a convenient location.
If costs are a concern, our tuition rates are consistently among the lowest in the state. Our caring faculty and staff are more than ready to help you navigate the complexities of college life. Your success is important to us. Our robust website has information on what the college has to offer. If you are curious about becoming a student at GHC, either give us a call or schedule a tour. We would be more than happy to assist you.
Wishing you the best in your endeavors,
Connie Watjen
Campus Dean