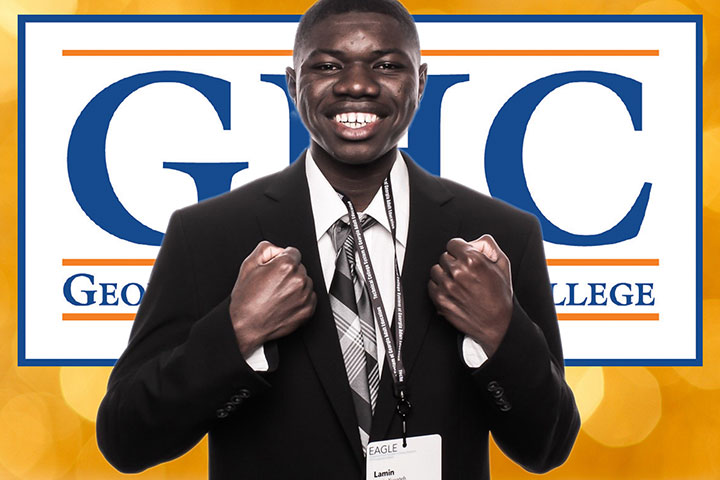 For Georgia Highlands College graduate Lamin Kuyateh, attending and graduating from Georgia Highlands College was both a milestone in his academic career and a gateway for engaging and learning about American culture.
He will be joining other graduates during GHC's commencement on Thursday.
Originally from Gambia, Kuyateh came to the U.S. in 2014 for greater education and career opportunities as well as to experience a different lifestyle.
"My experience here at GHC was phenomenal and the faculty and staff are incredible," Kuyateh said. "They work closely with students by providing them all the resources and tools needed to achieve their goals."
As a pre-engineering major, Kuyateh plans to continue his education upon graduation and work toward a career in mechanical engineering.
"I want to earn a master's degree in mechanical engineering technology, so I can work for the big companies like Chevrolet, Dodge – and so I can open my own company," Kuyateh said.
Part of his experience at GHC included his work in the GHC student organization Brother 2 Brother (B2B), which exists to provide positive solutions to the educational, cultural, social, spiritual and intellectual needs of African-American and Latino male college students at GHC as well as opportunities for leadership development and campus and community service.
"My brother, Amadou Kora, brought the club to my attention before getting accepted to GHC," Kuyateh said. "During my first semester, I met the club organizers, and they went deeper in explaining the goal of the club. That's when I decided to join. The activities we do in club were so motivational and inspiring."
In addition to his involvement in B2B, Kuyateh said GHC provided him with an opportunity to engage in many new activities as well as to travel to some of Georgia's historical sites. Kuyateh's time in the classroom was positive as well.
Dean of Humanities and Director of Brother 2 Brother and Georgia Highlands African American and Minority Male Excellence (GHAME) initiative Jon Hershey said Kuyateh has shown dedication to academics as well as a strong work ethic and a willingness to participate in the GHC experience in as many ways as he can.
"Lamin has been a consistent member of Brother 2 Brother and shows a sincere concern for the welfare and success of his brothers while maintaining a job and attending GHC full time," Hershey said. "As a native of the Gambia, Lamin is one of a growing number of international students at GHC, and we have learned from him as much as he has learned from us. I am proud to see him graduate this spring."
Kuyateh resides in Austell and attended classes on the Marietta and Cartersville sites. Outside of the classroom, he enjoys watching and playing sports including basketball and soccer as well as learning how to work on cars.