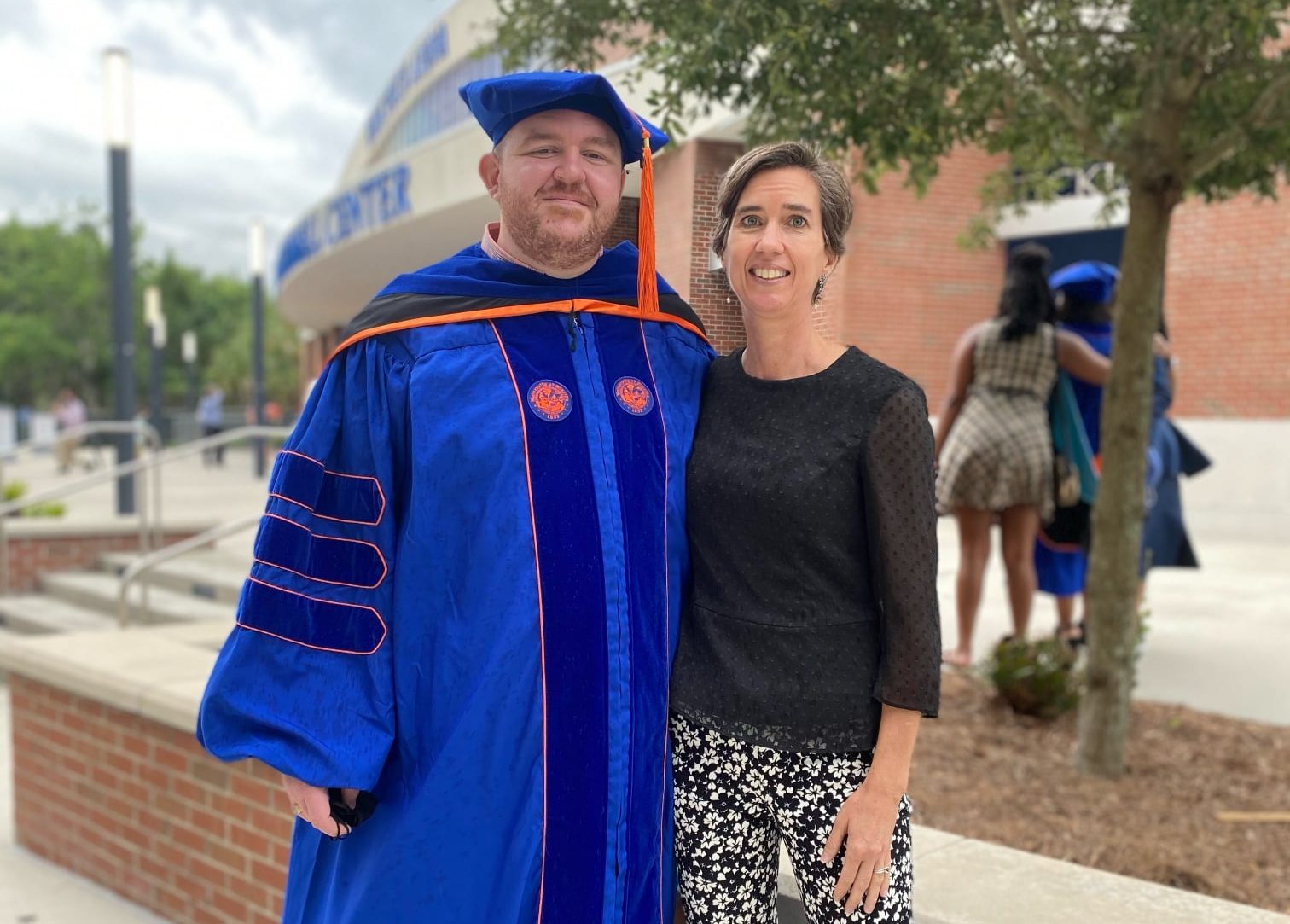 On April 29, Cory Lowe walked across the stage to celebrate earning his PhD in Criminology at the University of Florida, a little more than a decade after earning his Associate of Arts in Political Science at Georgia Highlands College (GHC).
Although Lowe initially received his PhD in 2020, commencement ceremonies were put on hold at the time. Participating in last month's graduation ceremony reminded Lowe of earning his first degree at GHC, which laid the groundwork for his academic and professional career.
"I dropped out of the first college I attended because of family and personal challenges, but when I had the opportunity to return to higher education, Georgia Highlands College provided an excellent educational experience and mentoring," Lowe said. "This enabled me to restart my journey through higher education on a much better footing."
He said he also appreciates the value of GHC's low-cost tuition, which allowed him to afford to continue on the path of higher education, being able to receive an excellent education near home without going into an excessive amount of debt.
Attending classes both at the Floyd campus and Cartersville site, Lowe was heavily involved in Phi Theta Kappa (PTK) honor society. He said the organization and the faculty involved provided networking opportunities and social support.
"Phi Theta Kappa also gave me my first introduction to academic conferences, which was very helpful since I have gone on to present research at many regional and national conferences," Lowe said.
Lowe is currently employed as a research scientist at the Loss Prevention Research Council in Gainesville, Florida, where he resides, researching how to prevent retail crimes such as theft, fraud and violence.
In addition, Lowe holds a Bachelor of Science in History and Political Science at Shorter University as well as a Master of Arts in Social Sciences as Georgia Southern University. He said that graduating from GHC and going on to earn his PhD would not have been possible without the influence of his family and friends.
"If I had moved away to complete my associate and bachelor's, I would have missed even more years with my family and my community," Lowe said. "I am thankful Georgia Highlands College exists because it gave me several additional years with my family and community before I moved off for graduate school."
Although the people, quality of education, mentoring, cost and convenience are all factors Lowe said helped shape his opinion of GHC, he added he also has an emotional tie to the college: "Georgia Highlands College will always hold a special place in my heart because it is where I got a second chance at a college degree."