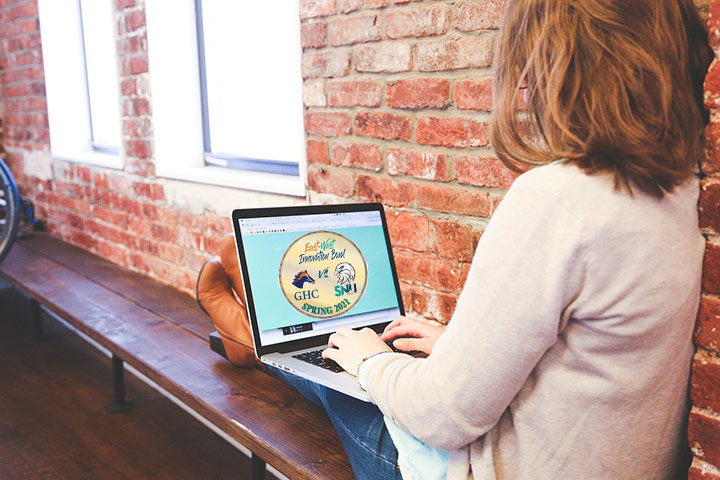 Inspired by the Charger Innovation Challenge (CIC), Georgia Highlands College (GHC) and Sierra Nevada University (SNU) will partner to present the virtual East-West Innovation Bowl (EWIB) on April 16.
The EWIB will follow the same format as the CIC. Similar to the popular television series "Shark Tank," teams will present their ideas using an elevator pitch followed by questions from the judges.
Instead of asking students to create a business or marketing plan, one of the primary objectives will be for teams to identify a void in the marketplace or a need that could be filled by an innovative product or service.
The East-West Innovation Bowl Friday will be livestreamed on YouTube on April 16 from 3-5PM. The competition will be judged by faculty and SNU/GHC Mentors: https://youtu.be/w08BMpxLR2Y
Students will have 3-5 minutes to share information about their idea in a live pitch, then they will the respond to questions from judges for up to 5 minutes.
Judging Criteria includes: Innovation/Uniqueness, Feasibility, Market Potential, Customer segments, Value proposition, Products and services, Revenue streams, Channels, Key resources, Cost structure, Content and Presentation and a Business Model Canvas
GHC's Pat Manna came up with the idea for CIC and EWIB based on the Bulldog Business Bowl he created while teaching at the Citadel, the military college of South Carolina. Both are non-academic exercises and innovative ideas can come from anyone of any background.
Manna is currently the Executive Advisor to Alan Nichols, who serves as Dean for Innovation and Curriculum for GHC's School of Social Sciences and Education. Over the past year, he has also worked as a curriculum advisor with GHC's School of Business and Professional Studies.
"Pat has been on a mission to bring experiential learning to students across the United States," Assistant Professor of Logistics and Supply Chain Management Lucinda Montgomery said. "The East-West Innovation Bowl is a natural progression of finding ways for GHC students to connect to other higher education institutions."
Both Montgomery and Manna have spent many hours working with SNU to develop judging rubrics and behind the scenes initiatives to bring this competition to GHC. Through Manna's business contacts with other institutions, the East-West Innovation Bowl was created.
Montgomery said by exposing students to a wide variety of cultural backgrounds and businesses they learn and experience diversity, equity and inclusion from a business perspective.
"The overall goal is to make the East-West Innovation Bowl a staple for GHC students," Montgomery said. "Although the CIC and the EWIB are a collaboration between the School of Business and Professional Studies and the School of Social Sciences and Education, the hope is that other schools will see the value-added proposition for students from any pathway."