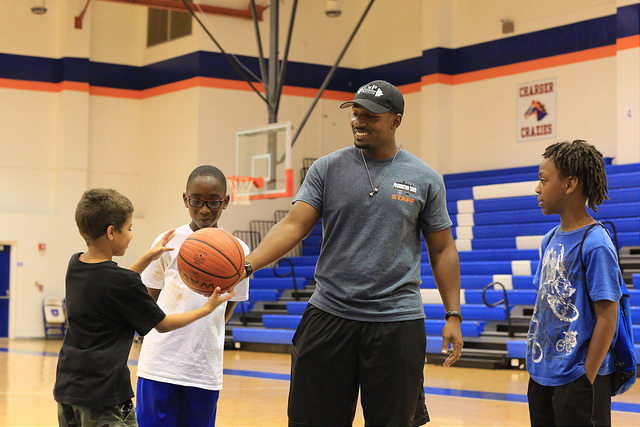 The 12-year-running Foundation Camp at GHC has been around long enough to prove it is changing lives. It returns this summer from May 30th to June 9th.
The camp, which is one of several partnerships between the 100 Black Men of Rome-Northwest Georgia and Georgia Highlands College, is funded by generous donors and the GHC Foundation, giving students the opportunity to attend the camp free of charge, including transportation and a breakfast and lunch.
The camp focuses on academics, athletics and enrichment courses intended to build self-respect and confidence, and to allow the young men to experience college. These two weeks each year are making a positive impact for its attendees. Just ask former camper and current volunteer Corey Pitts.
Every year, Pitts blocks out two weeks in his calendar. Nothing interferes with those two weeks. Not his business. Not his friends. Not his family.
When he was a kid, those two weeks helped mold him into who he is today. While he was in college, those two weeks motivated him to finish. Now, those two weeks are a chance for him to be an example and mentor to hundreds of boys between the ages of 10 and 14.
"This camp means a lot to me. I feel like I can help change those kids' lives. They just need some guidance and inspiration," he said. "Not all kids are going to be an NBA player. They want to be an NBA player, but there's more out there than just sports. You can be a mentor to the next set of kids. You can be a superstar in your own field. It's not about quick money. There's more to life than what you see from your family. Your family may have a hard time, so you think you have to do what they do, but you don't have to do that."
Pitts stated the camp helped him build the foundation he needed to become successful. After he graduated college, he started his own personal training business called CMP Training, where he works one-on-one with professional athletes, kids, college students, weight loss, and even a client as old as 93.
Pitts said the camp teaches many fundamental lessons, including what it means to be "successful."
"You don't have to be an NBA star to make it," he said. "You can own your own business like me, coming from the same background. You can be somebody. You just have to make it happen."
Well over 100 kids attend Foundation Camp each year and enjoy numerous activities, including canoeing, tennis, basketball, soccer, STEAM-related projects, biology and chemistry projects utilizing liquid nitrogen and a hovercraft, derby car racing, storytelling with live animals like an alligator, and more.
Foundation Camp is free, but has a limited number of spaces available that are filled on a first-come, first-serve basis.
To apply or for more information, contact Jon Hershey at jhershey@highlands.edu.