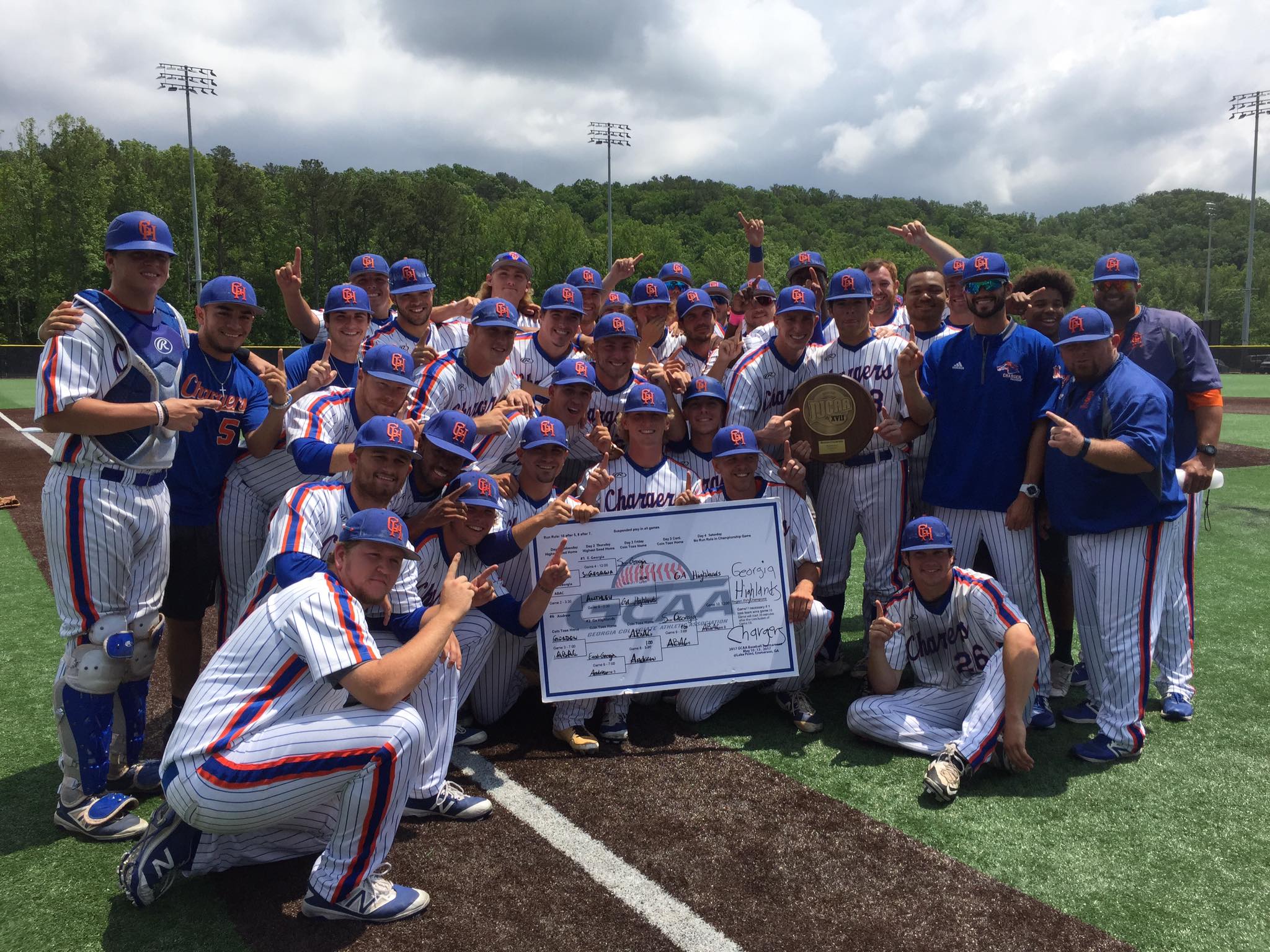 A win four years in the making came Saturday for the Georgia Highlands baseball team as the Chargers beat Abraham Baldwin Agricultural College 8-3 at LakePoint to clinch their first-ever GCAA championship.
Colby Taylor overcame a shaky first inning to throw a complete game and every Chargers starter either scored or drove in a run as Highlands completed an undefeated run through the GCAA tournament by beating ABAC.
First baseman Nick Fink squeezed the final out in his glove after a groundout to second to set off the celebration as the Chargers dogpiled on the infield.
Players dumped a bucket of ice water over coach Dash O'Neill, who, in his first year at the helm of the Highlands baseball program, has now led the Chargers to previously unreached heights.
"I feel great," a freshly-drenched O'Neill said. "The guys came through, I put all my trust in them today ... and they rewarded my faith by playing outstanding and winning a championship."
The win booked Highlands a ticket to next week's East Central regional, a four-team, double-elimination tournament. The winner of that tournament will head to the JUCO World Series in Grand Junction, Colorado.
Seven pitches into ABAC's half of the first inning Saturday, it didn't look like the Chargers were going to have that opportunity.
Stallions' leadoff man Bryce Shupe homered down the left-field line on Taylor's third pitch of the day and, after a quick groundout, second baseman Justin Russell repeated the feat, hitting a no-doubt bomb to left-center on the first pitch.
"I really wasn't that upset about it," Taylor said. "I was throwing strikes, I just left a few pitches up, and they hit them. After that, I knew if I was going to miss, it had to be down."
Taylor settled down from there, striking out the next hitter on three pitches and getting out of the inning, and Highlands wouldn't stay behind on the scoreboard for long.
Caleb McElwaney led off the top of the second with a single and Nick Piccapietra doubled him home as the ABAC left fielder couldn't come up with the ball cleanly in the corner.
Piccapietra scored later in the inning on a passed ball to tie it, and Highlands took the lead an inning later as Jonathan White hit a leadoff single and scored with two outs on McElwaney's single.
Taylor, settling into the game, gave up an unearned run in the bottom of the third when third baseman Brandon Bell couldn't handle a ground ball with runners on first and third, but picked up a double play one batter later to get out of the inning.
From there, Taylor wouldn't allow another run. In fact, he surrendered just one baserunner from the fourth through the eighth inning, and that was on a strikeout pitch in the fourth that McElwaney couldn't handle, allowing the runner to reach.
"My curveball, off-speed was really working well today," Taylor said. "They wanted me to keep throwing it and I kept throwing it."
Meanwhile, his offense was pulling away.
The breakthrough came in the top of the sixth, and it was keyed by the bottom of the lineup.
No. 7 hitter Grant Bodison doubled to right-center to lead off, and Devin Bilardello's ground ball was mishandled by the ABAC shortstop, who compounded his error by recovering and firing wildly past first base trying to catch a retreating Bilardello.
That misplay allowed both runners to move up a base, scoring Bodison with the eventual winning run and putting Bilardello in scoring postion at second.
He moved up to third on Nick Fink's groundout and scored on Bronco O'Brien's infield single, but the Chargers still weren't done.
White was hit by a pitch and Matthew Vaccaro's double both scored a run and killed Highlands' momentum, as O'Brien trotted home from second but White, trying to score from first, was cut down at the plate on a relay from left field.
The Chargers, with a 6-3 lead at that point, scored again in the eighth as Bell's fielder's choice grounder brought home O'Brien, and once more in the top of the ninth as Fink doubled home Bodison.
"This entire tournament, all we've done is get whatever we need," O'Neill said. "The offensive guys, they stepped up."
That was more than enough support for Taylor, who didn't run out of gas until the ninth despite never having thrown a nine-inning complete game before.
The Chargers' ace loaded the bases with two outs in the ninth, but O'Neill let him finish his own game and Taylor responded by getting ABAC right fielder to bounce out to Israel Zackery at second base, making the championship official and the celebration rowdy.
"It was a push. I had to dig down and find it," Taylor said. "But I found a way to get through it."
Taylor gave up just five hits, with four of those coming in either the first or the ninth. He struck out 10.
On the offensive side, McElwaney had three hits in his first three at bats and finished 3-for-4 with a walk. Bodison and Vaccaro each had two hits, including a double.
It's already been a wild ride for the Chargers in O'Neill's first season, and they'll have the chance to keep it going next weekend in the regional.
That will take place in Dyersburg, Tennessee, with Highlands joining GCAA regular-season champion East Georgia and the regular-season and tournament champions from Region 7.
"It's great. These guys are conference champions," O'Neill said. "They went from being under .500 to being on top of the league. ... They'll get to feel this for a while and we'll turn back around and see if we can't keep this going."
AS SEEN IN THE DAILY TRIBUNE NEWS: http://daily-tribune.com/sports/item/8002-ghc-wins-first-ever-conference-title