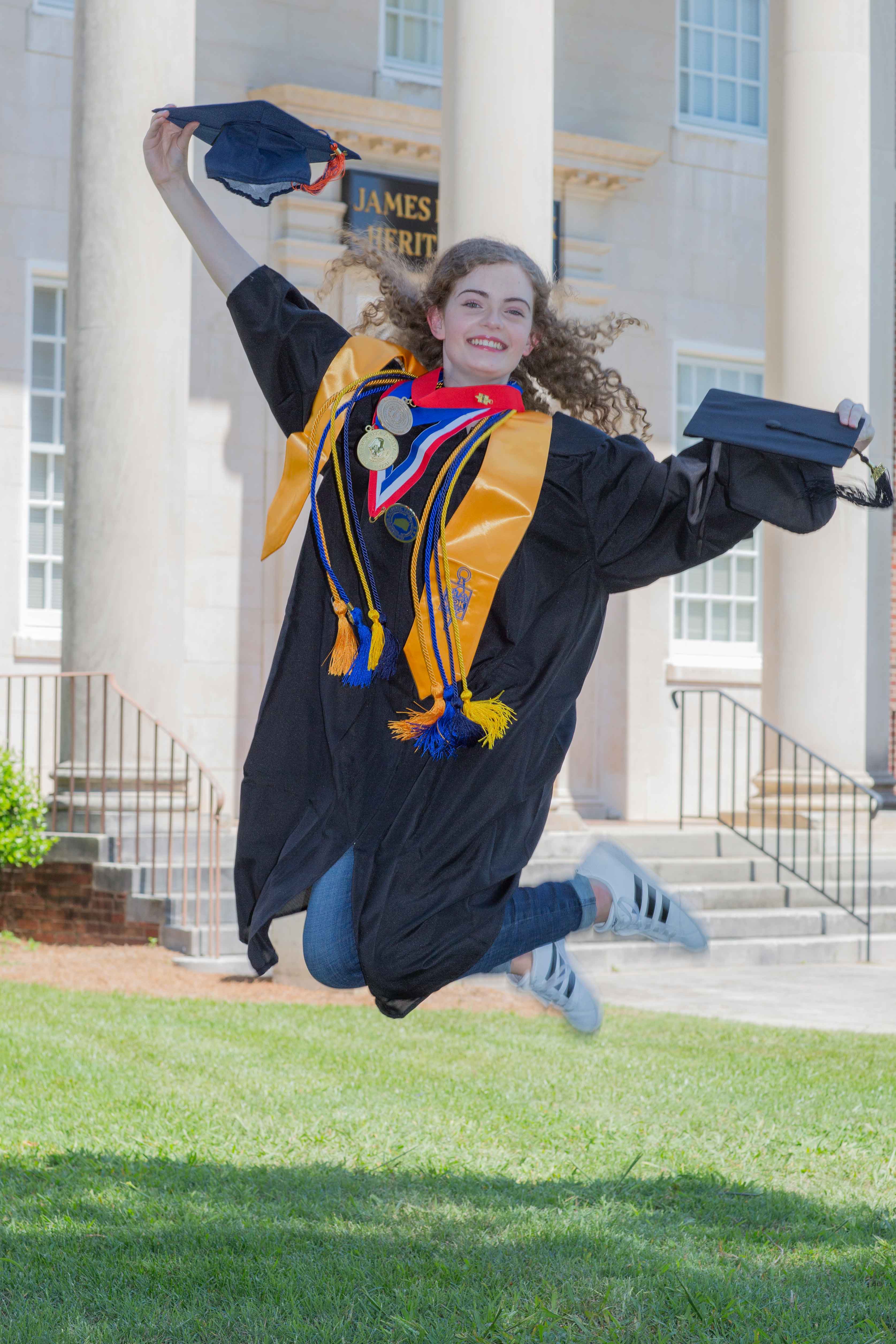 Mary-Kate Billings will be joining 689 other college graduates at Georgia Highlands College's Commencement on Saturday, May 13th, at The Forum River Center in downtown Rome at 1PM. The only difference is Mary-Kate is a high school student who will be walking in a college graduation several weeks before she walks for her high school graduation.
She joins five others who will also be throwing two caps in the air this graduation season: Macie Campbell, Judy Standeford, Lillian Bell, Shayna Ingram, all from Rockmart High School, and Sydney Greenway from Cedartown High School.
Each of these students are part of the Dual Enrollment program at GHC. Georgia's new dual enrollment program allows high school students (9th – 12th grade) to earn tuition-free college credit while working on their high school diploma.
Mary-Kate knew as soon as she started the program she wanted to finish college the same time she graduated high school at Georgia Cyber Academy. Her high school graduation is June 3rd at the Infinite Energy Center in Duluth.
"When I first started attending GHC, my advisor informed me that obtaining an associate degree could be done through the dual enrollment program. They said, however, that it would take large amounts of work and determination. Right at that moment, I made it my goal to graduate from GHC," Mary-Kate said.
Mary-Kate admits handling two course loads, both high school and college, has been difficult, but she says the key to success lies in staying involved.
In high school, Mary-Kate was active with the National Honor Society, Beta Club, and Meliora Honor Society. In college, she spent her time with Phi Theta Kappa (PTK), student newspaper the Six Mile Post, and Emerging Leaders. In her time with PTK, Mary-Kate was selected as a Coca-Cola Academic Team Bronze Scholar and selected as one of GHC's All-Academic Team members.
She also received the first-ever Janet Walker award, which was given by the Georgia Region of Phi Theta Kappa and is given to an individual that exemplifies devotion to academics, service, and advocating the benefits of academic excellence.
Mary-Kate is proud to have all this success under her belt, but notes the true prize is earning a college degree at 18.
"While I had hoped this moment would come when I first started this journey, it is still surreal to actually be at this point in my academic career. It took a lot of work and late nights spent studying, but I never turn down an academic challenge. This experience has paid off in unprecedented amounts, thanks to the support of GHC professors and administrative staff."
Mary-Kate will be receiving her associate degree in communications this weekend. She says GHC helped her every step of the way.
"My favorite part of GHC is its strong sense of community. Both inside and outside of the classroom, I have been able to connect with countless individuals, whether they be my peers or professors. It is truly a supportive and inclusive environment, which has allowed me to exponentially flourish as both a student and an individual," Mary-Kate said.

She went on, "The college didn't view or label me as a dual enrollment student. They simply saw me as an individual with potential, willing to make the most of my time here. Attending GHC has been one of the most enjoyable and beneficial experiences of, not just my academic career, but also my life."
Mary-Kate plans to transfer to Kennesaw State University. She would like to pursue a bachelor's in public relations with a minor in English. She would like to continue on and eventually earn her doctorate and become an English professor.
For more information on GHC or the MOWR program, please visit: https://www.highlands.edu/admissions/how-do-i-apply/move-on-when-ready/