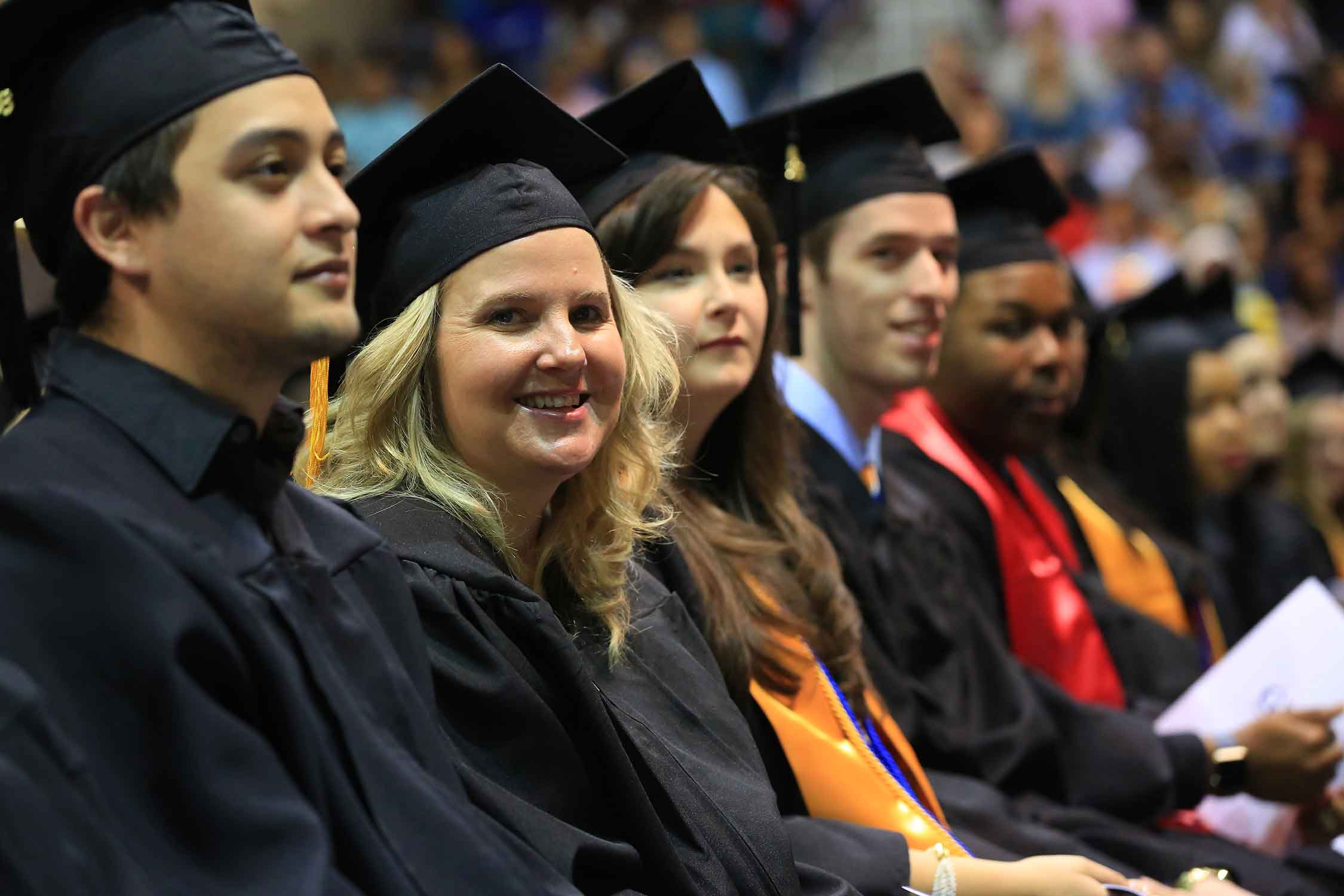 Georgia Highlands College Commencement will be held on Saturday, May 13th, at The Forum River Center in downtown Rome at 1PM. GHC will have 689 students receiving 691 diplomas (with two receiving two degrees).
The nursing pinning ceremony will be held at 6PM on May 12th at the Tabernacle Baptist Church in Cartersville.
The faculty has chosen Laura C. Ralston as the 2017 Mace Bearer and Richard Brent Griffin as the recipient of the Wesley C. Walraven Faculty Award.
GHC alumnus Dr. Joseph Johnson will give the commencement address, and Student Government Associate President Lucas Lester will speak on behalf of the student body.
Regent Neil L. Pruitt, Jr. will also bring greetings from the Board of Regents.
On the floor of the Arena will be reserved seating for staff and invited guests. Free parking is available at the Third Avenue Parking Deck (adjacent to the Forum) and West 3rd Street parking lot (across the bridge from the Forum). Shuttle service will be available throughout the day from Broad Street, all the parking decks, and West 3rd Street.
A full list of graduating students has been attached.
For more Commencement Information: www.highlands.edu/graduation/commencement-information/
2017 Commencement Speaker
Joseph Johnson, Doctor of Osteopathic Medicine
Joey Johnson is a fourth-year medical student who is set to graduate this year with his Doctor of Osteopathic Medicine degree. It will be his seventh degree, as he has earned two Bachelors and four Associates degrees previously. Joey earned full-tuition scholarships for his undergraduate and post-graduate studies.
As a firm believer in the community college route, Joey attended Georgia Highlands College and was very active during his time there. Upon graduating, he took two years off before entering medical school and worked at GHC as a recruiter. Since then, he has served on numerous professional boards, committees, and bureaus for various organizations, including the American Osteopathic Association, the Surgeon General's office and most recently Forbes Magazine.
Along with public-speaking, one of Joey's side passions is writing. He has been published more than 30 times in various genres spanning from Academic journals to pop cultural magazines. If he had to summarize his life's purpose in one phrase, he says it is, "to live life in its fullest form, while failing often, and then conveying those learned life lessons so that others may flourish."
Mace Bearer
 Laura C. Ralston
GHC faculty selected Laura Ralston to carry the mace for 2017 to honor the many years of dedicated service she has given to the College. The Georgia Highlands College mace was designed by David Mott, retired associate professor of art, and Dr. David Cook, retired professor of biology.
The mace, a great and splendid staff, is actually a club and symbolic weapon. Medieval universities would not defend themselves with a sword. It was not considered appropriate for gentle scholars to draw blood, but they could defend themselves using the cudgel. The mace has come to stand as a symbol for two critical matters. First, it stands for the authority of the academy to seek the truth and to each teach it. It also stands for the authority of the academy. The mace makes the statement that the academy must protect the ideals of order, liberty, and freedom to learn.
Professor Laura Ralston began as a part-time instructor at the College in 1995, moved to temporary faculty in 1998, and became a full-time Assistant Professor in 2000. She was promoted to Associate Professor in 2004 and to Professor in 2014. She holds the Bachelor of Science from University of North Georgia and the Master of Education in Mathematics from University of West Georgia. Her work in mathematics, site direction, and as advising specialist is noteworthy, as is her dedication to student learning and teaching excellence.
Wesley C. Walraven Faculty Award
Richard Brent Griffin
GHC faculty members selected Brent Griffin, professor of mathematics, to receive the Wesley C. Walraven Faculty Award to honor his years of service and leadership. The Walraven Award is named in memory of Dr. Wesley C. Walraven, the academic dean at Floyd Junior College (now GHC) from its founding in 1970 until 1993. Walraven's most memorable assets included an unselfish dedication to students, a quietly focused management style, and keen intelligence.
Given these criteria for this year's award winner, Brent Griffin is an indisputable choice. Brent came to then Floyd College in January 1996 from Wallace College in Dothan, Alabama. He holds the Bachelor of Arts with a major in Mathematics and a minor in Accounting from Huntingdon College, as well as a Master of Science in Applied Mathematics from Georgia Tech. Brent's teaching, leadership, service, and scholarship across Georgia Highlands College are valuable beyond estimation. In addition, his administrative contributions as site coordinator and interim dean are shining examples of insightful competence and authentic kindness. Brent is highly regarded across the University System of Georgia for his work on the General Education Council and his commitment to student success in mathematics.
Student Speaker
Lucas Lester, Student Government Association President
Lucas Lester is currently a Georgia Highlands College sophomore and political science major, attending classes on the Floyd campus. He is the Student Government Association President and participates in several areas at the college, including Green Highlands. His work with Green Highlands has started the process toward developing a "Charger Garden" at GHC, which would be run by students and grow fruits and vegetables for GHC's Charger Food Pantry, a stocked pantry with staple items like peanut butter, tuna, spaghetti sauce, and other non-perishable food items, as well as personal items for students in need. After GHC, he plans to pursue a philosophy degree from West Georgia in preparation for law school at Georgia State.