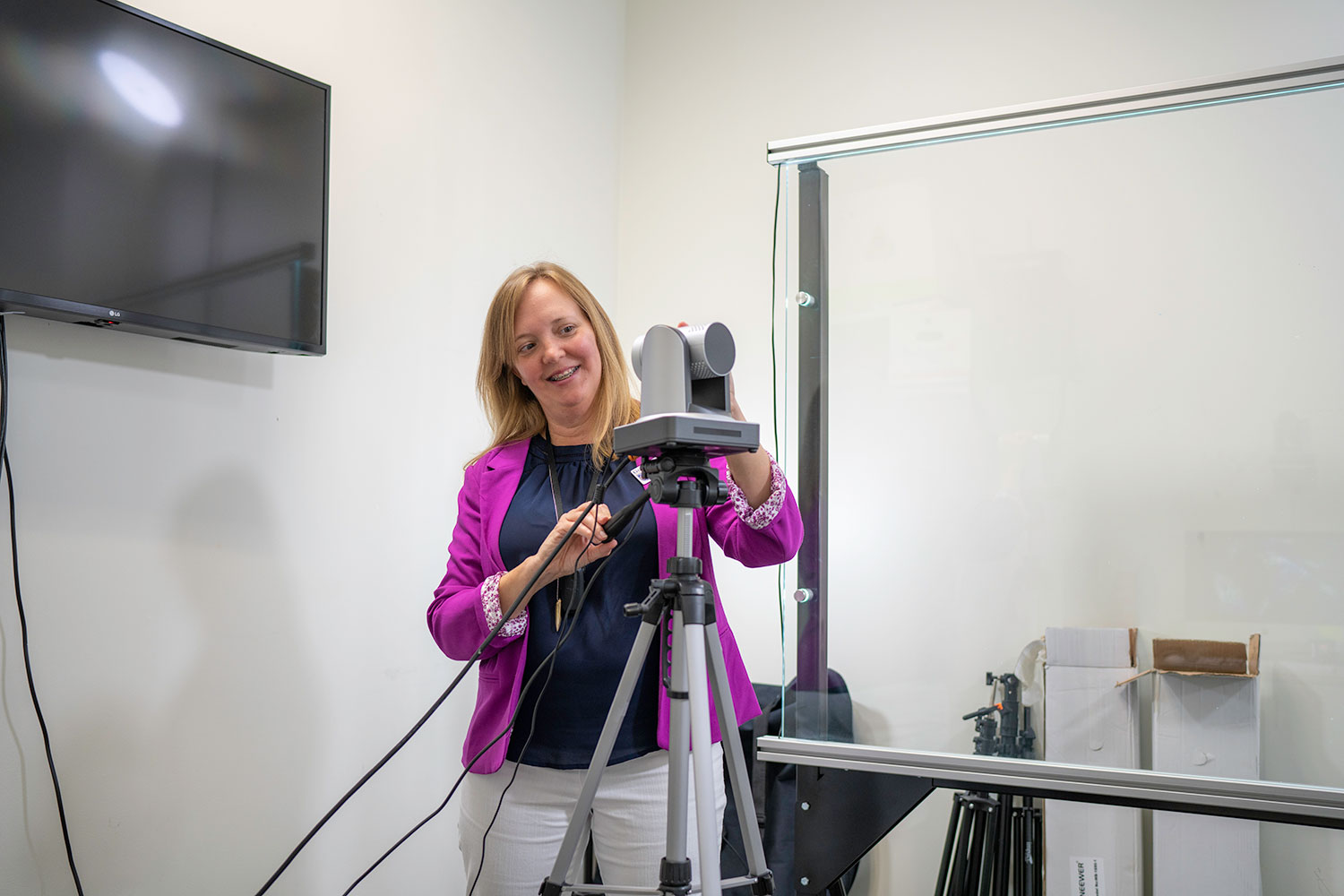 Through the collaboration of multiple departments, Georgia Highlands College (GHC) has recently unveiled its new Video Recording Studio (VRS) to allow faculty to easily record lectures and supplemental content for their classes.
Dean of Libraries and College Testing Julius Fleschner said the VRS, which is located at the Cartersville site, will have several benefits to GHC instructors.
"Our faculty can record lectures with PowerPoint slides visible or simply record a short two- to five-minute long concept refresher," Fleschner said.
While the idea for the VRS came from Dean of Planning, Assessment, Accreditation and Research Jesse Bishop years ago, the previous move to remote instruction for the 2020 spring and summer semesters catapulted the idea into necessity.
The system, from the company Extron, provides a single, one-button panel where patrons can plug in a thumb drive to record their video.
"This activates the system and turns on the cameras, microphones and lighting," Fleschner said. "Users can utilize an iMac to display their presentation behind them on a monitor."
In the front of the room, there is a screen called a confidence monitor, which allows users to see what is being recorded. The room also contains a lightboard, which is a large piece of glass that allows speakers to write with a special marker visible to viewers.
The VRS is open to students as well, and Fleschner said he is hopeful instructors will use the VRS to introduce multimodal composition frameworks into their required assignments, allowing students to compose work in more than just an essay format.
"This structure can be taught, and students can easily record a speech or presentation in their own time without personal technology limitations," Fleschner said. "Students can also use the VRS to create YouTube channels or promotional videos for registered student organizations."
The facilitation and launch of the VRS was made possible through Cartersville site Librarian Jessica Osborne, Director of Audio Visual Services Tony Gambill and Director of the Center for Excellence in Teaching and Learning Josie Baudier.