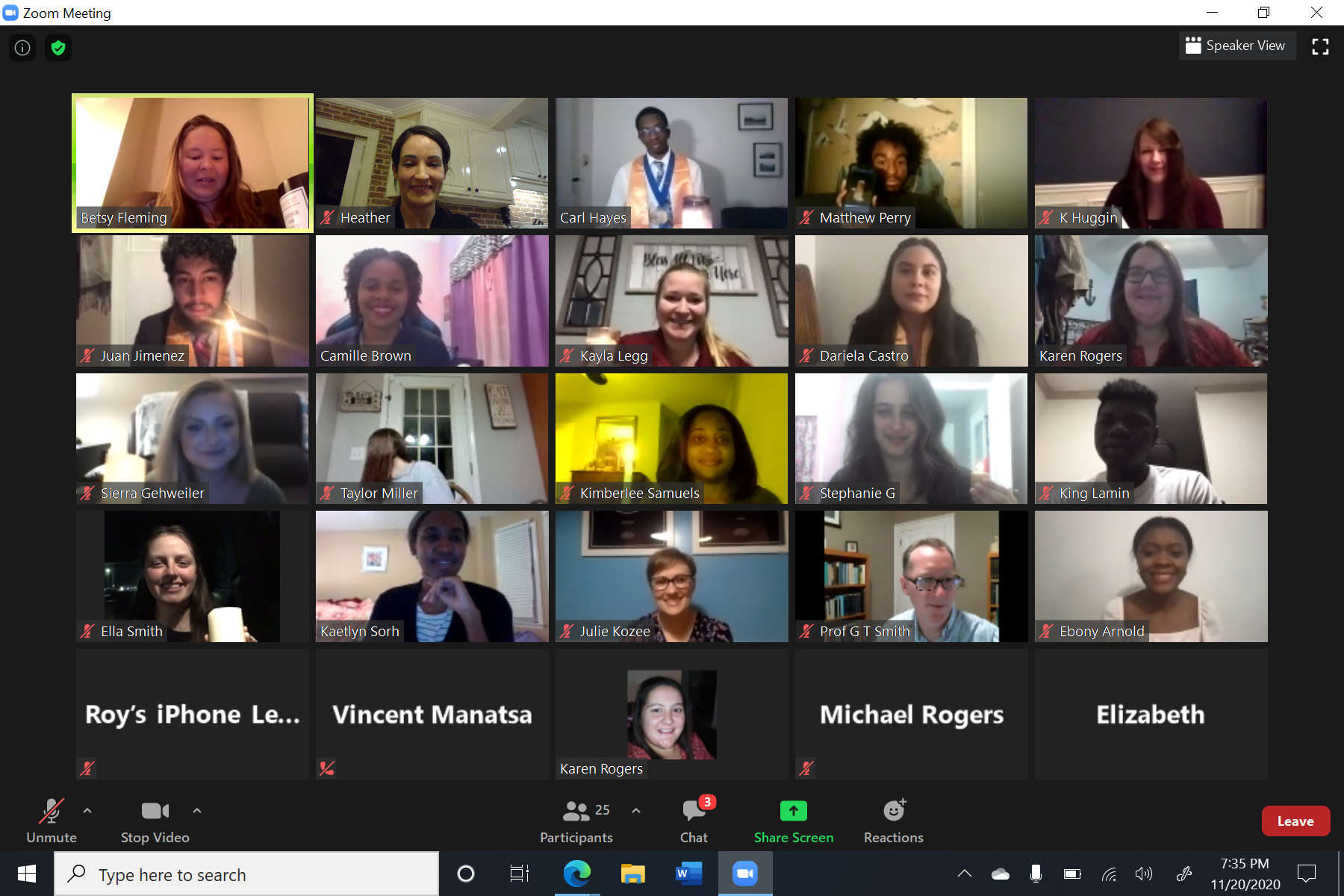 Georgia Highlands College's (GHC) Phi Theta Kappa (PTK) chapter Alpha Psi Omicron has many reasons to be excited this semester.
Several members of the organization have been placed in competition for the All-USA Academic Team, Coca-Cola Academic Team and the New Century Pathway Scholarship Awards.
Those students are Dariela Delgado-Castro and Carl Hayes, who attend classes at the Marietta site; Brittany Skeen, who attends classes at the Paulding site; and Karen Rogers, who attends classes at the Rome location.
Because of their nomination selection for the All-USA Team, these students are also recognized as a member of the All-Georgia Academic Team and will receive an All-Georgia medallion and certificate to commemorate this honor.
This year the traditional All-Georgia Academic Team Awards Luncheon in Atlanta will not be held in person. Instead, the All-Georgia Academic Team was acknowledged during the awards program of the virtual PTK Spring Regional Conference on March 20 and will again be acknowledged at the GHC Awards Night ceremony via Zoom on April 22 at 6 PM.
The organization received numerous accolades during this month's Spring Regional Conference, including Five Star Status and being elected the new Regional Vice-Presidential Chapter, putting the chapter charge of the Fall 2021 Regional Conference.
The chapter's vice president of membership and Student Government Association representative Heather Choate, who lives in Cartersville and attends classes on the Cartersville site, said while COVID changed how the organization provided community outreach, it did not detract from PTK's goals and output.
"We knew our research on financial literacy, the Goodwill donations and the community Halloween Movie drive-in were important projects to serve the community," Choate said. "We stayed in constant contact weekly and maintained motivation through emails, text and zoom meetings."
She said the support of PTK officers and the camaraderie shared by members has created a foundation for the organization. Choate said while she is humbled by the numerous chapter awards, it is also great for the chapter to be recognized for their efforts.
"The PTK community has inspired me to go beyond my academic excellence to character excellence," Choate said. "Our team is pretty phenomenal, and the multiple awards reflect PTK's Five Star Chapter Status."
Phi Theta Kappa is the international honor society for two-year colleges.
PTK Spring Regional Conference Awards:
Distinguished Chapter Officer Team
Distinguished Honors in Action Issue Award Theme 1-The Heir of Our Ways, First Runner-Up
Distinguished Chapter Officer Honorable Mention for Carl Hayes
Janet M. Walker Spirit of Phi Theta Kappa Award for Carl Hayes
Georgia Hall of Honor, First Runner-Up for Juan Jimenez-Padilla
Sarah Anne Staples Award First Runner-Up for Dariela Delgado Castro
Distinguished Chapter Member, First Runner-up for Heather Choate
Horizon Advisor Award for advisors Betsy Fleming, Julie Kozee, Vincent Manatsa, Greg Smith and Karen Huggin
Five-Star Chapter Status; REACH Award
Regional Vice-Presidential Chapter and will be in charge of the Fall 2021 Regional Conference.