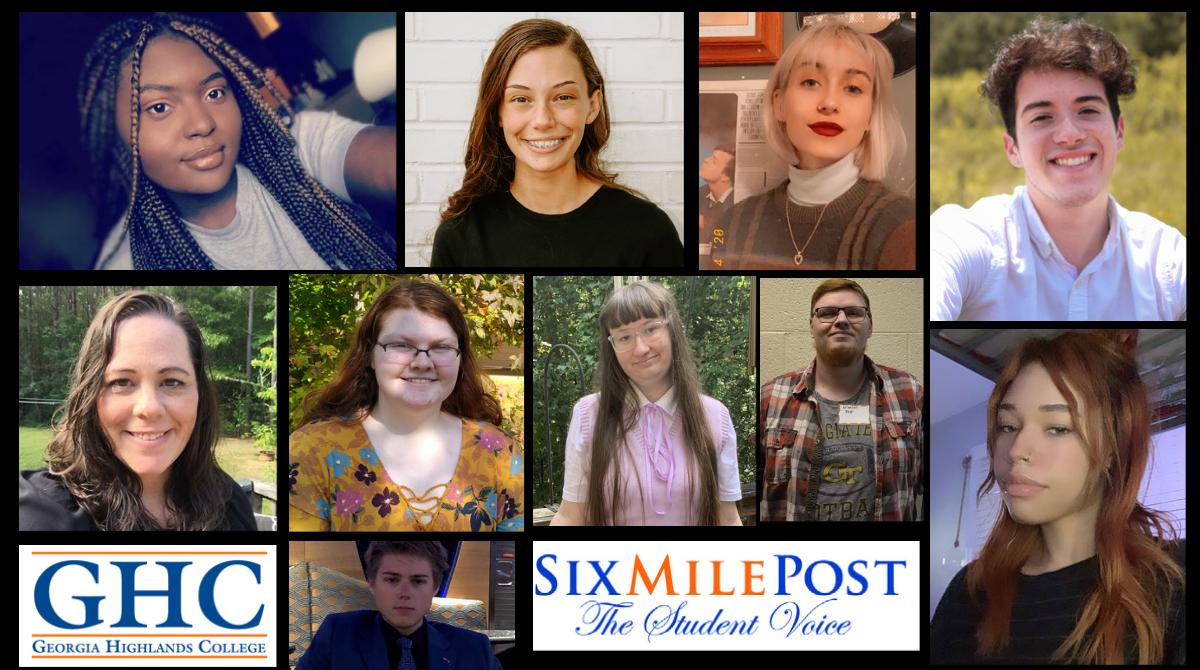 Georgia Highlands College's student newspaper, the Six Mile Post (SMP), won three first-place awards from the Southern Regional Press Institute (SRPI) and a first-place award from the Georgia College Press Association (GCPA).
From the SRPI, the SMP brought home first-place awards for Best Website, Best Opinion or Editorial in the Editorial category and Best Podcast or Internet Streamed Show as well as Best Campus Community Service-Sports for the GCPA.
"This year's staff has only met in person one time this year and has still managed to produce quality, award-winning work that rivals previous years," SMP Faculty Advisor and Assistant Professor of Journalism and Communications Allison Hattaway said. "These students have covered history and covered it well – from COVID-19 to stink bugs to the 2020 election."
Julia Belew, who served as SMP Editor-in-Chief from August 2020 to February 2021, said she felt lucky to be surrounded such talented writers at the SMP. For example, Belew cited the work of managing editor Lily Chesnut.
"Their pieces portrayed real journalism and I am so glad they got the recognition they deserved," Belew said. "I am also proud of winning first place for Best Opinion or Editorial for our unsigned 'Let's get down with pronouns' piece."
The SRPI judges noted "bold, clear and unapologetic position on a widely discussed and misunderstood topic" for the newspaper's editorial titled "Let's get down with pronouns" and cited individual reporters' data-driven, creative and eye-opening stories.
Current Editor-in-Chief Olivia Fortner, who is majoring in the Bachelor of Business Administration program, said she is very proud of all the staffers at SMP. Due to COVID, the routine of writers and contributors meeting in person to discuss current events and campus news has been put on hold.
The SMP has been working remotely and communicating through Zoom, which creates a daunting scenario for students who are taking on the challenge of covering campus news in addition to their responsibilities inside and outside of the classroom.
"Because of these changes, our staff is much smaller than it has been in recent years," Fortner said. "However, I am not surprised that we received these awards because I have witnessed, firsthand, the hard work and dedication all the staff have put in to maintain excellence."
Taking on multiple roles had staffers and GHC journalism students like Brandon Dyer receiving awards for both writing and photography. Dyer won a second-place award for photography, as well as a second-place award for Best Column.
"The column that I wrote with my Sports Editor at the time, Bradley Singh, is one of my favorite pieces I have published for the Six Mile Post," Dyer said.
The Six Mile Post team won the following awards:
Southern Regional Press Institute Awards
Staff Awards
Best Website – 1st Place
Best Opinion or Editorial – 1st Place
Best Opinion or Editorial – 2nd Place
Individual Awards
Best Podcast or Internet Streamed Show – 1st Place – Austin Williams and Kimberly Lyons
Best News Story – 2nd place – Lily Chestnut
Best Features Story – 2nd place – Lily Chestnut
Best Features Story – 3rd Place – Michelle Hardin
Best Opinion or Editorial – 3rd Place – Alexis Johnson
Best Sports Story – 2nd Place – Trevin Wade
Best News Photography – 2nd Place – Jackson Morris and Olivia Fortner
Best News Photography – 3rd Place – Jackson Morris
Best Features Photography – 3rd Place – Olivia Fortner
Georgia College Press Association Awards
Staff Awards
Best Campus Community Service – Sports – 1st place
Best Campus Community Service – News – 3rd Place
Best Photo Essay – 3rd Place
Best Website – 3rd Place
General Photography Excellence – 3rd Place
Layout and Design Excellence – 2nd Place
Individual Awards
Best Photograph-Editorial/Feature – 3rd Place – Olivia Fortner
Best Column – 2nd Place – Mariah Redmond, Brandon Dyer, Bradley Singh
Best Photograph – Sports – 2nd Place – Brandon Dyer
Best Photograph-News – 3rd Place – Olivia Fortner
Best Sports Story – 2nd Place – Austin Williams