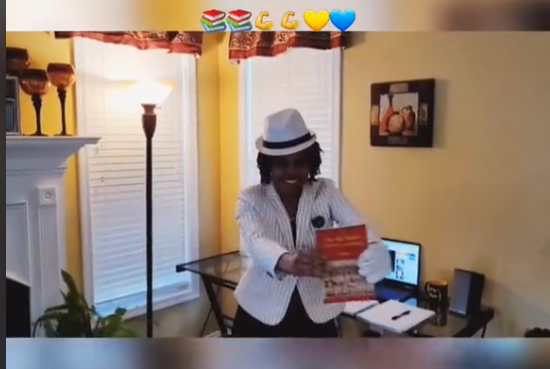 For Georgia Highlands College (GHC) student Camille Brown, adapting to change, staying focused on goals and putting in hard work to succeed are not the only attributes of a successful college student – you also have to have some fun.
Brown utilized all of these elements to create a TikTok video that won a recent TikTok Thursday challenge for the Phi Theta Kappa (PTK) Awareness Week. Brown serves as vice president of social media for GHC's chapter, Alpha Psi Omicron. Inspired by a fellow classmate's passion for PTK, Brown brought metaphors of hard work and personal growth to the small screen accompanied by the music of Michael Jackson.
"I knew that I wanted to show myself multi-tasking and working towards my goals because Phi Theta Kappa is all about perseverance, hard work and the drive to be excellent," Brown said. "I've always loved Michael Jackson, so eventually I had the idea of using his song 'Workin' Day and Night' to harness the ultimate message of this honor society. Next thing you know, I found a sparkly glove and I was ready to groove while paying homage to him."
In the video Brown showcases a book from her World History class titled "The Silk Roads: A Brief History With Documents" and a book from her World Literature class titled "The Norton Anthology: World Literature."
"My World Literature book is pretty thick, so in showing it, I was illustrating that Phi Theta Kappa members are leaders who don't take shortcuts," Brown said. "When I was highlighting the books, I was showing that being a part of this honor society requires one to pay attention to detail and to be organized. When I was dancing in the video, I was showing that Phi Theta Kappa may be a lot of hard work, but it is also a lot of fun."
The video also features Brown wearing a GHC sweatshirt to represent her daily life as a college student and PTK member and drinking coffee from a Batman mug to show being a PTK member and officer is a daily job.
"I have to work day and night to maintain my grades and to maintain the chapter's page," she said. "Batman is my favorite superhero so drinking from the mug as I work brings in something that entertains me as I work towards accomplishing goals."
The video concludes with Brown taking a sigh of relief.
"It took me about two hours to produce the video just because I wanted to make sure that the different scenes flowed coherently, and the music was timed perfectly with my dance moves and accomplished tasks," she said. "In other words, I wanted to make sure that the video was edited to the best of its ability so that it could conceptualize the work ethics of PTK members."
Camille Brown is a Business Administration major who resides in Douglasville and currently attends classes online.
Phi Theta Kappa is the international honor society for two-year colleges. Students who achieve a 3.50 cumulative GPA with at least 12 credit hours at Georgia Highlands College are invited to join. The GHC chapter is Alpha Psi Omicron and was chartered in January 1994.
VIDEO: