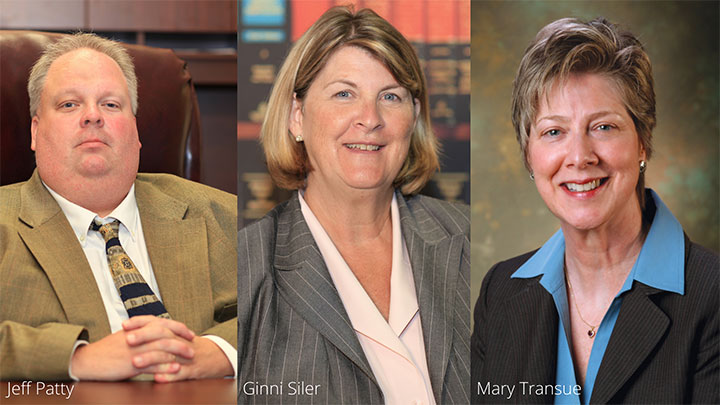 Three employees in leadership roles at Georgia Highlands College (GHC) are set to retire from the University System of Georgia (USG) at the beginning of February in 2021 after serving several years in the system and with GHC.
These vice presidents direct the work of multiple divisions within the institution:
Jeff Patty

Vice President for Information Technology and Chief Information Officer

Ginni Siler

Vice President for Human Resources and Chief Human Resource Officer

Mary Transue

Senior Vice President for Advancement and Enrollment Management and the Executive Director of the GHC Foundation Inc.
Patty has served at GHC since 1990. His work at the college has spurred the development of a highly respected information technology network and division.
"In my 30 years with the college, I've seen tremendous change in what we now call information technology (IT), through the advent of the Internet, cell phones, email and web, and a host of other new technologies," Patty said. "Over that time our IT team grew into an awesome team of talented individuals, capable of creating or solving anything technology-related that came our way."
Siler, whose employment began in the fall of 2009, has worked to elevate the level of functioning and to modernize, from a technology perspective, the Office of Human Resources at GHC while building strong collaborations across the USG.
"I am very proud of the progress the University System of Georgia, Division of Human Resources and institutional CHROs, as well as the Georgia Highlands College Office of Human Resources have made during my time with the system," Siler said. "We have some extremely knowledgeable and dedicated Human Resource employees who work tirelessly for student and employee success. It is my hope that GHC and USG leadership continues to pursue movement toward appropriate compensation for the talented GHC employees who exhibit such care and passion for our students every day."
Transue worked to raise awareness and support for the college as well as student scholarships and programs through the GHC Foundation since she began in 2014. She has worked with the USG since 2007. While at GHC, she also worked to reinvigorate GHC's marketing, expand the college's capacity for organizational communications and enhance institutional support through her work with government relations.
"During my time with GHC, I have had the privilege of working with some of the most dedicated faculty and staff I know. The focus has always been on student success; keeping things as cost effective as possible and ensuring an excellent opportunity for students to obtain their degree," Transue said. "Even during the challenges of this year, faculty and staff worked tirelessly to help keep students on track with as little disruption as possible and took extra steps to make sure students knew they were supported through the changes not only in the academic setting, but through their personal challenges as well."
"You learn a lot about your colleagues when they are faced with navigating the type of budget and health challenges 2020 delivered across the country," she added, "and what I learned was there is no question that as the college continues to grow, I know the focus on success will not waiver. I am proud of how GHC operates, and to be a part of the institution."
In a congratulatory email to the leadership members retiring from the system, GHC President Don Green said "[I want to] thank each of them for strengthening the college and elevating the efforts of their teams and areas in Human Resources, Advancement and Information Technology during their time at GHC."
"Enough cannot truly be said about how much each of these individuals have accomplished for our college," he added. "I'll miss their expertise, guidance, leadership, and above all else, their absolute commitment to our students, faculty, staff and college community."