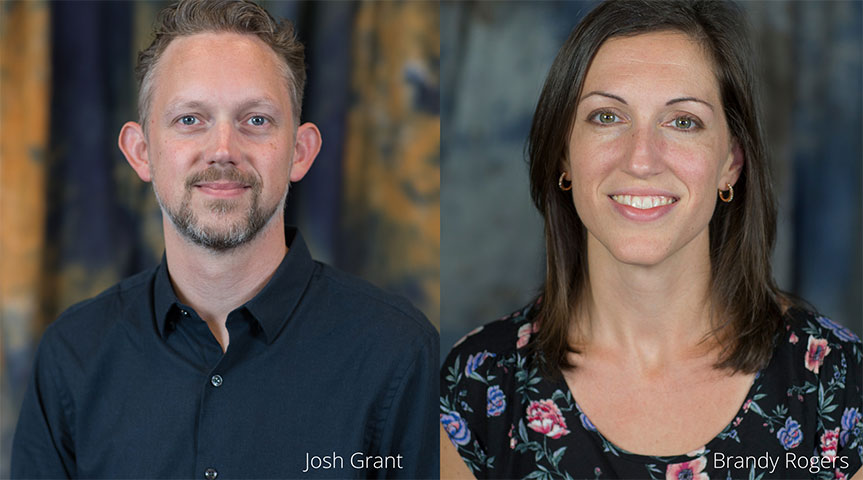 Students at Georgia Highlands College (GHC) recently named one faculty and one staff member as the college's "Advising is Teaching Award" winners. Students chose Assistant Professor of Biology Brandy Rogers, who was named "Faculty Advisor of the Year," and Academic Advisor Josh Grant, who was named "Professional Advisor of the Year."
"These award nominations are submitted by students," college Quality Enhancement Program Coordinator Elizabeth Tanner said. "With the nominations, we get to see all the important ways staff and faculty advisors have an impact on our students. These nominations are an important reminder of the quality and high-caliber advising that a student receives when they come to GHC, and we are helping students meet their educational goals and find a pathway to graduation."
The "Advising is Teaching Award" program is part of GHC's ongoing "Quest for Success" advising mission.
The college's Quality Enhancement plan (QEP), titled "Quest for Success," places advising at the forefront of student academic and personal success. Quest for Success aims to increase the value of the student experience at GHC by emphasizing advising as a core component of learning at GHC. By creating required advising activities, GHC students participate in on-going, goal-focused advising, helping students on the path to graduation.
GHC students choose Brandy Rogers as the "Faculty Advisor of the Year." Rogers is an assistant professor of biology. She said her favorite aspect of advising is seeing students gain a renewed sense of clarity and determination, helping them to see the clearest path to achieving their goals.
"Advising students is an important part of what faculty at GHC do," Rogers said. She began advising students during her first year as an instructor. "Advising students gives us the opportunity to encourage students, to help them see their potential and to help them realize that their dreams are within reach. For me, being a part of a student's journey and helping them design and carry out their plans is very rewarding."
GHC students choose Josh Grant as the "Professional Advisor of the Year." Grant serves as an academic advisor, but he originally started teaching until he discovered a passion to help students through advising full time.
"After teaching for the better part of a decade, I discovered that there was a whole profession dedicated to helping students in the ways that I had been helping them outside of normal class work," Grant said. "I could spend all day helping students at the exact moment when they needed help getting a clearer picture of what their options were and what they needed to do to accomplish their goals. Teaching outside the classroom – that's what led me to professional advising."
Both Rogers and Grant serve on GHC's Cartersville site and see the recognition as an example of how GHC puts students first and how important quality advising is at the college.
Please visit highlands.edu to learn more about GHC's "Quest for Success" advising mission.