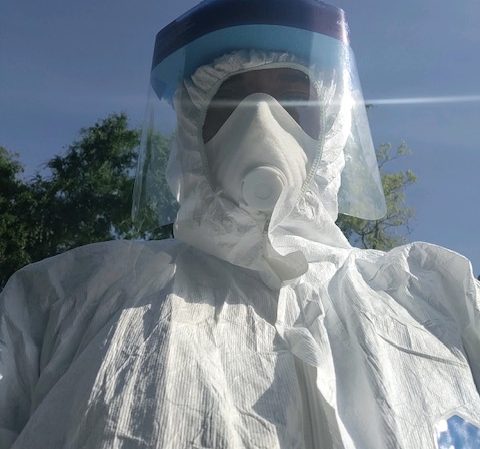 Georgia Highlands College student Miguel Pizano, of Rome, enrolled in the college's Criminal Justice program because he wants to make his community a better place to live. As a service member in the National Guard, he was recently given an opportunity to do just that.
On April 9, Pizano was sent to Albany to help prevent the spread of COVID-19 in nursing homes and branches of the Phoebe Putney Health System. He was part of Governor Brian Kemp's authorization to activate up to 2,000 members of the Georgia National Guard to help a number of nursing homes or long-term care facilities throughout the state with confirmed COVID-19 cases.
Dean of Humanities Jon Hershey spoke highly of Pizano and stated he is keeping up with his classwork in the evenings to stay on track at GHC while also performing his duties for the National Guard.
Pizano said he appreciates how GHC faculty have worked with him as he serves the community.
"It has been a great experience working with them and their understanding of what I'm doing here in Albany with the National Guard," Pizano said. "GHC has helped me pursue my dream in criminal justice and to one day make it my career once I retire from the National Guard."
Pizano said furthering one's education at GHC is a viable option for those who may have extenuating circumstances outside of the classroom.
"All I can say about GHC is that it improves day by day to help students in any circumstance they are in," Pizano said. "The staff is always there to help when I need it."