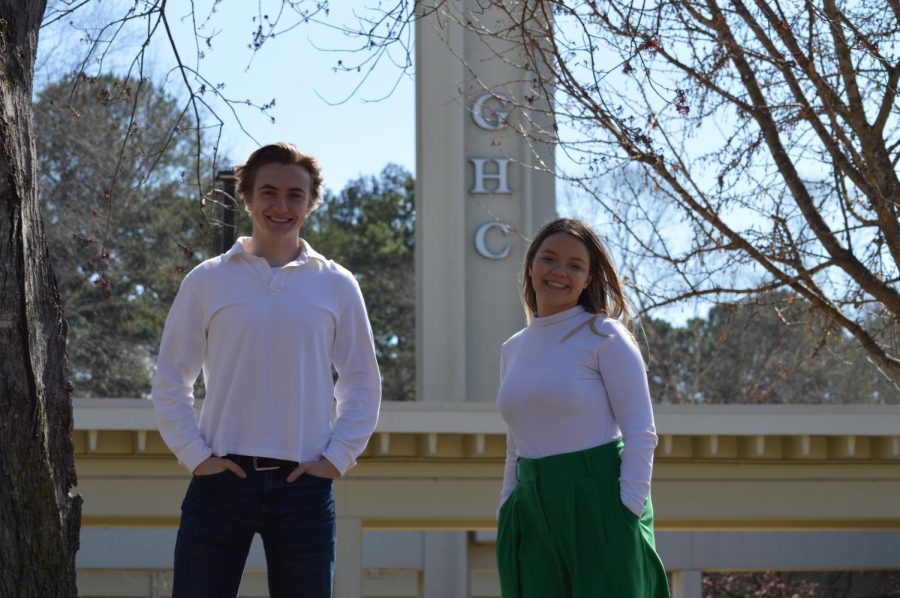 Georgia Highlands College's student newspaper the Six Mile Post (SMP) has moved into streaming.
From politics to school news and Netflix, the SMP's recent podcast series ran the gamut on hot topics as people everywhere had to acclimate to a new world of social distancing.
Students Carson Graham and Scout Hodgins, who both attend the Floyd site and are majoring in communications, created a new platform for the GHC community to be educated and entertained during this unique time.
Originally designed as an extension of the student newspaper, the podcast quickly grew in popularity as all students, faculty and staff at GHC moved to remote delivery starting on March 30 to help stem the spread of coronavirus.
"We started discussing the possibilities of a podcast in late February, but the first episode didn't air until March," Hodgins said. "We have recorded our final episode for the semester and ended with nine episodes overall."
A podcast is a digital file posted online that often includes both audio and video. Podcasts serve as a medium for information and entertainment in the digital age, similar to radio broadcasts.
While both students say they have thoroughly enjoyed the experience of creating and hosting the series, the work they have done also translates to their future careers in communication.
"I've learned a lot of production work. Carson and I both have planned and edited episodes," Hodgins said. "I also composed the intro and outro music for the podcast, so learning to record and edit audio has been a big part of the learning process. I learned that I like to research topics heavily before I speak on them and I hope that I've gotten better at research. I also learned that I do like broadcasting and that maybe I should continue to be involved with broadcasting in some sense in the future."
Graham said she enjoys doing the podcast because they are an extension of the SMP newspaper but can be more personal.
"We have received overwhelmingly positive feedback from students and faculty," Graham said. "The most important lesson I have learned is that despite circumstances, like the quarantine, it is still very important to keep busy with projects like podcasts to keep our mental health up."
Graham and Hodgins were encouraged by faculty to create the podcast based on their talent and educational abilities. Both students spoke during the 90th Georgia Communication Association Conference, held in February at GHC's Cartersville site, and were approached by Assistant Professor of Humanities and SMP Faculty Advisor Allison Hattaway about starting the podcast.
Graham said she was intrigued by the idea of having an extracurricular activity.
"I have always just been going to school, work, then home," Graham said. "I was very excited and am very grateful to have something meaningful to do with my time."
Graham and Hodgins each had favorite episodes they have produced.
"The first one that comes to mind is Episode 8, where we interviewed GHC President Don Green," Hodgins said. "He's a down-to-earth guy and I enjoyed talking to him about what's going on at Georgia Highlands College."
Graham said her favorite episode was one of the first.
"My favorite episodes were the ones toward the beginning when the U.S. presidential election was beginning to heat up," Graham said. "I love talking about politics, so it was a great time to research and discuss the current events."
Graham and Hodgins both said they appreciate the opportunity to work with the podcast. Hodgins said his experience with SMP has helped him to understand more what his future will be like in communications.
"It's been great for me because now I have a better idea of what I may want to pursue as a career in the future," Hodgins said. "I think that the community should know how much work goes into Six Mile Post productions. The staff takes pride in its work, and that shows."
The podcasts are available by visiting https://sixmilepostonline.com/category/podcasts/
PICTURE: From the Six Mile Post's "Starting a Podcast: A How To Guide," Scout Hodgins and Carson Graham are the creators of the Student Spin Podcast: A Six Mile Post Production. (Photographer: Georgia Hamby)