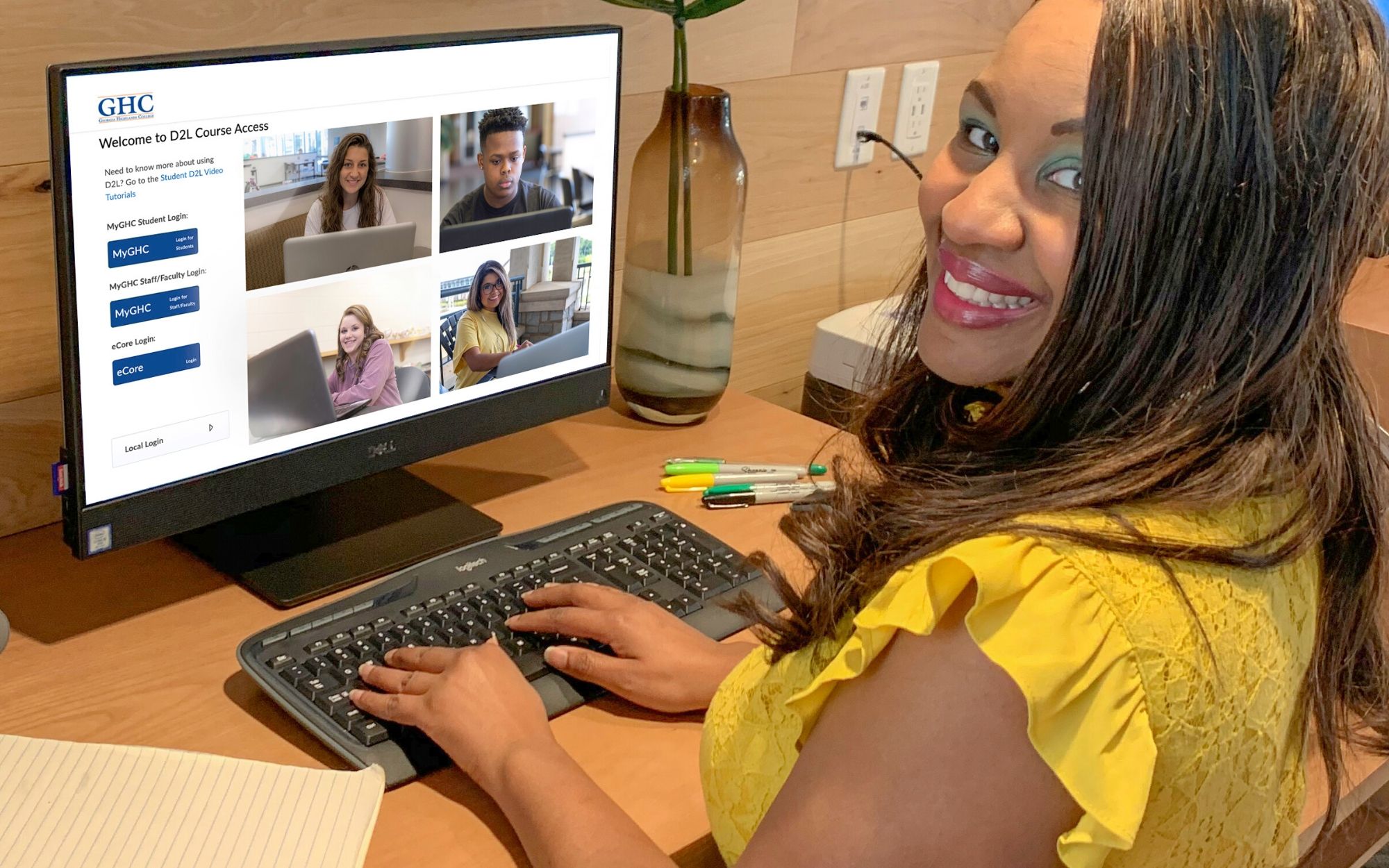 The classroom is empty. The chairs, tables, desks, and white board are empty. The professor's podium is vacant. No one has shown up on campus. But Julie Kozee's English course at Georgia Highlands College has started right on time.
The assistant professor of English is sitting at home. Her computer thrums to life, lighting her face, as she opens a virtual meeting platform now used to teach each of the students in her class.
On the other end of her screen are students on tablets, computers and phones, each waiting for this new type of lecture to start, once next to their classmates in a room, now side-by-side in virtual boxes on the screen.
On March 30, after a two-week suspension of classes to convert everything to remote delivery in the middle of the spring semester to help mitigate the spread of COVID-19, GHC courses resumed in an online format.
Julie Kozee's first virtual day of class wasn't about assignments, deadlines, or tests. The first day was about the students.
She asked about their well-being, their confidence about finishing out the semester online and their perception of the clarity of the online interface.
"Let's take the first day of the online class to share how we're doing and any concerns we might have about the online classroom," she told students. "This will give me an opportunity to make sure that everything in this class is set up in a way that best fits your needs going forward."
Kozee said this exercise allowed students to open up about how they were doing during this period.
"None of my students had any concerns about our online classroom," she said. "Mostly they were concerned with what their lives were like now."
She said it was humbling to read what students are experiencing, and it made her aware of just how resilient and tenacious GHC students are, especially when faced with such difficulty.
Across the digital hallway in a math course also currently holding class remotely, math instructor Tracy Kight takes a similar approach in helping her students acclimate to the virtual classroom setting. She likes to begin her classes on a positive note.
"First, we start every class with some music," Kight said. "As we wait for students to sign in, the first part of class is spent laughing, dancing or just getting in the positive vibe of being together in this new format."
She said students have been able to reach her from 7AM to 9PM by text, phone, email or virtual meeting seven days a week.
"This is a transition period for all of us," Kight said. "Sometimes, all we need is to know that it is all okay and we will get through this together. Communication is the secret to a great student-teacher relationship, and I want to be here for them throughout these challenges."
Professors across all areas have converted all classes to remote delivery at GHC, utilizing learning management systems, video conferencing clients, and systems to view the course syllabus and supplementary resources, digital storage applications for assignment submission and feedback, as well as a digital gradebook so students can easily view their grade in the class.
In addition to all courses being offered remotely, GHC has also taken strides in offering all campus resources remotely.
"The way we teach, advise, support, and much more may change for a little while, but one thing remains true: whether we connect in person or remotely, we care about you, and we care about your success here at GHC," President Don Green said in a video to students the day they started back. "Let's continue to meet any obstacle the same way students and employees at our college always have: by charging ahead together."
In its effort to help students, the GHC library has developed a student-focused video series to demonstrate how to use video conferencing programs, D2L, Office 365, Online Learning, and "How 2 Library." The library is also staffing its phones and chat reference services remotely from 8AM to 7PM, ensuring students, faculty and community members can get direct assistance from a librarian.
Additionally, writing centers are now operational through video conferencing.
Staff and faculty advisors, as well as professional tutors, working within the college's Academic Success Center quickly moved their appointment availability to online in a customized EAB Navigate platform.
Navigate is a digital platform designed to give students a college onboarding experience with tools that will help them create an academic roadmap to graduation and a timeline to degree completion, as well as serve as a primary communication channel with academic advisors.
"Students use Navigate to easily schedule appointments with advisors and tutors. Both advisors and tutors are meeting with students virtually, and the meeting information is relayed in the confirmation and student reminder emails students," Director of Academic Success Jennifer Hicks said.
Hicks said from March 16 through April 8, there have been over 500 advising appointments and over 70 tutoring appointments. In addition to appointments, advisors are hosting drop-in sessions every Monday and Thursday through May 14. The host of these sessions moves an advisor and a student into a breakout room so students are afforded privacy when they are discussing their academic records and goals.
Director of Student Support Services Angie Wheelus said the department provides virtual counseling sessions to students on all GHC sites.
She said some difficulties students have discussed during the transition to online learning have been a decrease in personal finances, caring for children who are now out of school, as well as social isolation.
"We've taken our students that we have already been working with and have shifted them over to a virtual format to work with them online," Wheelus said. "We are also able to help any student who has never been in our counseling before but who are struggling with some difficulties during this transition."
To see all the resources made available to students at this time, please visit GHC's information and resource page.
GHC will continue to deliver instruction remotely during both the May and summer semesters. USG institutions are tentatively planning to return to normal on-campus operations for the fall semester should guidance from the Centers for Disease Control and Prevention and the Georgia Department of Public Health allow it.
Students who have been admitted to GHC for summer and fall will participate in a virtual orientation.
The deadline to apply for summer classes at GHC is May 15. The deadline to apply for fall is July 15. For more information and to apply, please visit highlands.edu
(Pictured: Professor Travice Obas prepares to teach her communication course at Georgia Highlands College through video conferencing and virtual tools made available to students during this time.)