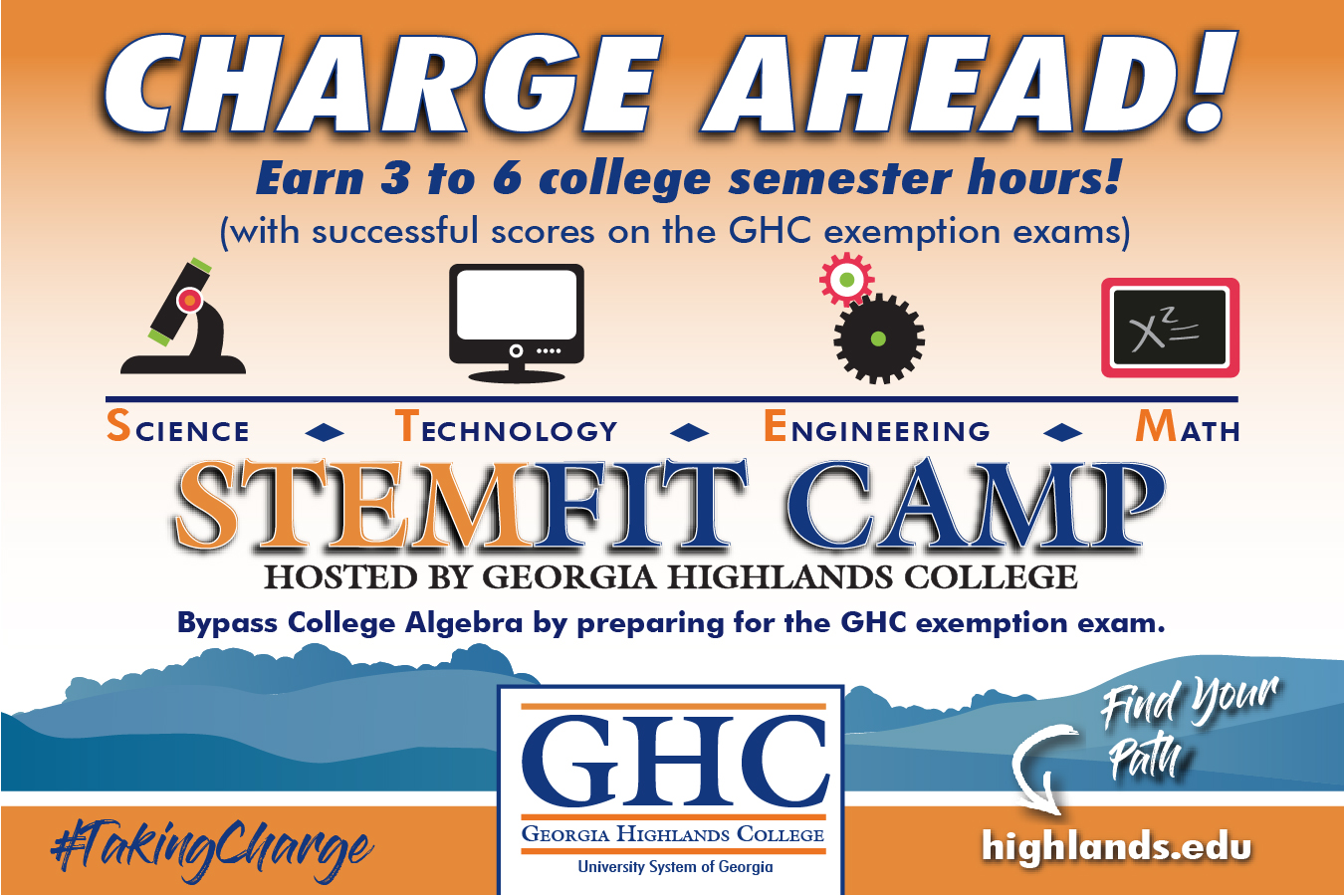 Following two successful years, Georgia Highlands College will again offer the STEMFIT "math boot camp" this summer, except this time in a virtual format.
The aim of the camp is to help incoming high school dual enrollment students or college freshmen start at a collegiate mathematic level of precalculus or higher.
"Over the past two camps, we have had a 100-percent pass rate for those who have completed the camp and took the exemption exam for college algebra," Mathematics Division Chair Jayme Wheeler said. "Several of those students have chosen to also take the MATH 1113 Precalculus exemption exam."
The online camp will be available June 15 to August 18. The course is built in the D2L online learning management system. Various dates will be available for students to take the exemption exam, and the exam will be given in D2L and proctored by a GHC professor via video conferencing software.
The course is available for any potential GHC student eligible to take the GHC College Algebra exemption exam. There will be no fee for STEMFIT this summer for students enrolling in fall 2020.
Sometimes students enter at the lower college algebra-level but can take an exemption exam if their SAT/ACT scores are high enough to start in precalculus instead.
"Participating in STEMFIT can save STEM students time and money by being able to begin at precalculus or higher," Wheeler said.
STEM is an acronym for the fields of science, technology, engineering and math. STEM relates to academics and careers focused in corresponding fields.
"Students will have the opportunity to engage with college faculty while participating in activities to review concepts covered in the College Algebra course," Wheeler said. "This year, we are excited to offer STEMFIT online, as we are hoping that it gives more students the ability to take advantage of our camp."
The flexibility of the online "boot camp" will allow students to work at their own pace to complete the review material.
"Now that we have an online format, we hope to continue offering this camp year-round in both online and face-to-face formats for students enrolling in any semester," Wheeler said.
The camp will continue to enroll students throughout the summer, and the last day to test for fall enrollment is August 18. If you have questions or would like to register, please contact STEMFIT@highlands.edu.