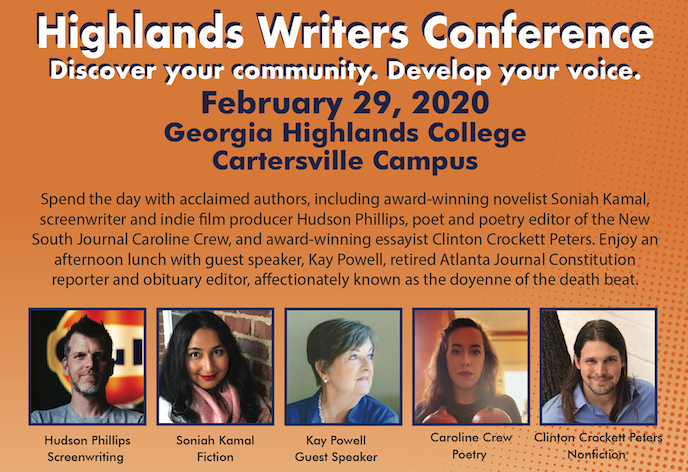 Georgia Highlands College will be hosting the third annual Highlands Writers Conference on Saturday (Feb 29) at the Cartersville site starting at 9AM.
The one-day program provides numerous opportunities for aspiring writers to learn about craft in a variety of genres as well as best practices for publication, including workshop sessions, writing consultations and a book fair.
Full day registration is $45, which includes workshops, panels and a catered lunch presentation. High school and college students in the area may register for $10.
GHC's Humanities Division and event organizers stated the program is open for all and "We welcome writers who have been practicing for years as well as those who have not yet set pen to paper."
Attendees will have the opportunity to spend the day with several acclaimed writers, including award-winning novelist Soniah Kamal; screenwriter and indie film producer Hudson Phillips; poet and poetry editor of the "New South Journal" Caroline Crew; and award-winning essayist Clinton Crockett Peters.
The lunch speaker will be Kay Powell.
Obituaries editor for The Atlanta Journal-Constitution from 1996-2009, Powell has been called the "doyenne of the death beat." She has created memorable public legacies for moonshiners, a CEO turned K-Mart greeter, a model aircraft designer, the planet Pluto, and Flannery O'Connor's peacock, among many others.
To learn more about the conference or to register, please visit: hwc.highlands.edu