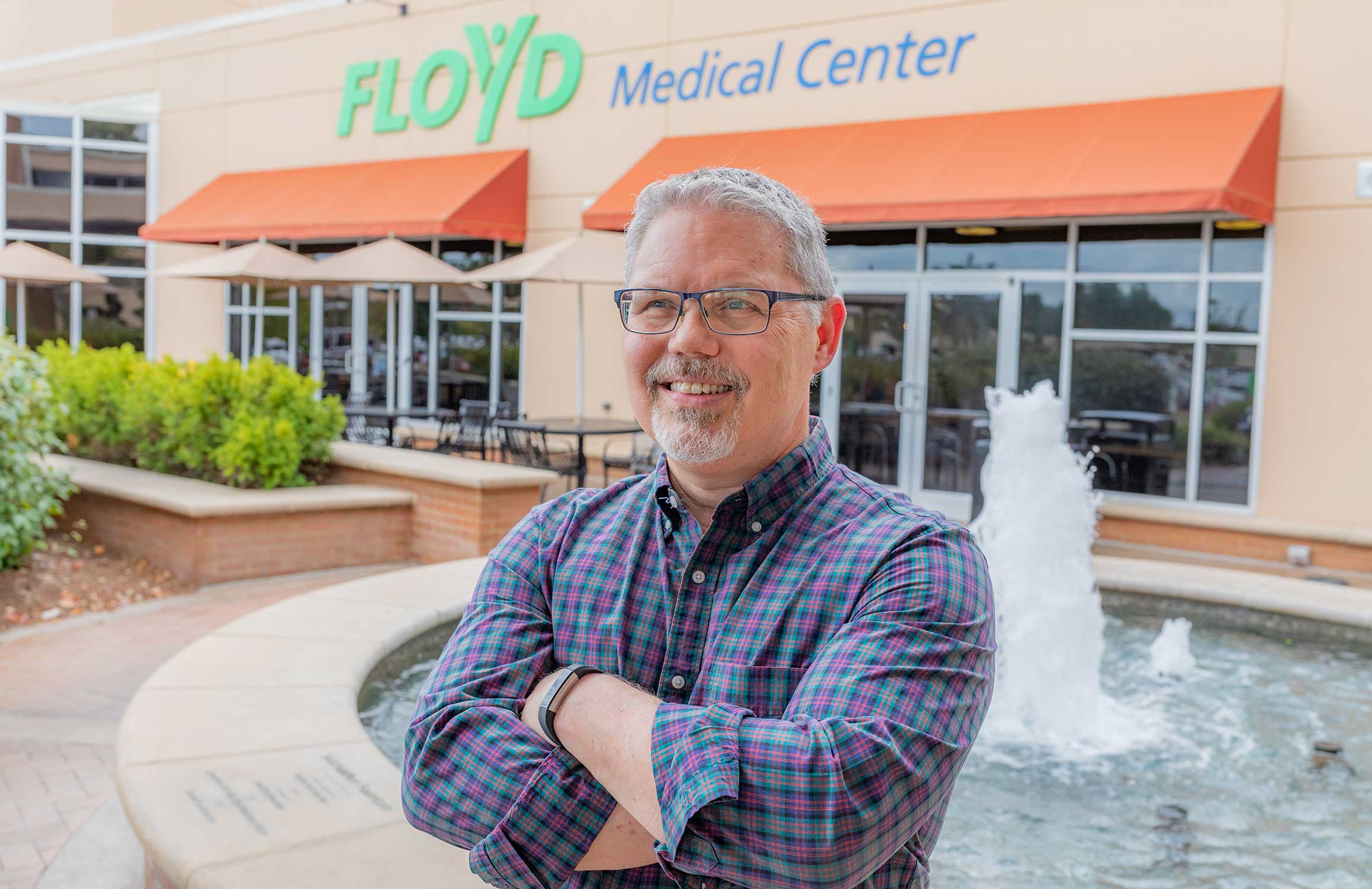 The Floyd health care system stretches across northwest Georgia and northeast Alabama as one of the region's largest employers, with over 3,000 employees, over 300 physician specialists and a volunteer force of over 350.
GHC alumnus Bill Fortenberry manages internal and corporate communications for this vast and extensive health care network. When he was younger, he had no idea that following his passion for writing could have taken him so far.
"My daughter once asked me if my life had worked out like I had envisioned it when I was a teenager. It was one of those moments that hits you hard in the heart, unexpectedly. The answer is yes," he said. "Maybe the particulars aren't exactly what I dreamed up, but the fact is, I set a goal to be a professional writer when I was in high school. Now, this is my 34th year of writing for a living, and it remains my absolute favorite part of the work that I do."
Bill explained no two days in his line of work are the same. He oversees a communication platform used by every Floyd employee that keeps everyone on the same page each and every day. He's also involved in writing social media posts, physician letters, blog posts, "Outstanding Stories of Care" feature stories and a whole lot more.
Central to the Floyd health care system is the not-for-profit Floyd Medical Center, a 304-bed acute care hospital and regional referral center covering over 40 medical specialties, including three Destination Centers and five Joint Commission-certified disease-specific programs.
Each year, Bill takes charge of leading the effort to develop content for annual reports, Community Health Needs Assessments, Community Benefit Reports and other mandatory reporting needed in Floyd's ongoing operation.
But long before Bill started working as the corporate communications and government relations manager at Floyd, he took a dream to write for a living to Georgia Highlands College (then Floyd Junior College).
Bill is the first to admit he was brought up in a poor family, but he wouldn't let that stand between him and a college degree.
"Because I had no money, I took a small scholarship that I won in high school and applied it to technical school," he said. "Rather than enter college in the fall, I started technical college, learning to cut hair. I chose a program that would get me trained in six months. My goal was never to work as a barber or hairstylist. The goal was always to use haircutting to pay my way through college."
After becoming certified, Bill started at GHC and began to work his way through college.
"[GHC] was close to home and affordable, even if I had to pay for it myself," he said. "Luckily, once I got in the door, the financial aid and student life folks helped me discover that I qualified for assistance, lightening my financial burden and helping me to get a great start on an education."
While at GHC, Bill spent a lot of time working with the student newspaper, the Six Mile Post, where he found a way to take his skills as a writer and apply himself toward a professional writing career. He went on to work 16 years at a daily newspaper.
Now at Floyd, Bill looks back on his time at GHC as great formative years building a strong foundation in writing and developing his story telling skills before entering the workforce.
His daughter, Autumn, also attended GHC.
"I think I am most proud that my daughter, Autumn, saw the path that I took and decided to take the same path. She made a conscious decision to attend GHC to avoid student debt and enjoyed her time there," he said. "She completed two years and transferred to the University of West Georgia to continue her goal of getting a degree in veterinary medicine."
Outside of work, Bill is very active with his church, serving as a deacon, elder, choir member, small-group leader and a mentor to others. He also occasionally still writes for publications.
His career has given him the means to carry out his passion for writing, and he's the first to tell you GHC helped him get there.
"I don't know how many thousands of students over these years have passed through the doors of [GHC], but it's a real honor to represent them," he said. "My job every day is to communicate important information to people who need it. The audience for that information can vary greatly, which means I have to be able to synthesize sometimes complex topics to make it easy to understand and act on. I am still in awe that God has allowed me to work 34 years supporting my family through writing. I cannot imagine a career or life that does not include writing or storytelling."