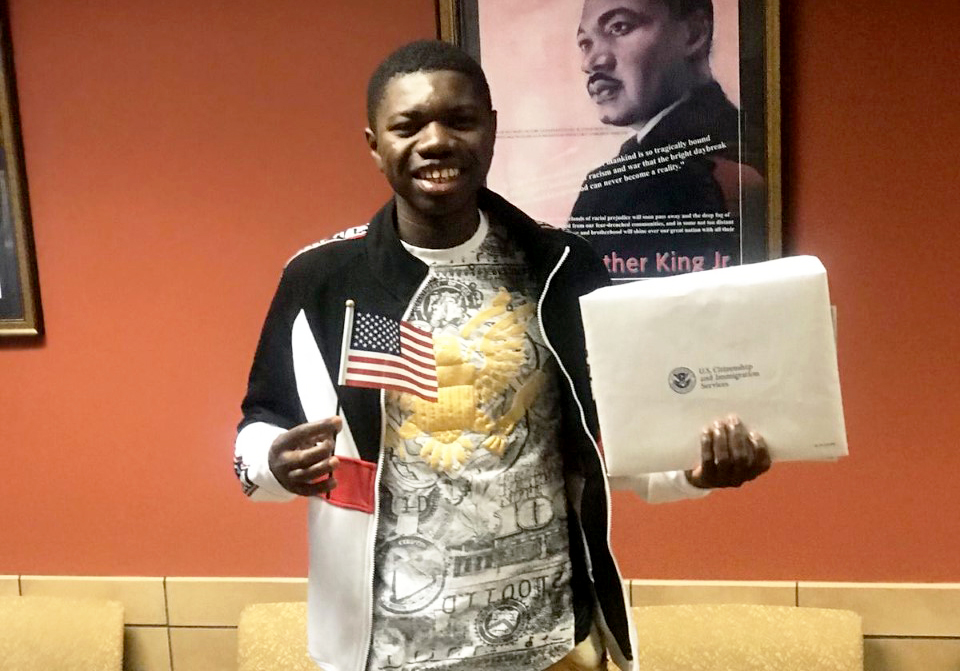 Achieving American citizenship is high on Lamin Kuyateh's list of things to be thankful for this Thanksgiving holiday. After leaving his home country of Gambia and taking classes at Georgia Highlands College, Lamin started working toward his dream of becoming a U.S. citizen.
This year, Lamin completed the naturalization application and test.
The test covered speaking, reading and writing in English and questions about civics, including U.S. history and government. He passed the test with flying colors and was invited to an official naturalization ceremony by U.S. Citizenship and Immigrations Services (USCIS) in October.
At the ceremony, Lamin joined other immigrants in reciting both the Pledge and Oath of Allegiance. He also received his official Certificate of Naturalization.
"It feels good and amazing," Lamin said of being an official U.S. citizen. "Not only would I like to achieve the American Dream, but I would also like to express my opinion on political issues. Now, I can have the feeling of voting. I can express my opinion on political subjects and things of that nature."
Lamin first came to the U.S. as a permanent resident in 2014.
"My first goal when I came to the United States was to be able to practice my voting right and be part of a brotherhood," the engineering major said.
Lamin found that brotherhood after enrolling at GHC. In between taking classes at GHC's Marietta site and studying to become a US citizen, he has been involved with the student group Brother 2 Brother (B2B).
"B2B certainly helps students like Lamin develop the kind of confidence and leadership skills that he has needed on his citizenship journey," said Jonathan Hershey, director of Georgia Highlands African American and Minority Male Excellence and B2B.