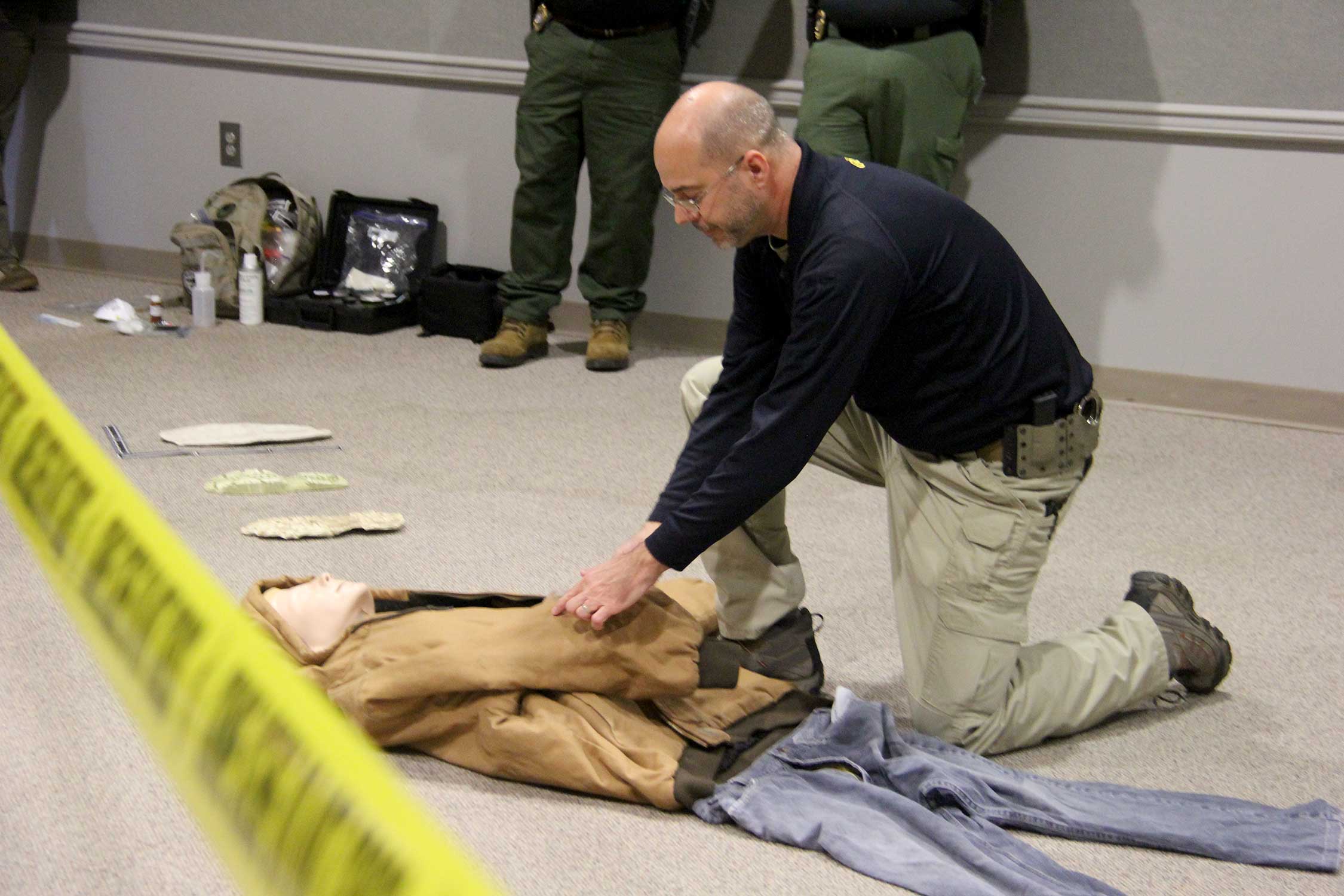 Solving a murder doesn't require a Gucci sweater vest and dramatic monologues, Special Agent Audey Murphy joked. The popular forensic show "CSI: Crime Scene Investigation" gets some things right, the Georgia Bureau of Investigation (GBI) agent said, but by and large, the real work is a long, hard and often gritty process.
GHC's Political Science and Criminal Justice Club hosted a number of law enforcement officers this week to demonstrate how professional crime scene investigations take place in the field.
Murphy was accompanied by Floyd County Police Chief Mark Wallace and Major Jeff Jones, as well as Floyd County detectives. Murphy created a mock crime scene and walked students through the process of investigating a serious case like murder.
Crime Scene Specialists are required to attend ten-week programs with 170 hours of classwork and 230 hours of fieldwork. Murphy, who has been with the GBI for 21 years and working crime scenes for 17, gave a crash course on the kinds of topics covered in the more extensive program, like blood splatter analysis, technologies used in the field, and key indicators for determining how a crime happened.
Murphy explained that GBI agents use their specialized training and equipment to search for, identify and collect evidence to examine, interpret and preserve physical evidence discovered at crime scenes.
Sometimes this includes digitally reconstructing a crime scene with specialized camera equipment or mapping out bullet trajectories with lasers or using blood drops and splatters, shoe impressions and fingerprints to determine exactly how a crime took place.
Part of Murphy's job also sees him guest lecturing and instructing for police academies and other educational and service organizations.
After the presentation concluded, students were able to use forensic field tools on the mock crime scene to practice what they had learned during the course.
The Floyd County Police Mobile Crime Scene Unit was also on display for students after the course.