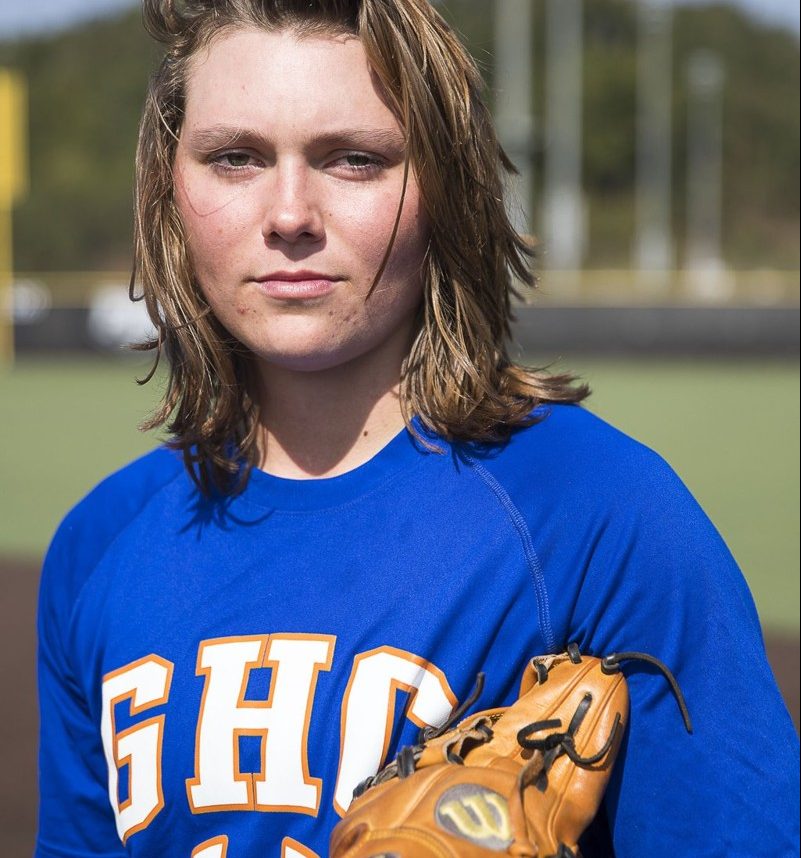 As seen in the Atlanta Journal-Constitution:
More young female players unwilling to give up beloved sport for softball
By Helena Oliviero
Ashton Lansdell, 18, steps to the plate at a baseball field in Emerson, Georgia, on a warm fall afternoon. She's already walked and stolen a base.
Her teammates shout their support from the dugout to pump her up.
He's scared of you, Ashton.
Here it comes. Don't miss it.
Goodbye, ball!
Facing pitches nearing 90 miles per hour, Ashton shows patience. She draws another walk and advances to first base.
At first glance, this Georgia Highlands College baseball intrasquad scrimmage is not particularly significant. There are no fans in the bleachers. And the coach ends the game in the seventh inning because a pitcher feels tenderness in his throwing arm.
And yet, Ashton, who started playing baseball at age 4 and has been a solid player at every youth level, sometimes a star, is making history once again on this picture-perfect baseball field about 10 miles northwest of Kennesaw. The young Marietta woman is the first female player on the Georgia Highlands baseball team, an NJCAA Division I program. Ashton is also believed to be the first girl to start a varsity game as a pitcher at Wheeler High School, known for perennially strong sports programs. And last year, at only 17, she landed a spot on the roster for the USA Baseball Women's National Team.
"I've always loved the game of baseball," said Ashton. "Everything is faster and more competitive in the next levels, and no matter how fast or how hard it is, it doesn't change my mind of whether I want to play or not."
Ashton is part of a tiny but growing group of girls in Georgia and across the country determined to play baseball and search for ways to keep playing when they reach their teen years — and beyond. And while the number of girls playing baseball remains small, they are determined to break the gender barrier, even as they age, and it becomes increasingly challenging to keep playing.
While you see the occasional girl playing Little League, nearly all of them who want to continue playing ball get channeled into softball, in part because that's where scholarships are.
Girls and boys play tennis, soccer and basketball. They both run marathons. But when it comes to baseball, the conventional wisdom has been boys play baseball, girls play softball.
But softball is a distinct sport with different pitching — often underhanded with a windmill-style motion, different balls (softballs are larger), different sized fields, different equipment, even different rules of the game.
Biology plays a role. Boys, especially older boys, often have an edge over girls in size and strength, allowing them to throw faster and swing harder. But girls will say the toughest obstacles are against stereotypes — that baseball is only for boy.
[...]
A deep love of the game
Ashton started playing baseball when she was 4, tossing plastic balls, swinging a tiny wood bat in her family's yard. From the start, she was making easy contact with the ball. Her parents could tell their older child, and only daughter, had exceptionally good hand-eye coordination. And she was fast, too.
She hit a home run at her first at bat at her very first T-ball game. By the time she was 10, she was on a competitive traveling team.
Ashton said she rarely heard snide comments about her playing baseball — and when she did, they came from players on other teams, not from her teammates.
At least one softball coach tried to recruit Ashton to play softball. And when she was 12, she acquiesced — to one practice. She didn't like the smaller field, larger ball, underhanded pitch.
"I tried it but wasn't feeling it," said Ashton. "It's just so different than baseball. It's like comparing pingpong to tennis."
Dash O'Neill, the head coach for the Georgia Highlands baseball team, recalled the moment he attended one of Ashton's games earlier this year to evaluate her.
"She reached out to me like other players and asked for an opportunity," said O'Neill, who also coached at Chattahoochee Valley Community College for several years. O'Neill has helped over 190 players advance to four-year institutions, as well as helped produce 16 players drafted by MLB teams.
He was impressed. She threw the ball well. She was fast. A good defender.
"She's very tough mentally," he added. She wasn't a token girl on the field. She looked like she belonged.
[...]
While he recognizes Ashton's trying to accomplish at a high level, something very few women have achieved, he emphasized the following point repeatedly: "To me, the part that she is a woman was not part of the equation. I saw a baseball player who wanted to play."
O'Neill encouraged Ashton, currently playing second base, to sit out this season as a redshirt to adapt to the increased speed of the game. Ashton agreed, saying she will use the year to develop. Redshirting college athletes is a way for coaches to give players more time to develop before getting on the field or court without having to lose any of their eligibility.