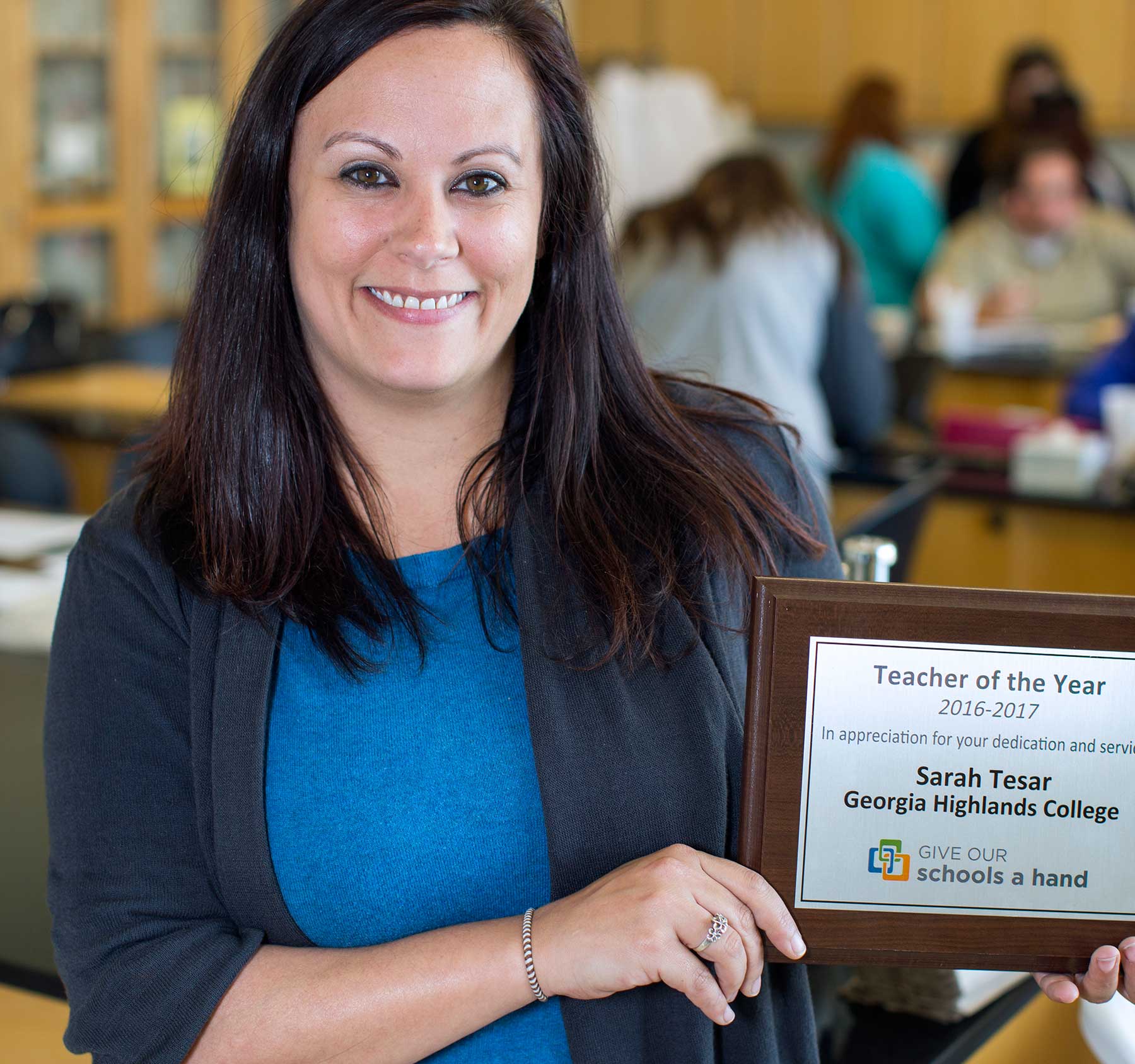 Georgia Highlands College has appointed Sarah Coakley as the new Dean of Natural Sciences. Coakley will oversee the Division of Natural Sciences, which currently offers associate of science degree pathways in biology, chemistry, geology and physics.
Coakley is originally from Lake Zurich, Illinois. She has a bachelor's in chemistry from University of Illinois at Chicago and a doctorate in chemistry from Tulane University.
After completing her doctoral thesis on theoretical physical/quantum chemistry in 2012, Coakley started looking for a position at a small school with teaching as the primary focus for faculty.
"During my job search after graduate school, I came across GHC and it seemed to check off everything I was looking for in a teaching position," she says.
Coakley began her career at GHC in 2013 as an assistant professor. In the six years since, she has been promoted to associate professor, interim dean and now dean of natural sciences. As an assistant professor, she was honored as the 2016 Cobb County Chamber of Commerce teacher of the year for GHC.
As the dean of natural sciences, Coakley is excited to take on new challenges and create positive outcomes for GHC's students, faculty, staff and community. Her goals include adopting free textbooks for more courses through the use of Open Educational Resources, expanding degree offerings and finding creative scheduling options to reduce degree completion time.
Coakley also wants to develop new research opportunities for students using resources like the state-of-the-art STEAM building at GHC's Cartersville site. She hopes all these initiatives and more can also encourage and inspire more women to pursue STEM degrees and careers.
When she isn't in the office or teaching a class, Coakley enjoys fantasy football, jigsaw puzzles and traveling. She lives in Marietta with her husband Josh.
"I love that GHC is more than a college. It's a community," Coakley says. "I love the culture, diversity and focus on both student success and access to high-quality, affordable higher education. I truly enjoy the people I work with. I can't imagine being anywhere else."
Learn more about the Division of Natural Sciences.