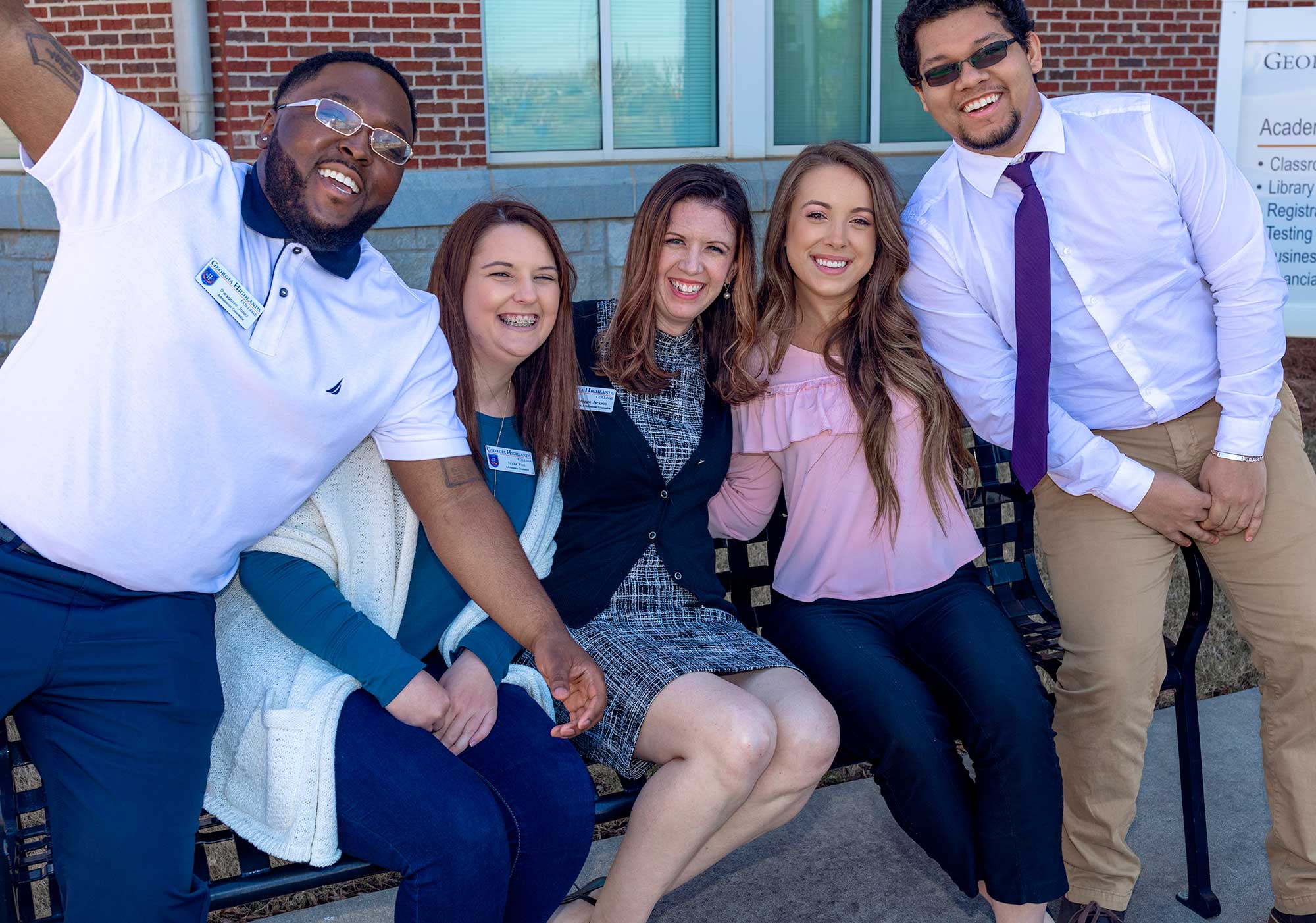 College admissions can be a confusing time for prospective students, whether they are fresh out of high school or starting their education later in life. Between completing applications, deciding where to attend and securing financial aid, navigating it all can be overwhelming.
Luckily, for students looking to attend Georgia Highlands College this August, a group of uniquely qualified admissions counselors are ready to help get them enrolled by the July 26 deadline.
The team of five are all experts in the GHC admissions process because they all have one thing in common – they all graduated from GHC.

As a first-generation college student, Admissions Counselor Eriq Colon knows firsthand the stress that comes with applying to college. Colon chose to attend GHC because its affordability allowed him to build a foundation without "breaking the bank." After graduating from GHC in 2016, he transferred to the University of Georgia where he earned a bachelor's in history.
Colon, who works at GHC's Marietta site and supports prospective students from Cobb and Fulton counties, leverages his personal experiences at GHC in his role as an admissions counselor.
"I can attest to what these students are going through because I have experienced it," he says. "It is refreshing to know the person that they will likely see first was standing on the other side of the desk just a few years ago."
Admissions Counselor Qwaunzee Jones has a similar view of his responsibilities. He believes his duty in helping students extends beyond simply getting them to complete an application.
"Our goal as admissions counselors is to not only get future students into GHC, but to make them feel welcomed."
Jones feels like he's just repaying the favor from when GHC welcomed him with open arms in 2011. Not only did Jones grow as a student through connections with faculty and staff, Jones also secured his first job as a student front office assistant at GHC. He says he matured as an individual because of his time as a Charger, which allowed him to graduate in 2015 and go on to earn a bachelor's from Kennesaw State University.
Jones now serves students from Paulding, Carroll and Haralson counties as the admissions counselor for GHC's Paulding site.
Maggie Jackson, senior admissions counselor, first enrolled at GHC as a freshman over a decade ago. As a student, she got involved as much as she could. She attended leadership conferences, joined Phi Theta Kappa, and worked for the Office of Student Life. After graduating from GHC in 2011, Jackson went on to earn a bachelor's from Shorter University and is currently pursuing a master's from Georgia Southern University.
Jackson now works primarily at GHC's Cartersville site. She manages admissions outreach for Bartow, Cherokee, Gordon and Pickens counties. She credits her time at GHC with her success.
"I was never a number," she says. "The small class sizes gave me an opportunity to engage, the supportive staff was encouraging and helpful and the student organizations allowed me to grow socially and professionally."
Taylor West, admissions counselor at the Floyd campus and for Floyd, Polk and Chattooga counties along with Cherokee county in Alabama, also benefitted from the small classes at GHC. West believes one-on-one attention helped her on her journey to graduate from GHC and go on to earn a bachelor's degree from the University of West Georgia.
"I believe that my experience as a student at GHC helps me as an admissions counselor because I am able to share my personal experiences with other students," West says.
Admissions Counselor Erin Nicholson echoes this sentiment.
"My experiences as a GHC student help me in this role. I can relate to our future students and give them my firsthand experience," she says. "As a recruiter, it is good to be able to say that you attended the school in which you are recruiting for, so you can actually speak to it."
Nicholson says GHC was the best option for her out of high school because she could commute, save money and get a great education. After graduating in 2016, she transferred to the University of West Georgia where she earned a bachelor's degree in public relations.
Nicholson works from GHC's Douglasville site and helps promote the college to students from Douglas and Carroll counties.
The deadline to apply for fall admission at GHC is Friday, July 26.
Visit highlands.edu to apply and for more information.