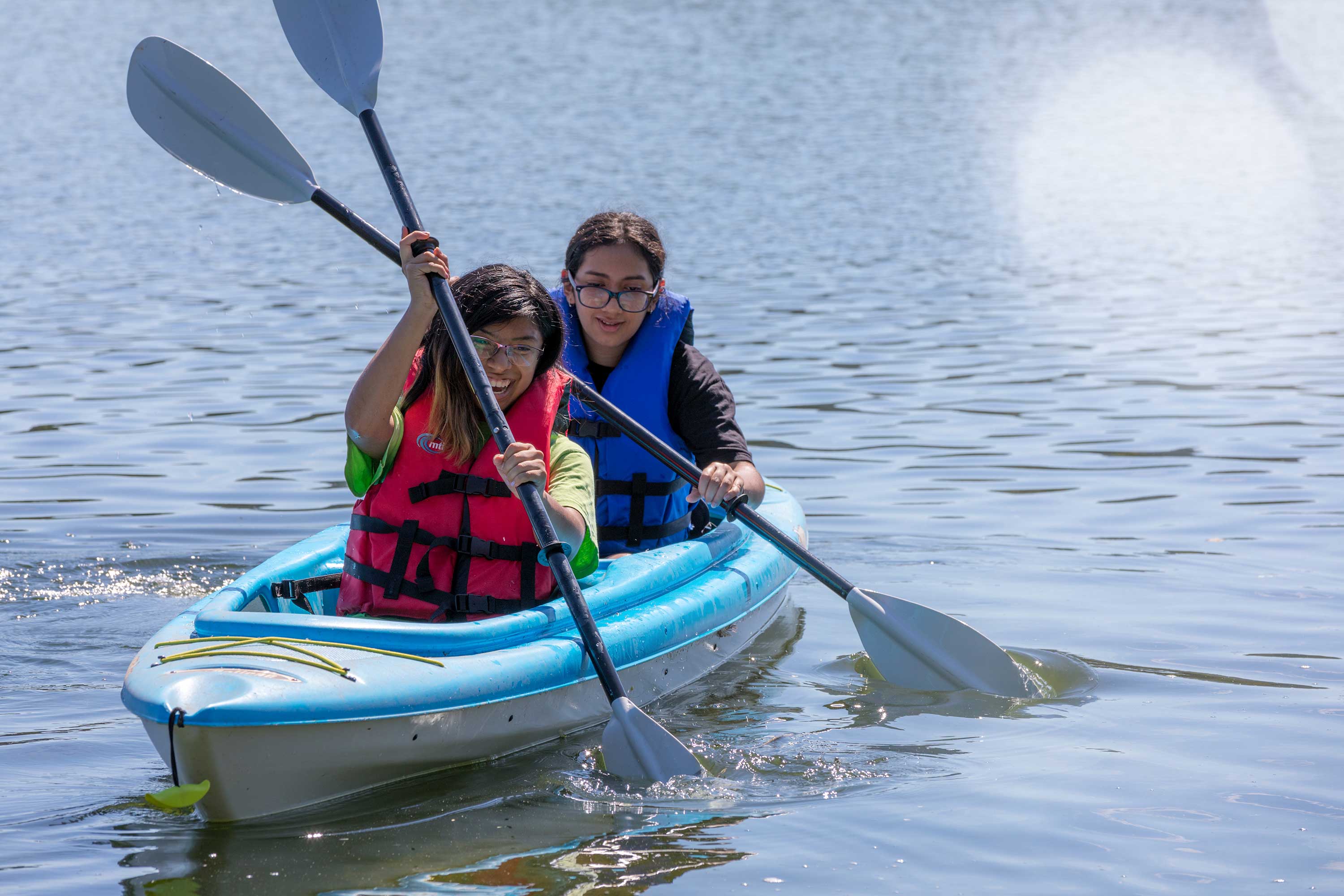 Paris Lake on Georgia Highlands College's Floyd Campus is a nature lover's dream complete with fishing and a hiking path full of wildlife – and it's open to the public for everyone to enjoy!
One of the lake's biggest draws is its abundance of popular sport fish, like bluegill, crappie, largemouth bass, catfish and more. Non-game species are also found in the lake, including shad, carp, an assortment of minnow species and various others. The lake is regulated under all state fish and game laws, so anglers should be sure to bring their fishing licenses.
For those wanting to get out onto the lake, visitors are welcome to bring their own boats. However, gas-powered motors are prohibited, so only small trolling motors or paddle vessels are allowed. Swimming in the lake is also strictly prohibited.
Meanwhile, there's plenty to do outside of the water for guests that prefer dryland. A gravel path loops around the lake at a total distance of 1.85 miles. The trail is ranked "easy" by AllTrails.com and is great for anyone looking to get in some physical activity while taking in beautiful views of nature. Geocachers should be on the lookout for caches throughout the trail, as well.
The path takes guests through a living wetland. The diversity of this and other nearby ecosystems means the area is teeming with wildlife. Depending on the season and time of day, visitors can spot deer, beavers, rabbits, an assortment of reptiles and amphibians and more, along with native and migratory insects like butterflies, dragonflies and bees.
Visitors should also keep their eyes on the sky while walking the trail or fishing in Paris Lake. In the last few years, a pair of nesting bald eagles have made the area their home. They can frequently be seen hunting over the lake or tending to their young during breeding season. Birders can also observe a host of other birds of prey, songbirds and migratory birds like waterfowl, seagulls, pelicans and herrings.
"Paris Lake is a fantastic resource and opportunity to bring the family out for a day experiencing nature in an easy to access and beautiful setting," says Assistant Professor of Biology Jason Christian.
The 55-acre lake is named for Albert E. Paris and his family, an original owner of the property where Floyd Junior College, now GHC, first began nearly 50 years ago in 1970. The lake is situated behind the academic buildings and library.
Visitors can easily access Paris Lake by entering the campus from Booze Mountain Road. The entrance road leads straight to a designated parking area and a sign with lake rules and regulations. A covered pavilion with accessible restrooms is available near the parking area. A gazebo is also available, closer to the academic buildings.
Paris Lake is open to the public from sun up to sun down every day.
For more information on GHC's Floyd Campus, including Paris Lake, visit floyd.highlands.edu