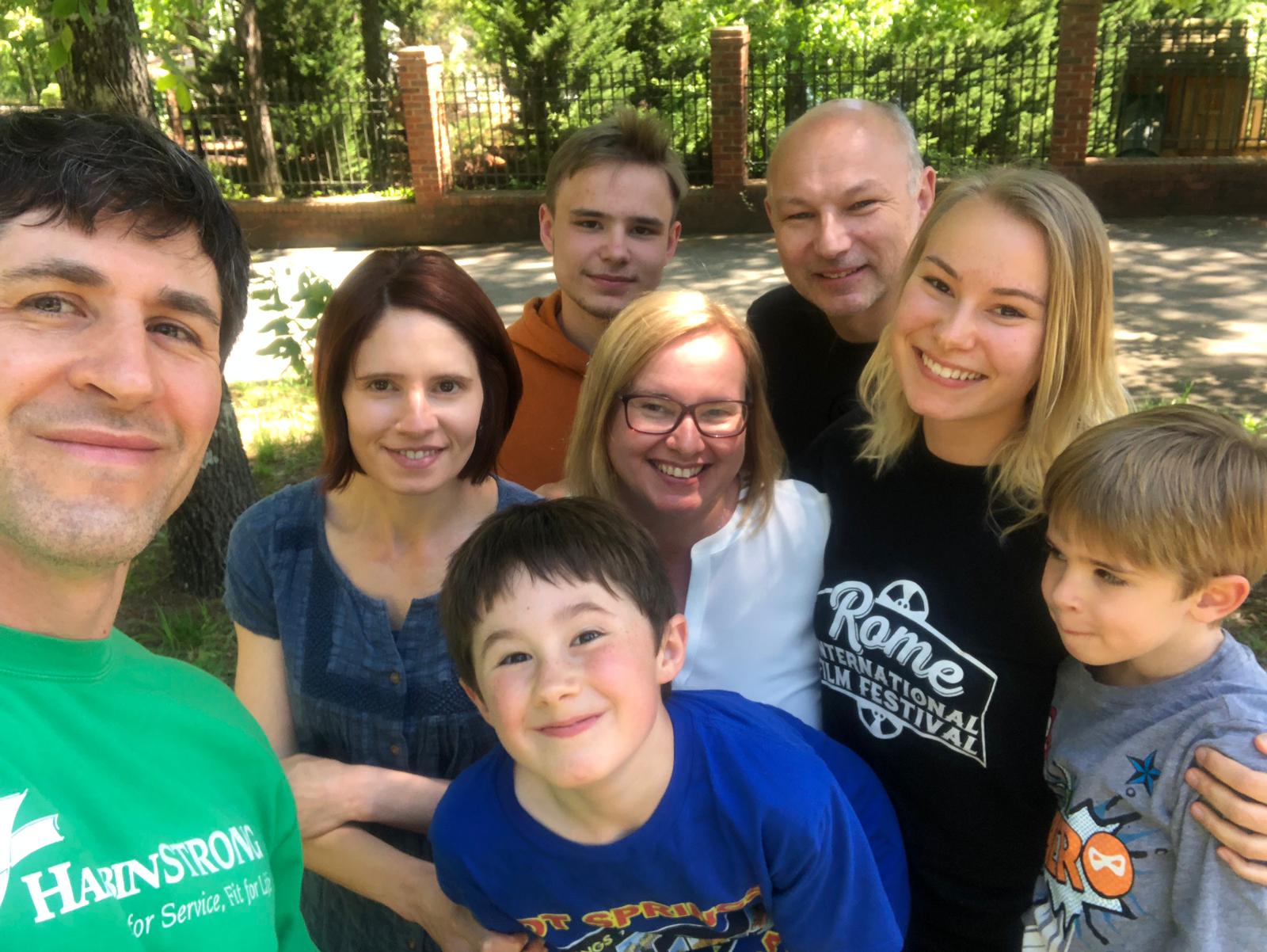 (Lena Walter-Helk, wearing a black Rome Film Festival shirt, poses with her host family.)
GHC welcomes German student through elite exchange program
Georgia Highlands College is wrapping up its inaugural year as a host institution through the Congress-Bundestag Youth Exchange (CBYX) for Young Professionals.
CBYX is funded by the U.S. Department of State and administered by Cultural Vistas. CBYX is a reciprocal fellowship that gives German young professionals the opportunity to live with an American host family, study at a local college and complete a six-month paid internship in their career fields.
GHC's first CBYX fellow was Lena Walter-Helk, a business student from Schweifurt, Germany, a small town in northern Bavaria. Walter-Helk took a full load of courses at GHC's Floyd campus in the fall and secured a job at WinShape Retreat in the spring.
Walter-Helk feels lucky to have been matched with GHC, explaining that she was welcomed with open arms and felt safe and well taken care of as a student.
"The professors at GHC are great and really understanding. They always offer help and I had fun talking to them about my experiences and Germany," she explains. "Everyone at GHC seems to really enjoy what they are doing."
Walter-Helk was also happy for the chance to take part in the extracurricular activities hosted by GHC throughout the semester. Furthermore, she credits her fellow students in inspiring her to work hard in her studies
"Attending classes at GHC prepared me well for my future life as a student at a university in Germany. I have never attended classes at this level of education and even though it was really challenging sometimes, it made me look forward to my studies," she explains. "My overall experience as a student at GHC was just great and I am grateful I got to spend a semester here."
Walter-Helk has lived with Jonathan and Amber Pewitt and their two sons during her time in Rome.
"She is almost like an older daughter to them now, and is like an older sister to their two children, two boys who are in elementary school and pre-school," says GHC Professor of History Bronson Long.
Walter-Helk says living with the Pewitts has impacted her life for the better.
"They have supported me so much. They inspired me with their openness, hospitality and kindness," she says. "Experiencing such a blessing has made my desire to live a life with purpose even stronger. I hope these relationships will last a lifetime."
GHC is working to host two new German students in Rome and Cartersville through the program in the 2019-2020 academic year.
To learn more about the CBYX program or to apply to serve as a host family, contact Long at blong@highlands.edu