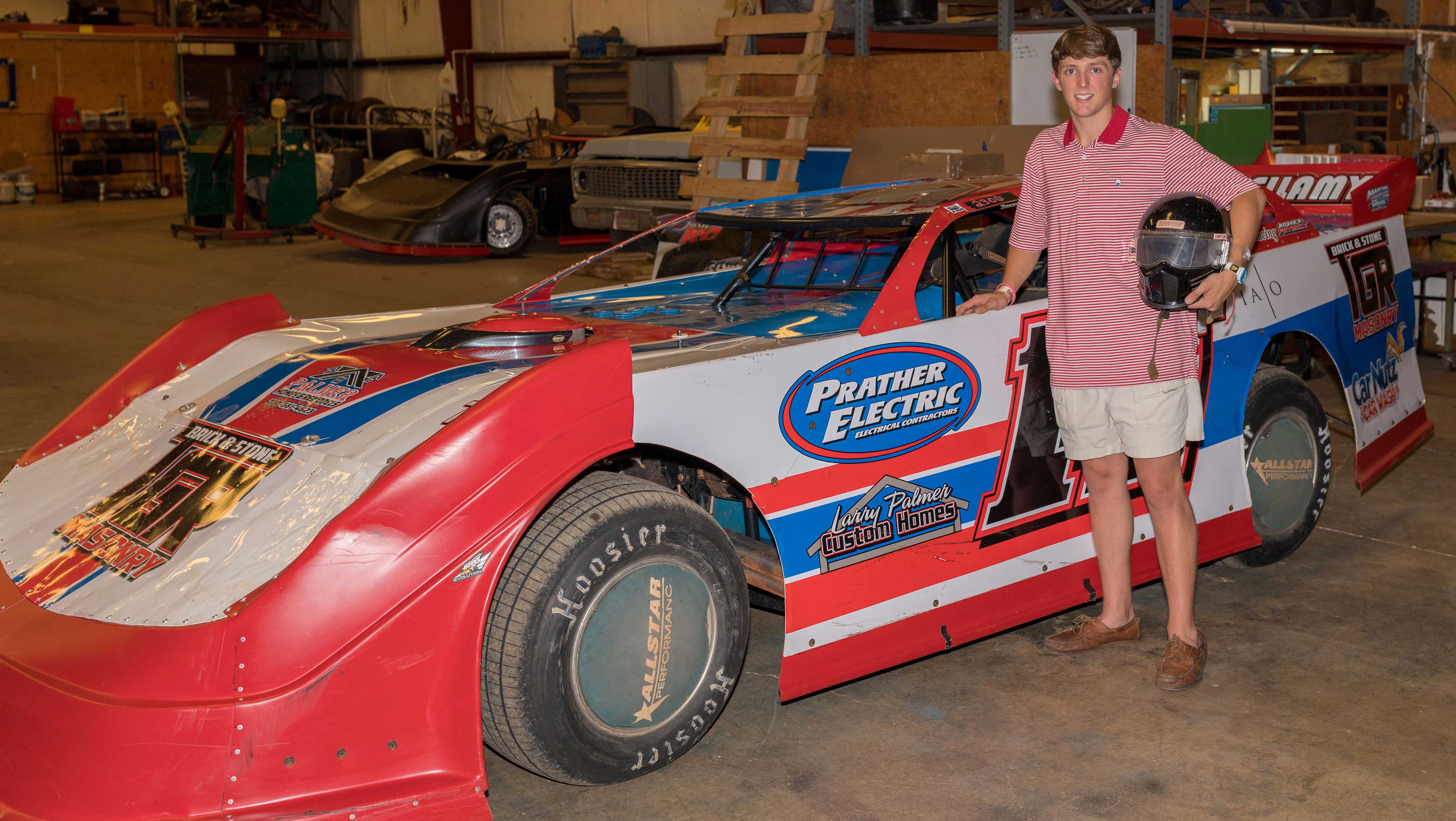 A crate late model race car bullets into the curve of a dirt race track in Georgia. Over 2,000 pounds of chassis, shocks, springs, tires, and sheet metal body careen at over 100 mph. The turn is so sharp, the car drifts sideways with its front toward the interior of the track and its bumper hissing inches from the wall. Over 6,800 rpms let the driver know he's getting every bit of the 475 horsepower his engine has been fine-tuned to reach…
This is a typical Saturday for Georgia Highlands College student Logan Palmer.
When Logan was young, he raced karts on a pro circuit throughout the South. When he turned 15, he took a seat behind the wheel of a crate late model race car at a dirt track racing event at the Dixie Speedway in Woodstock… and he hasn't stopped since.
"To be a driver, it's an honor and a blessing to get to perform and race and have the ability to go out and do something not everyone gets the opportunity to do," he said. "When you strap in and hear the engine roar, you feel like you're a part of the car."
Logan has been travelling across Georgia racing for several years now.
"It's fun travelling around racing on different tracks. Every track feels different. You feel a lot of g-force. This car accelerates instantly, and your reaction time has to be perfect," he said. "You have all these emotions going, but the actual feeling is indescribable."
Logan snagged his first win in 2018. He said winning is all about seconds and the driver's precision.
"Time is key. Time goes down to the hundredths, tenths of hundredths of a second. Time is critical."
Despite how much skill it takes to race and win as a driver, Logan doesn't take all the credit. He points out the car's nose, body, tires, springs, shocks, and engine in his garage near Resaca, Georgia.
"There is no part of this car somebody did not put their hands on. Everything is custom, completely custom. There's a lot of geometry and math that goes into making this car go," he said. "Everything is made, adjusted, and customized to handle the speed and turns, and it all makes a huge difference. It takes everyone to make this car run."
Logan stressed the importance of his crew and the preparation needed to make it into the victory lane.
"You have to trust your car. You have to trust the people setting up your car. And you have to trust yourself, because when a driver goes into the corner of a track hitting 100 mph, they have to trust all of it to get out of that corner. You can't drive your car without that trust. That trust is going to help you take the car to the extreme and get the job done."
Logan currently takes classes at GHC's Cartersville location. He is working on his business degree and is glad he chose to start at GHC.
"I chose to go to GHC because it's close to home. I can still go to school, I can still work, and it also gives me the ability to work on my car and be close to our shop," he said. "I also have time to do what has to be done to maintain the car and get it ready to go to the race track each week."
Logan said GHC's caring faculty has really resonated with him.
"I was struggling in one class and my professor met with me after the class and that really helped me," he said. "With me, that's how I learn, having that one-on-one connection with my teacher."
To follow Logan or attend one of his races, you can follow him on Facebook at Logan Palmer Racing.