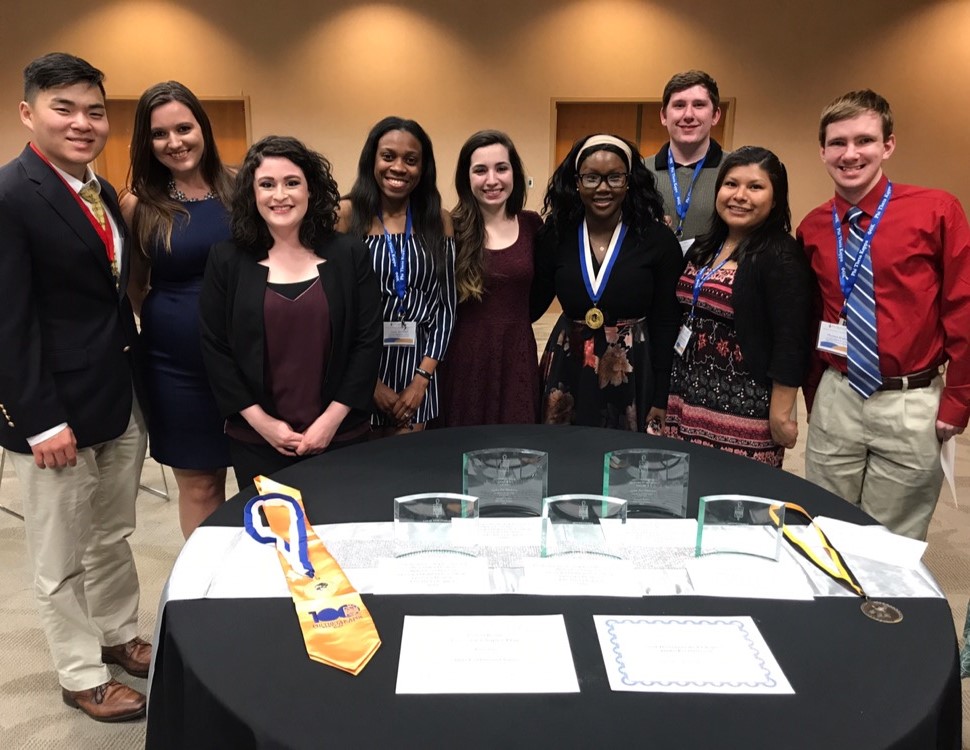 Georgia Highlands College's Chapter of Phi Theta Kappa (PTK) has had a busy year and has been named the "Regional Top Distinguished Chapter Overall" for the third year in a row at regionals.
PTK students completed several local service projects, including a Christmas Angel Tree program, knitting scarves for the homeless and participating in GHC Preview Days at each GHC location.
The PTK chapter also served on the regional level in the Regional Officer position of Chapter Relations.
Chapter President Aicha Bah was the official Regional Officer Representative and helped lead both the fall and spring Regional Conferences held at Albany State University in November and Atlanta Metropolitan State College in March.
Bah, Alexandra Deaton, Tabitha Boyd and Margaret Gardner were selected for the Coca-Cola All-Georgia Academic Team and were honored at the awards luncheon in downtown Atlanta in March.
The honors continued with the chapter winning multiple regional and international awards, as well.
At the Regional spring conference, Bah, Deaton, Minh Nguyen and Stephanie Corona won the Distinguished Officer Team award, the Distinguished Honors in Action Theme and Honors in Action Overall awards.
Additionally, Bah won the regional Hall of Honor award and Chapter Vice President of Membership Deaton won the Sarah Anne Staples award.
The chapter also won two Honors Institute scholarships and was elected as the Regional Vice Presidential Chapter for 2018/2019 and will be hosting the Fall Regional Conference in October at GHC's Cartersville location.
At the International Centennial Spring Catalyst Conference in Kansas City, MO, the GHC chapter won a very competitive International Distinguished Officer Team award and the International Honors in Action Theme Award.
The new chapter President Andrew Beard is participating in the PTK International Scholar Laureate Program in China, while the new chapter Vice President of Membership Lexii Daniels is participating in the PTK Honors Institute at Villanova University this summer.
Both will be training new officers and members at GHC as well as helping lead on the regional level at an Honors in Action summer workshop.
##
PICTURE: (L-R): Jay Fritts, Elle Summers, Kelly Pereira, Lexii Daniels, Alexandra Deaton, Aicha Bah, Andrew Beard, Cindy Mendoza, Thomas Boylan