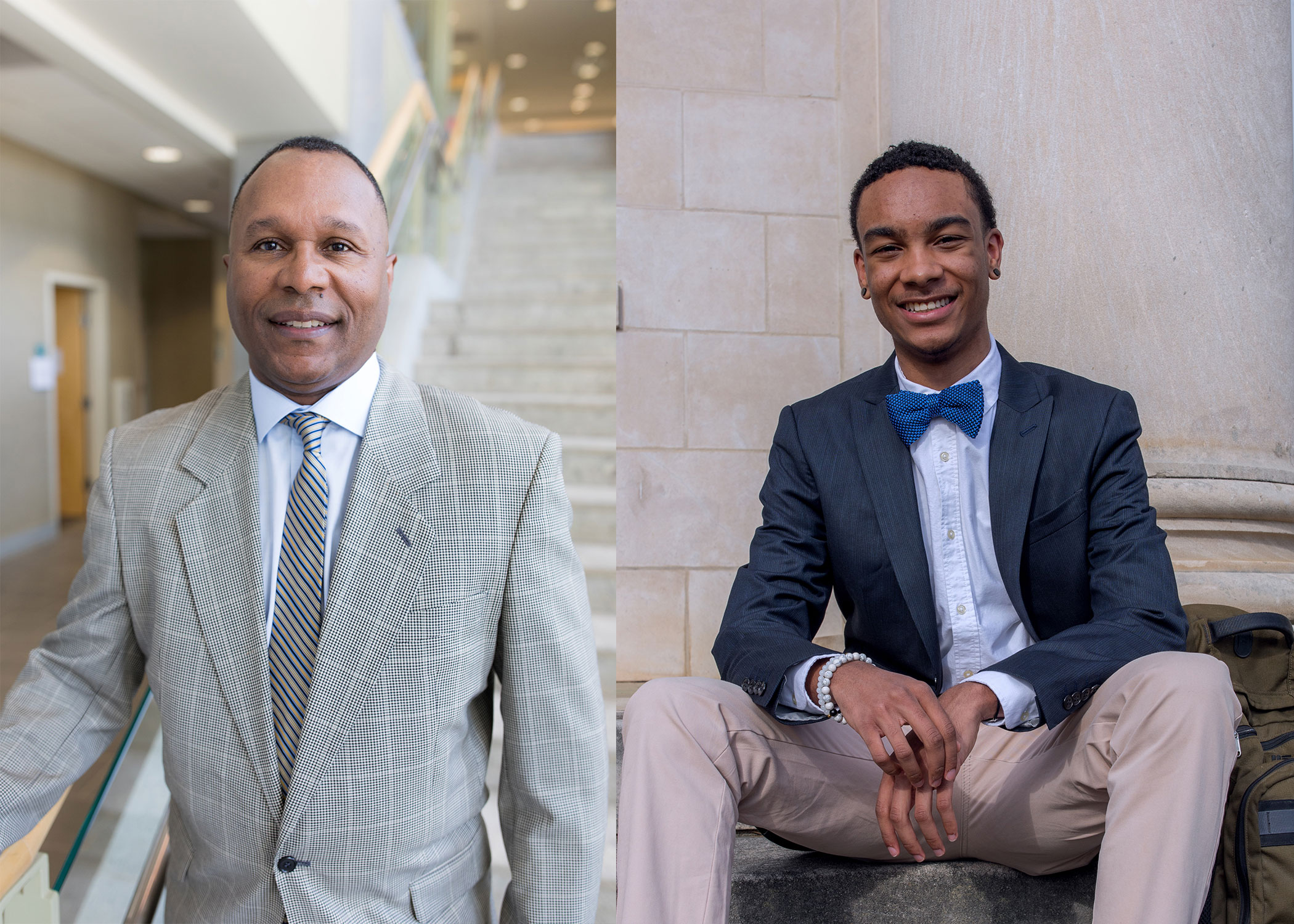 PICTURE: (LEFT) Michael Copeland, (RIGHT) William Evans.
GHC student William Evans graduates high school and college this month
William Evans will be joining hundreds of other college graduates at Georgia Highlands College's Commencement on Saturday, May 12th, at The Forum River Center in downtown Rome at 10AM. The only difference is William is a high school student who will be walking in a college graduation a few weeks before he walks for his high school graduation.
He joins a number of other high school students who will also be throwing two caps in the air this graduation season.
Each of these students is part of the Dual Enrollment program at GHC. Dual Enrollment is a program that allows high school students (9th – 12th grade) to earn tuition-free college credit while working on their high school diploma.
"I decided to participate in the dual enrollment program at GHC after attending a GHC Preview Day," William said. "Deciding to become a Dual Enrollment student at GHC is one of my proudest decisions in high school."
William will be graduating with his associate degree at GHC, and then two weeks later he will receive his high school diploma from Paulding County High School.
"When I first started taking college courses in fall 2016, I really did not know what to expect. I took courses with other Dual Enrollment students, traditional and non-traditional students. I learned how to better communicate in group environments. I also learned how to adjust my work and study habits to better perform in my courses," he said.
William admitted at first the whole process was a bit "overwhelming," but he said the atmosphere at GHC helped propel him toward his goal of graduating with a two-year degree at nearly the same time he would bring home his high school diploma.
"The faculty and staff at GHC are dedicated, enthusiastic and proud of GHC and student success," he said. "The students at GHC are intelligent, diverse and welcoming. I never felt that I was looked at less than others because I was a Dual Enrollment student."
William stated another key to his success was joining several student organizations, including Brother 2 Brother, Phi Theta Kappa, the Six Mile Post and Emerging Leaders.
William especially credited much of his success to B2B, which is part of the GHC initiative GHAME (Georgia Highlands African American and Minority Male Excellence), which is a part of the USG's statewide program AAMI (African American Male Initiative).
"I would definitely recommend Dual Enrollment to other high school students," he said. "Becoming a Dual Enrollment student will save you thousands of dollars in the long run after entering an undergraduate program and it's a great way to get an early start on your college career."
Next, William plans to attend the University of Georgia, where he wants to double major in art and women's studies. He wants to go on to obtain his doctorate and become a humanities professor.
First adult accelerated degree graduate credits program for success
Michael Copeland made a commitment to his family and himself several years ago: he was going to earn his college degree.
Michael will be making good on that promise to his family this May when he walks across the graduation stage at Georgia Highlands College.
This will be a first for both Michael and GHC's fairly new adult accelerated program called NOW, which stands for Nights, Online, and Weekends
GHC launched the program in an effort to make earning a college degree faster and more convenient for working adults.
NOW is an accelerated two-year degree program crafted specifically for working adult learners who want to earn a business-focused Associate of Science degree but need the scheduling flexibility offered by evening, online and hybrid courses.
The program also is a great pathway that easily transitions to baccalaureate programs in other University System of Georgia institutions.
Michael said the program has perfectly set him up to achieve his final goal of earning his bachelor's in business from the University of Georgia's Terry College of Business.
Originally from Buffalo, New York, Michael works for a national bank on a global network team. He said seeing both of his daughters go through college prompted him to take his first step toward a life-long dream.
"The biggest thing for me was to commit and eliminate my many excuses," he said. "I set a goal to graduate by spring 2018 and devoted the necessary time and energy to achieve that goal."
Michael decided to go through GHC's accelerated program for working adults and has found it to be one of the best choices he could have made.
"The NOW program was a god send," he said. "The Program Coordinator Maria Wilson is the best counselor, cheerleader, and life coach on the planet. Without her, I would not have been successful in graduating so soon."
In his time at GHC, Michael wanted to do more for students like himself who were working full-time and going to college, so he helped start the Adult Student Association. As president of the student group, he helped craft their mission: to encourage adults and other non-traditional students to become an effective integral part of the GHC community.
He said getting involved at GHC is one of the best ways to maintain a clear path to graduation, especially for adult learners.
"I suggest coming on campus and meeting others that previously experienced the same trepidation and can offer recommendations to succeed. You will develop a support system at GHC through the NOW students and faculty," he said. "You will meet students that started just like you and can share how they juggle family, jobs, and other obligations and how they find time to complete their school work."