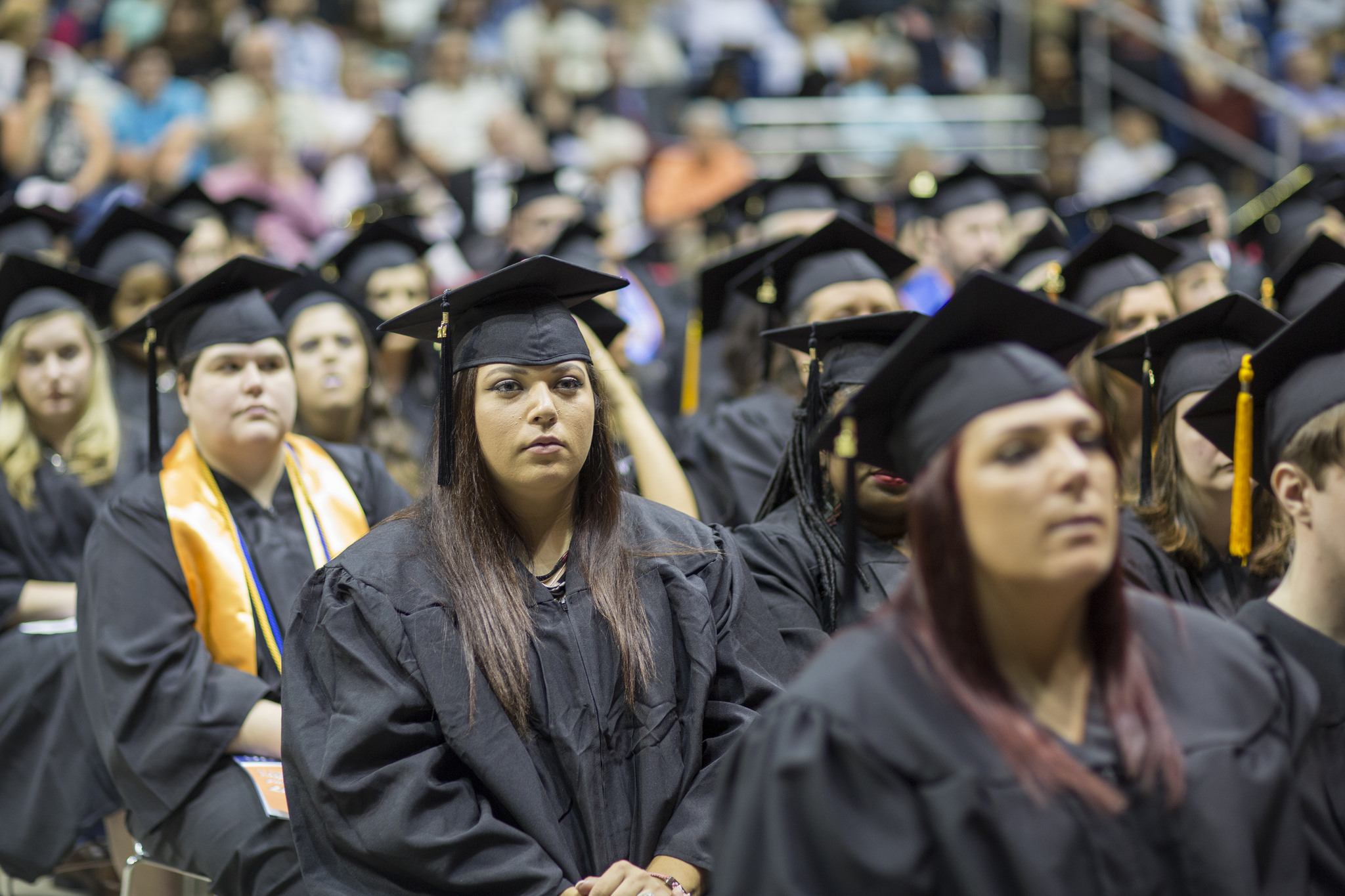 Georgia Highlands College Commencement will be held on Saturday, May 12th, at The Forum River Center in downtown Rome at 10AM. GHC will have 894 students receiving 906 diplomas (with a number of those students receiving more than one)*.
The nursing pinning ceremony will be held at 6PM on May 11th at the First Baptist of Cartersville.
The faculty has chosen Renva Harmon Watterson as the 2018 Mace Bearer and Carla Byram Patterson as the recipient of the Wesley C. Walraven Faculty Award.
The Honorable Bobby Lee Cook will give the commencement address, and Student Government Association President David Hill will speak on behalf of the student body.
Regent Sarah-Elizabeth Reed will also bring greetings from the Board of Regents.
The Honorary Faculty Marshal will be Kristie Kemper and Donnie Denson will speak on behalf of GHC alumni.
On the floor of the Arena will be reserved seating for staff and invited guests. Free parking is available at the Third Avenue Parking Deck (adjacent to the Forum) and West 3rd Street parking lot (across the bridge from the Forum). Shuttle service will be available throughout the day from Broad Street, all the parking decks, and West 3rd Street.
For more Commencement Information
Commencement Speaker
The Honorable Bobby Lee Cook
Bobby Lee Cook is a trial lawyer from Summerville, Georgia. He has practiced law since the late 1940s and founded the law firm Cook & Connelly in 1949 with the late A. Cecil Palmour. Cook attended Gordon Military College and the University of Alabama before earning his law degree from Vanderbilt University. He has bar admissions in multiple court systems with the ability to practice law in the U.S. District Courts, the Northern, Middle & Southern Districts of Georgia and Eastern District of Tennessee, the U.S. Court of Appeals, the U.S. Supreme Court, and all Courts in the State of Georgia.
Cook has held office and served in the Georgia House of Representatives and the Georgia Senate, as well as a Georgia State Court Judge. He has been honored with numerous awards, including the American Academy of Achievement Award in Advocacy, an Honorary Juris Doctor Degree from John Marshall School of Law, and four lifetime achievement awards.
Cook is reputed to have been the inspiration for the television series Matlock's main character, Ben Matlock, which starred Andy Griffith as a Georgia attorney. In Cook's long career, he holds a record jury acquittal rate of 90 percent, and he has represented clients from a wide spectrum of the famous, the infamous, and the unknown, including Bert Lance in a civil matter, Wayne Williams in post-conviction proceedings, and the Rockefellers and Carnegies in eminent domain cases.
Today, Cook's law firm focuses on state and federal trials in complex civil and criminal litigation.
Mace Bearer
Dr. Renva Harmon Watterson 
To honor the many years of dedicated service Dr. Renva Harmon Watterson has provided to the college, GHC faculty selected her to carry the mace for 2018. The Georgia Highlands College mace was first used at the 25th graduation ceremony in 1994. The mace was designed by David Mott, associate professor of art, and Dr. David Cook, professor of biology. It was made by GHC alumnus Jeff DeVore, Atlanta sculptor.
Watterson began as a part-time instructor of communication at the College in 2005, then moved to chair of Humanities Division in 2006. She was appointed as interim vice president for academic affairs in 2008, before moving into the position permanently in 2009. The USG Chancellor appointed Watterson as the interim president of Georgia Highlands College in May 2012, and she served in that role until September 2014 before returning to her previous VPAA position. She holds a Bachelor of Arts in Speech Education and Theater from Shorter College, Master of Arts in Interpersonal and Organizational Communication, and a Doctor of Education in Higher Education from the University of Arkansas at Little Rock.
The mace, a great and splendid staff, is actually a club and symbolic weapon. Medieval universities would not defend themselves with a sword. It was not considered appropriate for gentle scholars to draw blood, but they could defend themselves using the cudgel. The mace has come to stand as a symbol for two critical matters. First, it stands for the freedom of the academy to seek the truth and to teach it. It also stands for the authority of the academy. The mace makes the statement that the academy must protect the ideals of order, liberty, and freedom to learn.
Wesley C. Walraven Faculty Award
Carla Byram Patterson
GHC faculty members selected Carla Byram Patterson, professor of English, to receive the Wesley C. Walraven Faculty Award to honor her years of service and leadership. The Walraven Award is named in memory of Dr. Wesley C. Walraven, the academic dean at Floyd Junior College (now GHC) from its founding in 1970 until 1993. Walraven's most memorable assets included an unselfish dedication to students, a quietly focused management style, and keen intelligence.
Given these criteria for this year's award winner, Patterson is an indisputable choice. Patterson came to GHC (then Floyd College) as a part-time Instructor of Developmental English in 1993. She served as Extended Learning Academic Specialist and as Director of Extended Learning, and in 1999, she assumed a full-time Instructional Technology and English position. She earned tenure track status in 2004, was awarded tenure in 2008, and attained Professor rank in 2016. She holds the Bachelor of Arts in Communication and the Master of Arts in English from Jacksonville State University, with honors distinction accompanying both degrees.
Patterson's devotion to her students, concern for her colleagues, attention to the craft of teaching and learning, and commitment to academic excellence are remarkable. These make her the perfect choice for this year's prestigious award.
**894 students receiving 906 diplomas based on number of students who applied for graduation as of May 1st**