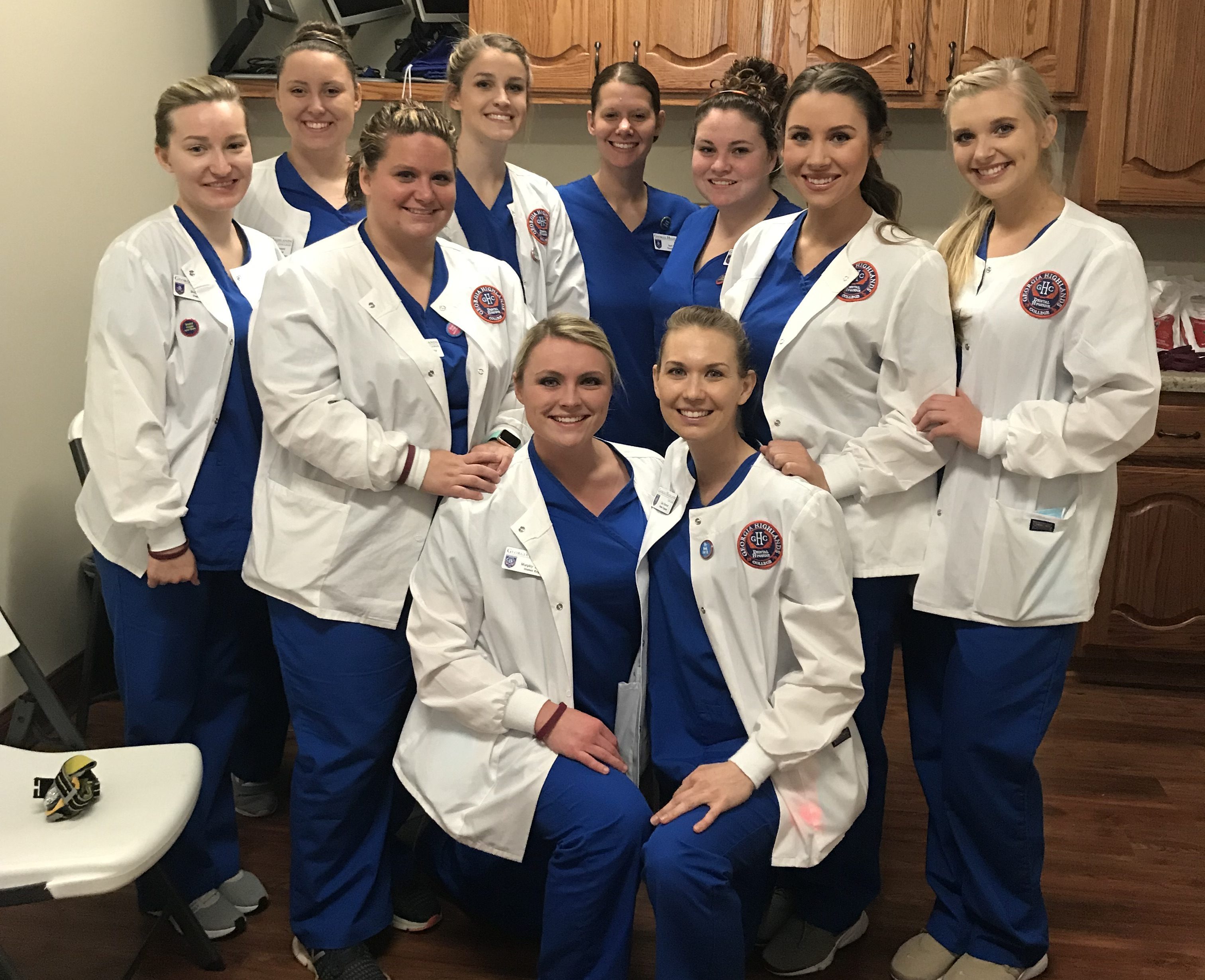 Georgia Highlands College's dental hygiene program is more than classes, textbooks and labs. Students get real world experience in the best way possible: volunteering to provide free oral health care to the community.
"It is important for our students and our community for our students to go outside the classroom to meet people and identify the needs of populations that do not have full access to preventive care, and to bring those populations into our clinic for care when possible," said Assistant Professor Regina Gupta. "We want every citizen in our community to establish care with a local dental practice. However, when they cannot, we believe our students have a unique opportunity to provide preventive care."
Recently, dental hygiene students took advantage of a volunteer opportunity to do just this. They organized a visit from residents of Hickory Log House in Cartersville, which is a personal care home for men with intellectual and developmental disabilities.
Gupta and Dean of Health Sciences Michelle Boyce worked with Hickory Log House to have 20 residents visit GHC's dental hygiene students for oral care.
"This was an excellent opportunity to increase access to care for a dentally underserved population and for our students to gain experience in providing oral health care for patients with special needs," Gupta said.
Under the direction of Kristin Bauman, First Year Clinic Coordinator, students also recently participated in an event called "BLESS Weekend," volunteering to perform oral cancer screenings for Bartow county residents.
"BLESS Weekend" is a community outreach event that features health screenings, children's activities, food and resources. The event is organized by The Bless Coalition and was held at the Allatoona Resource Center in Acworth.
Dental hygiene students are also active in rotations at the Harbin Clinic Medical Oncology Center, giving them the opportunity to interact with patients who are receiving treatment, primarily in the chemotherapy area of the clinic.
"We talk to patients about oral health and any problems they are experiencing. We hand out extra-soft toothbrushes, pamphlets, and products for dry mouth," Gupta said. "Students have the opportunity to learn through this service-learning activity, gaining insight that will help them care for their own patients after graduation.  The patients at Harbin in turn receive support and guidance with their oral health at a time when they are vulnerable to oral health problems related to cancer treatment."
But not every trip out of the classroom has dental hygiene students polishing their skills. Professors also make time in the semester for students to visit the Capitol to meet with the Georgia Dental Hygienist's Association, learn about new related legislation, and meet their legislators.
"We are very passionate at GHC about providing preventive oral health care in our communities and about teaching our students to do the same," Gupta said. "We hope that our students discover a passion for volunteering within their future profession, as well."