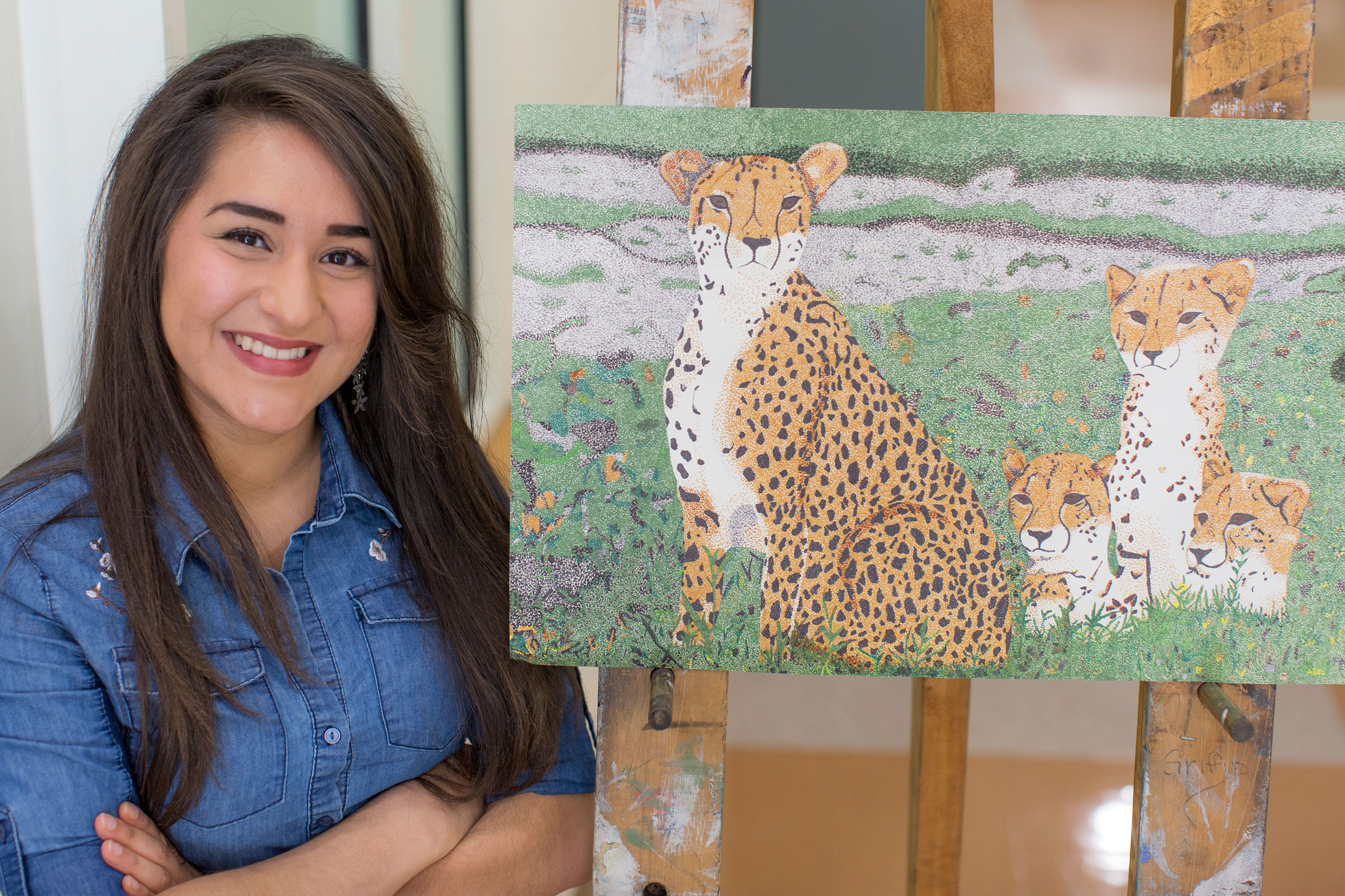 Xinia Smith-Camacho was born in Costa Rica. Her first language is Spanish. In 2009, her family moved to America. The only way she could communicate was through her art.
"When I first got here to America, I was 17 years old, and I couldn't speak any English. We never had the opportunity when I was in Costa Rica for me to do art, so when we came here, that was one of the first classes
I took," Xinia said. "My first assignment in the art class I was taking in high school was to complete this special project."
The art teacher explained to the class that they should take several weeks to finish their piece. Xinia had a hard time understanding when the project was supposed to be complete.
"I went home and spent all night finishing it," she said. "I came back the next day and gave it to her completed, and she was surprised."
Xinia titled that project "Donkey." The black and white piece of artwork depicts a donkey eating grass next to some birds. Its head is low and its back is heavy with a saddle and covers.
"'Donkey' to me represents the struggle I have with the English language, and how much I've over- come," she said. "To me, that's a big thing, because when I was in Costa Rica, I never even thought I would ever speak another language, and the fact that I came here and was able to do
 those things shows me how much
I've grown. It was my first expression in another language. It is the
best picture I have."
"Donkey" has won numerous awards, as well as a special recognition in the Old Red Kimino, GHC's student-run literary magazine.
Xinia said she considers art as her true second language, noting how it helped her express herself in a predominantly English- speaking culture. She was eventually able to master English, as well, but said if she had to choose a language to express herself to the fullest, it would be art.
"Art is a great representation of what my family means to me. I'm a twin sister, and there's my big brother, and then my mother. Momma has been the biggest influence in my life. Momma does that very well. I'll show her something and she'll be like, 'No, that's not the right colors...' She gets the best out of me."
Xinia explained that one of her more recent pieces depicts her family dynamics. Three cheetahs are resting in a prairie. She said the smallest two are depictions of her and her twin sister. The next biggest is a depiction of her brother. And then towering in front of the rest of them, overwatching, is a depiction of her mother.
"It shows what my family means to me, but especially what my mother means to me, what she means to our family," she said.
Xinia's mother is also a big influence on the current piece she is working on now: an owl. Her mother raises chickens for eggs and has been collecting feathers for her daughter to use. She has two bags ready to go.
"She's always bringing me stuff to use for my art as I'm working on it," Xinia said. "Momma is very proud of my work."
Xinia is a financial services accountant at Georgia Highlands College. She has worked at GHC for three years. She said she is happy to work at a place where "people admire what she does."