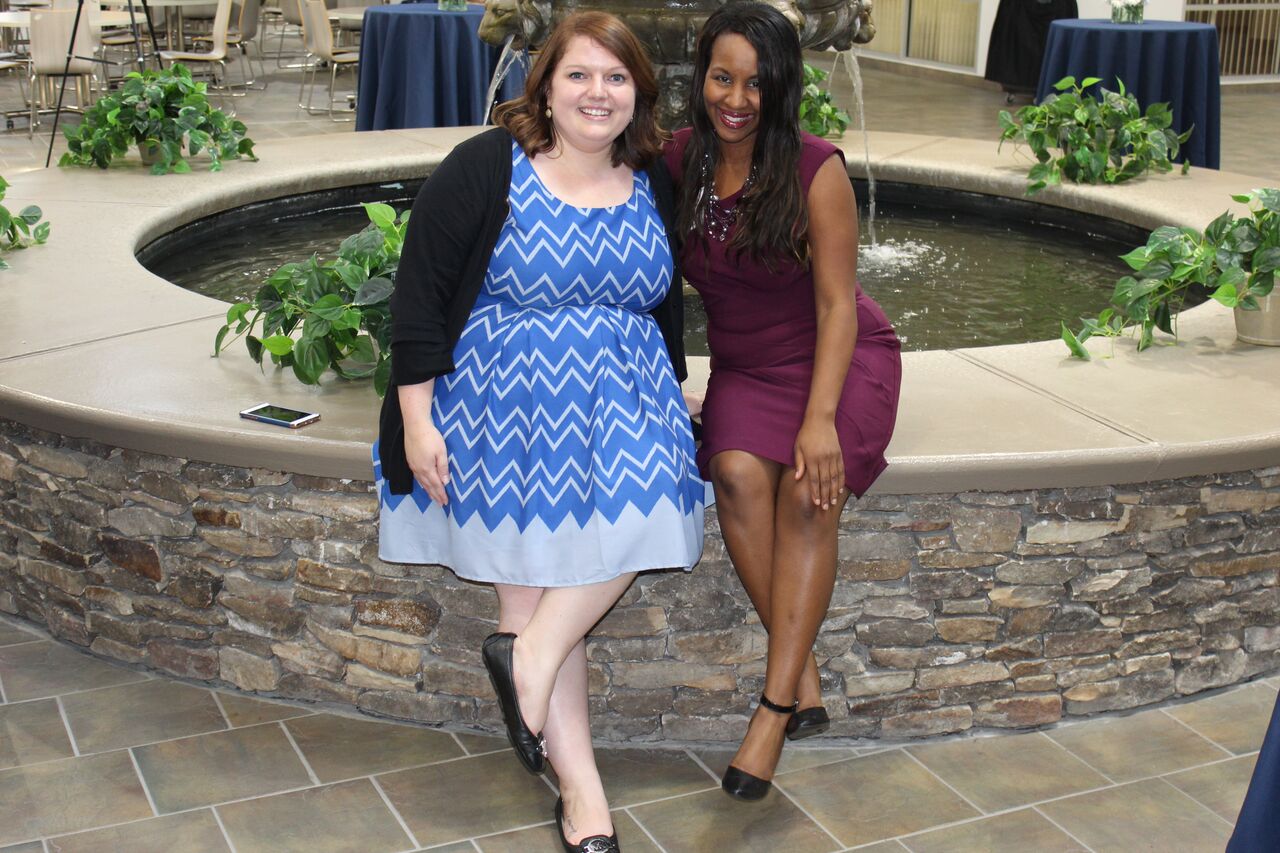 Georgia Highlands College had two of its members in the Cobb Education Consortium (CEC) graduate the Leadership Academy: Professor of Communication Travice Baldwin Obas and Advisor Jillian Petro.
Baldwin served as project director for the inaugural community service committee. They partnered with MUST Ministries to provide financial literacy resources for the organization's annual "Step Up Your Game" event geared to provide resources to job seekers in Cobb County.
Petro serve on the K-12 team. They partnered with Lockheed Martin to provide a full STEM day at a middle school in Cobb County.
Obas was additionally recognized as the CEC "leader of the year." She will continue to serve on the CEC Steering Committee and be responsible for planning and implementing leadership activities for Leadership Academy participants.
Two more GHC employees will be joining the CEC Leadership Academy this year: Accounting Technician Tyler Wilson and Assistant Professor of Chemistry Sarah Tesar.
Wilson and Tesar will join last year's GHC additions to the CEC Leadership Academy: Veterans Affairs Coordinator Amy Wise and Enrollment Management Specialist Lynzee Patrick.
Participants in the CEC Leadership Academy are chosen at the institutional level, through a competitive process. The leadership academy prepares employees at member institutions for greater leadership roles in the community and the institution. The first academy year provided participants the opportunity to network and experience a variety of seminars and presentations, retreats, school visits, governmental activities, guided readings and interaction with the CEOs. During the second year, members tackle an extensive group project under the guidance of a committee of specialists, designed to further their professionalism and expertise.
The CEC consortium is composed of public educational entities in Cobb County, Georgia: Chattahoochee Technical College, Cobb County School District, Georgia Highlands College, Kennesaw State University, and Marietta City Schools. These CEC members enroll over 140,000 students from throughout their service areas.
For nearly 25 years, the CEC has been dedicated to improving the quality of education among its member institutions. The consortium is a unique, solution-based collaborative with the participating schools, colleges and universities working together unselfishly for the benefit of their students.
Cobb Education Consortium website: http://www.cobb-ed-consortium.org/
Picture: Jillian Petro and Travice Obas