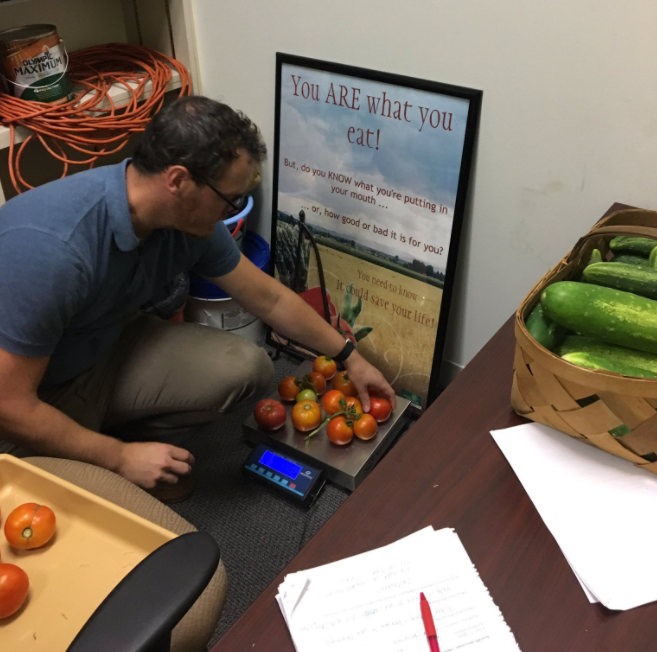 UPDATED: As of (8/10/2017), GHC has harvested over 327 pounds of produce to donate to the Charger Food Pantry.
A humble 160-square-foot plot of grow space split between a greenhouse and raised beds at Georgia Highlands College's Cartersville location is responsible for 260 pounds of produce being donated to GHC's Charger Food Pantry.
The Charger Food Pantry was started in 2016 to meet the needs of food insecurity among college students.
"The problem of food insecurity is increasingly on the radar of many college administrators," GHC Director of Student Support Services Angela Wheelus said. "Students are sometimes finding it difficult to focus or even stay in class, so if we can remove one of those barriers by providing access to food, then that's what we need to do here at GHC. Many of our students are non-traditional, supporting families and working full-time while attending college. Food insecurity cuts across all demographics. That's where GHC's Charger Food Pantry comes in."
Although the pantry is stocked with staple items like peanut butter, tuna, spaghetti sauce and other non-perishable food items, as well as personal items, students in need were unable to get fresh produce.
And that's where the faculty and staff of GHC's Natural Science and Physical Education division stepped in.
"Once we determined the ideal location, we started the design and construction process," Dean of Natural Science and Physical Education Greg Ford said. "The goals of the project were always to support academic research opportunities for faculty and students as well as to address food insecurities and the needs of the Charger Food Pantry."
Ford plans to expand the produce program from the Cartersville location to each of GHC's locations. They are currently working with students in GHC's student group Green Highlands to determine the best locations for additional gardens. The next one is planned for the Floyd campus.

The effort to grow produce for the pantry has been a labor of love for those at GHC.
"The greenhouse is managed by Joseph Collins, our laboratory coordinator in Cartersville, and several members of the faculty and staff work with Joseph to plan the planting season, maintain the greenhouse and harvest the produce," Ford said. "We have also had student volunteers from Green Highlands working alongside us throughout the entire process, as well."
Collins stated he hopes the produce inside the greenhouse will eventually be year-round, giving the pantry a steady supply at all times.
"We have donated 260.49 pounds of produce for the food pantry," he said. "We try to grow produce that we think people will enjoy and will also provide a good value. This season we have grown potatoes, tomatoes, snap peas, summer squash, green beans, okra, carrots, cucumbers, peppers and watermelon."
Collins explained that now that they are able to provide the fresh produce, they are looking for ways to provide students with simple recipes for easy-to-prepare meals using these fresh ingredients.
The GHC greenhouse is supported by a number of other individuals, as well, including Instructor of Biology Jason Christian, who has managed the engineering and construction of the greenhouse and raised beds; Associate Professor of Biology Jackie Belwood and Laboratory Coordinator Devan Rediger, who were involved in the early planning stages, have helped maintain the facility and worked to get the produce in the food pantry; and Professor of Biology Sharryse Henderson, who has provided additional resources for the project.
GHC's Charger Food Pantry currently spans across all five of GHC's locations across Northwest Georgia. Should you wish to donate to GHC's Charger Food Pantry, please make monetary donations at any GHC business office in Rome, Cartersville, Marietta, Paulding or Douglasville. To make non-perishable food donations, please contact Student Support Services at: sss@highlands.edu
PHOTO: GHC Laboratory Coordinator Joseph Collins weighs this week's intake of fresh produce grown at GHC for the Charger Food Pantry.