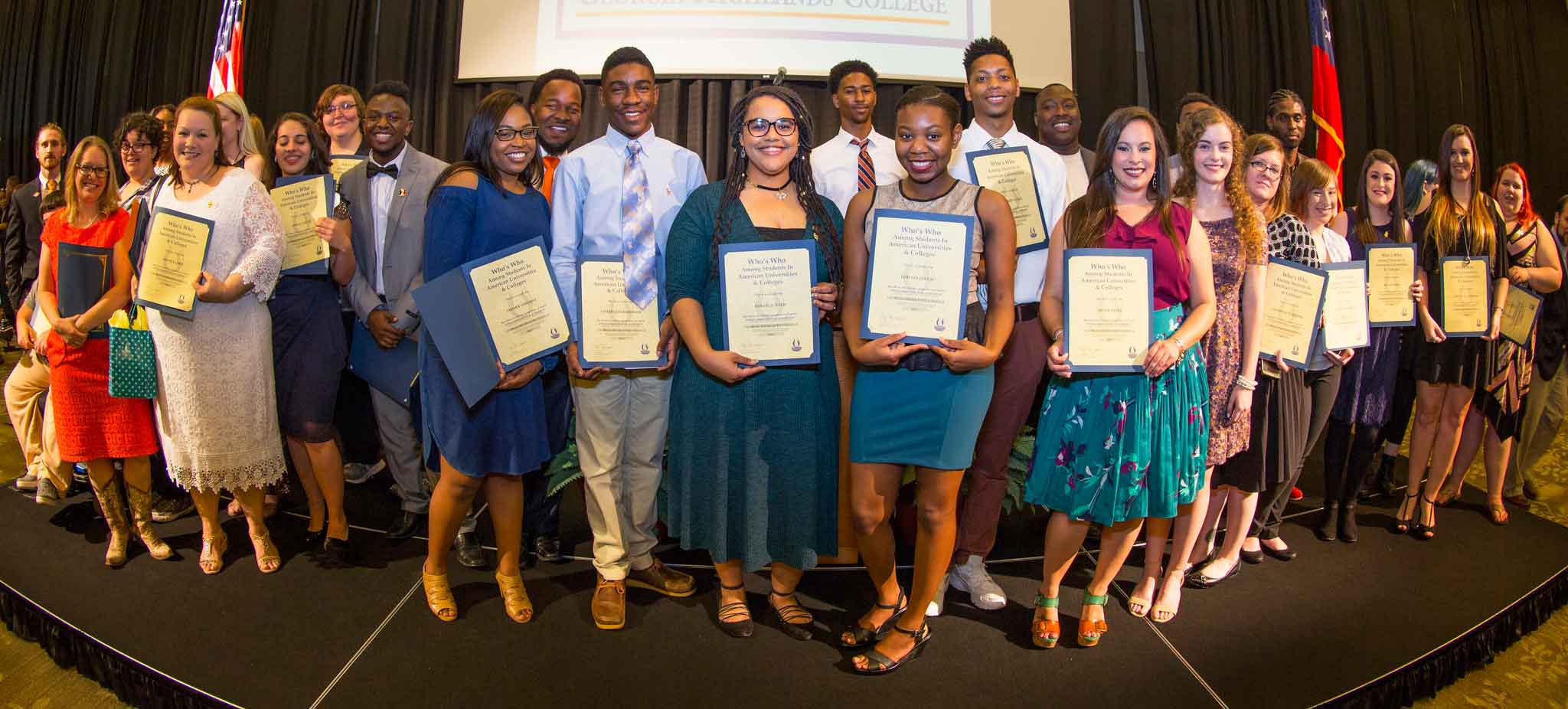 Georgia Highlands College has announced students named to the spring 2017 President's List and Dean's List. To achieve President's List status, students must earn a 4.0 grade point average and attain a minimum of nine semester hours of credit.  To make Dean's List students must complete a minimum of nine semester hours and achieve at least a 3.5 average.
The following students were named to the President's List (by county):
JACKSON – AL 
Brianna Davis, Bryant
BARROW  
Alicia Baker, Winder
BARTOW  
Lizabeth Adams, Cartersville
Haley Altman, Cartersville
Rebekah Bell, Cartersville
Jenna Bevil, Emerson
Mary-Kate Billings, Cartersville
Joel Bowers, Taylorsville
Gretchen Brown, Cartersville
Shawn Bunyard, Euharlee
Tara Butler, Kingston
Morgan Callari, Cartersville
Tabitha Cantrell, Cartersville
Hannah Cauthen, Cartersville
Alexandria Chitwood, Cartersville
Abby Clark, Kingston
Alexis Clark, Adairsville
Kaden Cochran, Adairsville
Rachel Craig, Adairsville
Michaela Crowe, Cartersville
Courtney Davidson, Taylorsville
Nedalys Delcid, Cartersville
Samantha Dempsey, Cartersville
Jeffrey Dunn, Kingston
Hope Elrod, Cartersville
Milisa Gallardo, Cartersville
Angelica Gallegos, Cartersville
Joy Garrison, Kingston
Emily Greene, Cartersville
Phillip Hames, Cartersville
Madison Harris, Cartersville
Chandler Hart, Cartersville
Emilee Hoerl, Cartersville
Kimberly Holland, Cartersville
Hannah Hood, White
Elizabeth Hopper, Adairsville
Allison Hulit, Euharlee
Ashlie Hunt, Kingston
Lillian Jordan, Taylorsville
Huda Kamal, Cartersville
Christopher Kattner, Acworth
David Kindred, Cartersville
Christin Koutavas, Cartersville
William Landrum, Adairsville
William Lange, Cartersville
Brittany Laughlin, Cartersville
Anna-marie Lawson, Adairsville
Kaitlyn Marshall, Cartersville
Therese Mastini, Euharlee
Caliope Miron, Cartersville
Shawn Mohr, Acworth
David Moseley, Cartersville
Emily Parker, Adairsville
Atit Patel, Cartersville
MacKenzie Payne, Cartersville
Caleb Reeves, Cartersville
Brandi Rhodes, Cartersville
Dana Rieske, Kingston
Jennifer Ringenberg, Euharlee
Arthur Rutledge, Taylorsville
Kristian Rutledge, White
Timothy Ryan, Cartersville
Elena Sanders, Cartersville
Jillian Scanlon, Cartersville
Sydney Shultz, Cartersville
Abigail Smith, Cartersville
Daniel Smith, Adairsville
Marleigh Smith, Taylorsville
Patricia Spivey, Cartersville
Brooklyn Stepp, Kingston
Jonny Thornton, Cartersville
Courtney Urquhart, Cartersville
Jacelyn Wells, Cartersville
CARROLL  
Alania Henderson, Bowdon
Malorie Moore, Villa Rica
Jill Murphy, Waco
Amanda Sheffield, Villa Rica
CATOOSA  
Melonie Craven, Ringgold
CHATTOOGA  
Adriana Bautista-florentino, Summerville
John Brown, Cloudland
Timothy Cooper, Summerville
Kevin Dooley, Menlo
Kallie Johnson, Summerville
Brooke Landry, Lyerly
Laura Mann, Summerville
Anslie Miller, Summerville
Payton Payne, Summerville
Andrew Soule, Menlo
Levi Thomas, Trion
Ericka Wells, Summerville
John Young, Summerville
CHEROKEE  
Olivia Barnes, Canton
Leonard Carrese, Woodstock
Andrea Crabb, Woodstock
Alexandra Deaton, Canton
Justin Dobbs, Canton
Meagan Doughty, Acworth
Mia Glessing, Canton
Amy Holley, Canton
Nikolas Kekel, Canton
Brittany Kelchner, Woodstock
Carol Kendrick, Canton
Christina Loper, Acworth
Christopher McDuffie, Woodstock
Kalin Neely, Canton
Rebecca Newton, Canton
Hannah Queen, Woodstock
Hannah Ransom, Canton
Edgar Rodriguez, Acworth
Hayley Sirmons, Acworth
Chelsie Stroud, Woodstock
CLAYTON 
Malik Baker, Riverdale
COBB  
Jordan Adams, Powder Springs
Dominic Akala, Powder Springs
Solace Amedogbe, Powder Springs
Tomiko Atkins, Kennesaw
Andrew Beard, Marietta
Adam Bomar, Acworth
Yennifer Bravo, Smyrna
Leanne Ca, Marietta
Kaleigh Camp, Kennesaw
Yvonne Camp, Mableton
Rebecca Cardoza, Marietta
Sigourney Chavez, Atlanta
Kathryn Childress, Marietta
Benjamin Chipman, Powder Springs
Diana Clarke, Kennesaw
Seth Cowan, Acworth
Caitlin Crider, Smyrna
Chelssey Cuellar, Kennesaw
Jessica Darity, Powder Springs
Ashley Diehl, Dallas
Kaitlyn Duvall, Marietta
Ivy Ellison, Powder Springs
Etsegenet Endale, Powder Springs
Joshua England, Marietta
Madisyn Escue, Acworth
Joseph Estep, Marietta
Lesly Fant, Acworth
Ein Findley, Powder Springs
Erick Garcia Fierro, Smyrna
Michael Ghaly, Marietta
Shaheen Ghazyani, Marietta
Tiffanie Hayes, Marietta
Dalia Hernandez, Marietta
Brande Holm, Powder Springs
Claire Howard, Marietta
Trevor Jones, Acworth
Lynn Kimwele, Austell
Alanna Levine, Kennesaw
Amanda Lewis, Powder Springs
Hannah Loccisano, Acworth
Zachary Marotta, Smyrna
Connor Mcminamin, Acworth
Danielle Mecum, Marietta
Cindy Mendoza Razo, Kennesaw
Megan Milner, Acworth
Doina Mompremier, Marietta
Mark Morris, Powder Springs
Katherine Morrison, Kennesaw
Hiba Nasser, Marietta
Sarah Neighbors, Marietta
Minh Nguyen, Marietta
Melanie Niemann, Powder Springs
Emily Onofrey, Powder Springs
Fawzieh Osman, Austell
LaNia Palmer, Powder Springs
Kelly Pereira, Kennesaw
Bryce Pitts, Marietta
Mary Powell, Dallas
Himaanshu Puri, Kennesaw
Juan Ramirez, Powder Springs
Arron Rann, Powder Springs
Jennel Reader, Marietta
Yzcalli Rendon, Kennesaw
Myrna Rios, Powder Springs
Adrian Salinas, Austell
Nachell Sanfilippo, Smyrna
Karen Schubert, Kennesaw
Ashley Scott, Kennesaw
Madison Siegel, Marietta
Joseph Simone, Atlanta
Jordan Singer, Kennesaw
Michael Smoak, Kennesaw
Molly Southern, Marietta
Lauren Stanfill, Acworth
Kaimi Story, Marietta
Hilina Tesfaye, Kennesaw
Erica Thompson, Kennesaw
Xuan Tran, Marietta
Deanna Valdez, Kennesaw
Pablo Varagon, Marietta
Ryan Vickery, Marietta
Alexis Watkins, Acworth
Delores Wiley, Marietta
Christine Wilmott, Kennesaw
Margaret Wright, Powder Springs
Donna Zedler, Kennesaw
COWETA  
Amanda Glick, Newnan
Denise Landon, Newnan
DOUGLAS  
Ansleigh Bentley, Villa Rica
Elijah Bransford, Douglasville
Christian Casteel, Villa Rica
Jerry Casteel, Villa Rica
Justin Cintron, Douglasville
Candace Cope, Douglasville
Cassidy Edwards, Douglasville
Katherine Gamel, Douglasville
Amelia Green, Douglasville
Shanice Hamilton, Douglasville
Christina Hampton, Douglasville
Jelena Hooi, Douglasville
Laura Lambert, Douglasville
Leila Langelier, Lithia Springs
Justin Leibbrand, Douglasville
Kalista Lyons, Douglasville
Eva Marchbanks, Douglasville
Melinda Meade, Douglasville
Marshea Oliver, Villa Rica
Ethan Pell, Villa Rica
Paul Pieper, Douglasville
Tanner Poltzer, Douglasville
Krista Pugh, Douglasville
John Robbins, Douglasville
Aaron Roberts, Douglasville
Constance Rust, Lithia Springs
Abigail Schintzius, Douglasville
Madison Signoret, Winston
Kathleen Stone, Winston
Gabriel Strawn, Winston
Lacey Turner, Douglasville
Isabelle Wilkins, Douglasville
Ada Wood, Winston
EFFINGHAM  
Jessika Gancedo, Guyton
FANNIN  
Erick Rosas Rosas, Blue Ridge
FAYETTE  
Hannah Fertig, Peachtree City
FLOYD  
Natalie Aguilar, Rome
China Allmon, Rome
Roger Amaya, Rome
Leah Ayers, Rome
Rebecca Blair, Kingston
Caitlin Brownlow, Rome
Jessica Carrier, Rome
Brittany Carroll, Rome
Payton Carter, Calhoun
Erich Curtis, Lindale
Miranda Curtis, Lindale
Carol Dempsey, Rome
Bonnie Dodd, Kingston
Kaley Dover, Silver Creek
Brittany Dowdy, Silver Creek
Andrew Dulaney, Cave Spring
Haley Epstein, Lindale
Marshall Gaddy, Rome
Jacqueline Gentry, Rome
Angelica Gomez, Rome
Heather Gooch, Savannah
Theresa Graham, Rome
Ronald Hale, Armuchee
Emily Hall, Aragon
Savannah Haney, Armuchee
Courtney Hann, Lindale
Katie Henderson, Rome
Anna Hensley, Rome
Amber Hubbard, Rome
Briana Jolly, Rome
Jeffrey Kennedy, Rome
Jennifer Kilgo, Silver Creek
Cassandra Labeause, Rome
Jeremy Linville, Rome
Joshua Mabry, Lindale
Ashley Manchester, Rome
Giselle Martinez, Rome
Maria Meyers, Rome
Mary Moody, Rome
Autumn Munday, Rome
Dylan Nelson, Lindale
Katelen Oakes, Rome
Aubryn Patton, Rome
Lydia Peugh, Armuchee
Alexis Pledger, Rome
Emily Preston, Rome
Autumn Pritchard, Aragon
Dustin Putnam, Rome
Angelina Reyes, Rome
Princesa Reyes, Rome
Ansley Reynolds, Rome
Natalie Romano, Rome
Jose Sales, Rome
Jacob Stewart, Rome
Erika Stonebraker, Rome
Molly Van Kleef, Rome
Sabrina Wilson, Rome
Serena Wilson, Rome
Ciara Zarr, Rome
FULTON  
Brent Amelingmeier, Roswell
Mallory Malcolm, Atlanta
Shante' Mosley, Atlanta
Theodore Sayre, Roswell
Nicole Stewart, Alpharetta
Rebecca Summers, Atlanta
GILMER  
Kelly Criswell, Ellijay
GORDON  
Hannah Brookshire, Calhoun
Joseph Farist, Ranger
Carrie Gordon, Calhoun
Aaron Hunter Grizzle, Ranger
Kelsey Hales, Calhoun
Kaley Harris, Adairsville
Ali Henslee, Calhoun
Logan Thomas, Calhoun
Andrew Wilson, Ranger
GWINNETT  
Kelly Hall, Sugar Hill
Lashavia Person, Duluth
HALL  
Lydia Richey, Gainesville
HARALSON  
Clayton Bell, Tallapoosa
April Couch, Cedartown
HOUSTON  
Andrew Ellison, Bonaire
MADISON  
Emily Poston, Commerce
PAULDING 
Jared Acreman, Douglasville
Caitlyn Anderson, Hiram
Kerry Benjamin, Dallas
Elisa Borgese, Acworth
Madison Brooks, Dallas
Nathaniel Carr, Dallas
Ivanna Castaneda, Powder Springs
Haley Clark, Dallas
Kelsey Cole, Dallas
Caitlin Cooney, Dallas
Tiffany Cory, Dallas
Tiffany Crowe, Dallas
Sarah Enwright, Dallas
Jason Frederick, Dallas
Ashleigh Freeman, Powder Springs
Cason Galeazzo, Dallas
Emma Gober, Hiram
Cole Golden, Dallas
Helaina Gomez, Dallas
Joshua Goodwill, Hiram
Halie Hicks, Dallas
Jyssica Hightower, Dallas
Kassie Hite, Hiram
Macy Hollis, Dallas
Tapeprasith Inthavong, Dallas
Timothy Irby, Dallas
Mykayla Jeter, Hiram
Jennifer Johnson, Dallas
Terri Koch, Douglasville
Taylor Konermann, Douglasville
Haley Lash, Dallas
Natalie Long, Hiram
Taylor Maney, Temple
David Maulding, Temple
Ashley Mclean, Douglasville
Ashley Phillips, Douglasville
Taylor Potter, Acworth
Robert Ragsdale, Douglasville
Christina Samples, Dallas
Tiffany Sanchez, Dallas
Meghan Shelton, Dallas
Joseph Showers, Hiram
Taylor Silvar, Dallas
Kristina Smith, Douglasville
Tonya Smith, Rockmart
Logan St. Germain, Douglasville
Sabrina St.Martin, Dallas
Hannah Varnum, Dallas
Taylor Voraphongphibul, Rockmart
Nathanael White, Dallas
Anna Williams, Dallas
PICKENS  
Joshua Smith, Jasper
POLK  
Anna Bowman, Silver Creek
Amanda Bray, Cedartown
Heidi Celedon, Cedartown
Erica Forrister, Cedartown
Margaret Gardner, Cedartown
Jessica Harris, Taylorsville
Kari Harris, Aragon
Landon Hendrix, Cedartown
Remington Jackson, Cedartown
Moises Ledesma, Silver Creek
Hunter Marchbanks, Cedartown
Joyce Myers, Rockmart
Slade Parker, Cedartown
Kristen Prejean, Rockmart
Judy Standeford, Aragon
Melissa Streetman, Cedartown
Lisa Tracy, Rockmart
Jennifer Vaughn, Cedartown
STEPHENS  
Feather Holbrook, Toccoa
WALTON  
Lisa Linville, Monroe
PRINCE GEORGES – MD  
Nicholas Cohill, Upper Marlboro
FRANKLIN – OH 
Jeremy Morris, Dublin
MACOMB – MI
Kateryna Pazzaglia Khomenko, Cervia, Emilia Romagna,
The following students were named to the Dean's List (by county):
CHEROKEE – AL
Lauren Hammett, Gaylesville
LIMESTONE – AL  
Cameron Turner, Athens
BARROW 
Mackenzy Mcfarland, Winder
BARTOW  
Jordan Andrews, Cartersville
Laken Bennett, Cartersville
Rebecca Bennett, Rydal
Karsten Black, Cartersville
Stacie Broyles, Kingston
Eugene Carlson, Cartersville
Avery Cissa, White
Stephanie Corona, Adairsville
Logan Couch, Cartersville
Charles Davis, Cartersville
Tambari Deeyaa, Cartersville
Destiny Dial, Adairsville
Sarai Diaz, Cartersville
Kelsie Dobson, Cartersville
Amethyst Dunn, Kingston
Renee Ellis, Cartersville
Brandy Folger, Adairsville
Sarah Franklin, Cartersville
Francene French, Adairsville
Jacqueline Garcia, Cartersville
Christopher Getz, Cartersville
Kelly Getz, Cartersville
Courtney Godfrey, Cartersville
Tanner Harrell, Cartersville
Braden Harris, Kingston
Emma Hartley, Cartersville
Beth Henderson, Rydal
Emma Henry, Cartersville
Amanda Herron, Cartersville
Makenzie Holmes, Cartersville
Rachel Hornbrook, Adairsville
Lamaria Jackson, Cartersville
Mallory Jackson, Cartersville
Tanner Jones, Cartersville
Josephine Kappel, Cartersville
Kera Lawhon, Cartersville
Kristy Lee, Cartersville
Joshua Lehto, Adairsville
Garam Lim, Cartersville
Emily Long, White
Cherish Lowery, White
Stephanie Maldonado, Cartersville
Randy Martin, Adairsville
Marcelino Mejia Lopez, Cartersville
Savannah Michaels, Adairsville
Hannah Miller, Cartersville
Sydney Mobbs, Adairsville
Spenser Moore, Adairsville
Taylor Moore, Adairsville
Andrew Morgan, Cartersville
William Nicholson, White
Rebekah Owens, Cartersville
Jacqueline Pineda, Cartersville
Abigail Ranic, Adairsville
Alyssa Ranic, Adairsville
Victoria Reed, Cartersville
Cecilia Reyes-cruz, Cartersville
Amelia Reynolds, Cartersville
Madison Rogers, Cartersville
Donna Rose, Cartersville
Joshua Rowland, Cartersville
Kyra Ruddell, Adairsville
Maria Rudy, Rydal
Vanessa Salazar, Cartersville
Veronica Sanchez, Cartersville
Matalyn Santini, Cartersville
Joshua Scott, Cartersville
Misty Smalls, Cartersville
Jennifer Smith, Adairsvville
Sydney Smith, Cartersville
William Smith, Cartersville
Victoria Stafford, Cartersville
Kaitlyn Stewart, Cartersville
Katherine Sullivan, Adairsville
Sarah Thorne, Cartersville
Amiee Truett, Taylorsville
Amber Turner, Euharlee
Michael Walker, White
Christina Wilson, Cartersville
Brandy Wise, Cartersville
Ashton Wood, Cartersville
Kayla Wooten, Cartersville
CARROLL  
Hanna Brock, Carrollton
Heather Duffey, Carrollton
Daniel Holland, Villa Rica
Jennifer Hudson, Carrollton
Micala Kruse, Villa Rica
Sasandra Maceus, Temple
Savanna Parker, Villa Rica
Haleigh Stone, Villa Rica
CHATHAM  
Christina Kuhaneck, Savannah
CHATTOOGA  
Velvie Groves, Summerville
Mariom Lea, Lyerly
John Maddux, Summerville
Tracie Rowlls, Summerville
Julia Scruggs, Summerville
Brandy Smith, Summerville
Marie Stephens, Summerville
Daniel Witt, Trion
CHEROKEE  
Rick Atkinson, Woodstock
Karley Barnard, Woodstock
Emily Black, Woodstock
April Brown, Canton
Gavin Crouch, Woodstock
Jacob Davis, White
Jared Dearing, Waleska
Matthew Dobbs, Canton
Sophia Dorleus, Acworth
Mitchell Feltham, Waleska
Paige Fuller, Canton
Autumn Horton, Woodstock
Ashley Hudson, Woodstock
Trevor Kelly, Woodstock
Mario Magana, Canton
Marie McLean, Canton
Christian Mcelroy, Woodstock
Aaron Moore, Acworth
Heather Nesbit, Woodstock
Julia Patterson, Canton
Alexis Philips, Woodstock
Kathyrn Reid, Canton
Jared Richmond, Woodstock
Nicholas Rooks, Woodstock
Zachary Sapp, Ball Ground
Mackenzie Seay, Canton
Caleb Shelton, Woodstock
Olivia Stell, Woodstock
Mary Sturgeon, White
Jair Tolliver, Acworth
Heather Turner, Canton
Nelida Vasquez-Jimenez, Canton
Abbey Weaver, Canton
Michael Williamson, Acworth
Adalee Wiseman, Woodstock
Cassey Wyatt, Canton
Spencer Yaden, Woodstock
CLAYTON 
Kanisha Tharpe, Ellenwood
COBB  
Michelle Alberto, Acworth
Alleyna Alleyne, Kennesaw
Sarah Amandolia, Acworth
Aicha Bah, Marietta
Alexia Barrett, Kennesaw
Sierra Barrett, Kennesaw
Isjour Beasley, Kennesaw
Kristina Bennett, Acworth
Michael Boateng, Acworth
Olga Boyarshynova, Marietta
Alexandra Boyland, Powder Springs
Brenda Boyzo, Mableton
Ansley Brown, Dallas
Kaitlin Brush, Powder Springs
Marcela Calzada, Marietta
Carolina Caseiro, Kennesaw
Edward Castrejon, Marietta
Sean Combs, Powder Springs
Michael Copeland, Kennesaw
Charles Crider, Smyrna
Peyton Darling, Powder Springs
Tarik Darrar, Acworth
Tania Diaz, Smyrna
Dajah Dixon, Acworth
Jennifer Duarte, Kennesaw
Kaleb Duax, Smyrna
Vanessa Fierro, Kennesaw
Elizabeth Frye, Kennesaw
Sarah Gabriel, Acworth
Caitlin Galyon, Acworth
Eduardo Garcia, Austell
Austen Gillen, Roswell
Harriet Haisty, Powder Springs
Melissa Halleck, Powder Springs
Lauryn Haney, Acworth
Sabrina Harding, Powder Springs
Sarah Hawes, Powder Springs
Justin Hedderman, Powder Springs
Senna Houston, Marietta
Bisma Hussain, Kennesaw
Jacob Jonathas, Acworth
Keanna Jones, Austell
Nancy Keenan, Powder Springs
Maimouna Konte, Austell
Sarah Kraft, Acworth
Christina Lane, Marietta
Conner Larson, Acworth
Fortrina Louis, Acworth
Andrew Mccollum, Kennesaw
Faith Mcelvery, Acworth
Courtney Mcswain, Acworth
Whitney Mills, Kennesaw
Alexandrea Minick, Acworth
Samantha Murphy, Kennesaw
Sylvia Ossei, Marietta
Rabia Paracha, Acworth
Rukhsar Qamar, Marietta
Ashley Rabanales, Marietta
Emmerson Roach, Roswell
Henry Rogers, Marietta
John Roland, Marietta
Bernardita Ruiz Kirsinger, Acworth
Kayla Rumph, Kennesaw
Katrina Russu, Kennesaw
Madison Ruth, Kennesaw
Jenna Ryan, Marietta
Shanna Salcedo, Austell
Jeniffer Salinas, Austell
Rosalba Sanchez, Marietta
Shelby Sands, Marietta
Monize Serra, Austell
Clayton Sheasby, Marietta
Jenee Smith, Marietta
Amanda Sorejian, Acworth
Jordan Southerland, Acworth
Cailey Steinberg, Kennesaw
Tiffiany Stewart, Smyrna
Ganyuan Tan, Kennesaw
Kaylan Tenakoun, Kennesaw
Robert Tharpe, Marietta
Shayna Thompson, Marietta
Alexzundra Tillman, Austell
Angelica Torres-Ramos, Marietta
Caroline Trader, Kennesaw
Caroline Troutman, Acworth
Christofer Udave, Acworth
Cooper Uvena, Acworth
Michelle Vaccaro, Marietta
Christine Valdes, Marietta
Duliar Valladares, Marietta
Melissa Walsh, Acworth
Morgan Warren, Kennesaw
Autumn Weakley, Acworth
Carson West, Acworth
Chandler West, Acworth
Daqualen Wilkins, Marietta
Dominick Workman, Acworth
COWETA  
Sarah Mason, Sharpsburg
Caleb McElwaney, Newnan
Daniel Mccumber, Newnan
Sam Sowerbrower, Sharpsburg
DEKALB 
Kyle Keas, Atlanta
Mira Khiyayeva, Atlanta
Joshua Swanson, Stone Mountain
DOUGLAS  
Christopher Aguirre, Douglasville
Eneida Alvarez, Douglasville
Andrew Barrett, Winston
Brianna Bowman, Douglasville
Elizabeth Edwards, Villa Rica
Chadwick Flanigan, Winston
Bianca Haskins, Douglasville
Nicolette Kelley-vargas, Douglasville
Heather Leahey, Winston
Jana Leibbrand, Douglasville
Alexandrea Martinez, Douglasville
Vitaliy Molokvas, Douglasville
Kathryn Noble, Winston
Teah Quinones, Douglasville
Jessica Robinson, Lithia Springs
Evan Sabin, Villa Rica
Rachel Sagesse, Douglasville
Sara Schulmeister, Douglasville
Khyle Sorhaindo, Douglasville
Shemika Steele, Douglasville
FAYETTE  
Summer Alexander-Collier, Jonesboro
Brandon Bell, Fayetteville
Travis Kuebler, Peachtree City
FLOYD  
William Ajanel, Rome
Emily Allmon, Rome
Cameron Atkinson, Rome
Breanna Beavers, Plainville
Emily Blalock, Rome
Brittanie Bonds, Cave Spring
Corey Bowers, Silver Creek
Kathryn Bryant, Rome
John Burchett, Rome
Rachel Cargle, Rome
Lydia Chandler, Armuchee
Maria Elena Cisneros Reyes, Rome
Daniel Clark, Silver Creek
Mackenzie Cochran, Rome
Abigail Cummings, Rome
Diann Davis, Rome
Jacqueline Davis, Rome
Rodney Dillard, Silver Creek
Erin Dyer, Rome
Diana Fain, Rome
Areeba Farooq, Rome
Andrew Floyd, Silver Creek
Briana Funtukis, Rome
Wesley Godfrey, Rome
Hannah Green, Silver Creek
Maoulene Guerrero, Rome
Ricardo Guijosa, Rome
Justin Hart, Rome
Emily Haynes, Rome
Cailee Hix, Rome
Kirstin Holmes, Cave Spring
Tiffany Jacobs, Silver Creek
Hannah Johnson, Armuchee
Holli Jones, Armuchee
Karleigh Jones, Armuchee
Sanne Kramer, Rome
Guadalupe Leon, Rome
Nicholas Lind, Rome
Megan Lowry, Rome
Giselle Luna, Rome
Abner Magana, Rome
Mary Masters, Rome
Nathan Meadows, Cave Spring
Margaret Meyers, Rome
Kallie Minter, Armuchee
Cynthia Miranda, Rome
Lauren Mitchell, Rome
Arminda Morales, Rome
Bethany Mostella, Rome
Charles Oswalt, Rome
Rebecca Outlaw, Silver Creek
Noah Payne, Rome
Nancy Perez, Rome
Kimberli Peru, Rome
Laquisha Pillow, Rome
Abigail Ramos, Rome
Shelby Rhinehart, Rome
Christopher Rhodes, Silver Creek
Devin Rhodes, Rome
Erika Rickman, Rome
Kerri Rogers, Rome
Leah Rowell, Rome
Destiny Runyan, Rome
Anna Schreier, Rome
Ethan Sentell, Rome
Robert Seymour, Rome
Jason Shedd, Rome
Jared Shelton, Rome
Reannah Smith, Lindale
Samantha Tate, Armuchee
Miles Threadgill, Rome
John Turner, Rome
Cynthia Ulrich, Kingston
John Yancey, Shannon
Makaylah Young, Silver Creek
FULTON  
Emily Aseff, Atlanta
Christian Crabtree, Atlanta
Charles Faulkner, Atlanta
Rasia Reeves, Atlanta
Conner Scott, Roswell
GILMER  
Alissa Hanson, Ellijay
GORDON 
Tiffany Chastain, Fairmount
Leslie Gaddy, Plainville
Ana Garcia, Calhoun
Jody Jameson, Plainville
Teasa Lewis, Calhoun
Maria Martinez, Calhoun
Yesenia Palmerin, Calhoun
Maria Palmerin Palmerin, Calhoun
Johan Santizo, Calhoun
Logan Wilkins, Fairmount
Alexis Young, Calhoun
GWINNETT  
Tamarka Ferron, Lawrenceville
Noah Magner, Stone Mountain
HARALSON  
Elizabeth Ceballos, Temple
HENRY
Geraiya Black, Mcdonough
Pamela Diokpara, Mcdonough
JONES 
Casey Dudley, Gray
PAULDING  
Austin Ainsworth, Dallas
Chandler Albrecht, Hiram
Madelyn Appleby, Douglasville
Vivian Assis, Dallas
Emma Atcheson, Dallas
Christopher Balkema, Acworth
Andrea Baskin, Temple
Marie Bauer, Dallas
Mitchell Begg, Dallas
Michael Bettikofer, Dallas
Leah Booth, Acworth
Jordan Bowzard, Douglasville
Tabitha Boyd, Dallas
Christopher Boze, Dallas
Jason Bragg, Dallas
Koryna Briggs, Dallas
Brooke Brunson, Dallas
Maxxi Bryant, Dallas
David Burgos, Dallas
Amanda Burnette, Douglasville
Kelly Burns, Dallas
Jessica Burrand, Dallas
Megan Butler, Dallas
Caroline Callihan, Dallas
Celestina Carrillo, Dallas
Mackenzie Carroll, Acworth
Ansleigh Chambers, Powder Springs
Marisa Chavarria, Dallas
Alyssa Chumley, Dallas
Katie Clayton, Acworth
Cynthia Comi, Dallas
Thaynara Costa, Dallas
Katie Cox, Hiram
Candace Craig, Douglasville
Trevor Downs, Douglasville
Desiree Edwards, Dallas
Amanda Friend, Rockmart
Ashley Galderise, Dallas
Paige Garmon, Powder Springs
Madeline Graben, Dallas
Blake Green, Hiram
Jose Guerra, Douglasville
Chandler Harris, Dallas
Spencer Harris, Dallas
Katie Hartman, Dallas
Jade Hawkins, Dallas
Allie Hayes, Temple
David Hill, Douglasville
Crystal Hogsed, Dallas
Stacey Holcomb, Rockmart
Ashley Holland, Dallas
Hannah Ingalls, Dallas
Tatyana Jackman, Hiram
Mollie Jackson, Dallas
Madison Jett, Dallas
Jason Johnson, Dallas
Amber Jones, Hiram
Lyndsey Jones, Dallas
Erin Keeney, Dallas
Latonya Kilgore, Dallas
Andrea Kuykendoll, Dallas
Brandon Leckie, Douglasville
Alysyn Long, Hiram
Sharmell Mahadeo, Rockmart
Michael Mathis, Rockmart
Renee Matthews, Rockmart
Matthew Mcbride, Acworth
Catherine Miller, Hiram
Breanna Moore, Dallas
Katherine Moore, Dallas
Carlos Morgan, Hiram
Cierra Morris, Douglasville
Wesley Myers, Dallas
Taylar Nall, Dallas
Jenna Newman, Acworth
Tamara Osborne, Hiram
Cassy Pierre, Douglasville
Mason Raiford, Rockmart
Madison Rhodes, Acworth
Luke Rigby, Powder Springs
Micaiah Roberts, Dallas
Toni Rock, Dallas
Johnathan Rogers, Dallas
Claire Rosser, Douglasville
Cheryl Sacristan, Acworth
Mergita Sadiku, Dallas
Miranda Sandoval, Dallas
Lauryn Shumate, Acworth
Brittany Smith, Dallas
Kassandra Smith, Dallas
Tayler Smith, Dallas
Austin Snipes, Douglasville
Kendra Stansbury, Dallas
Zachary Thrasher, Powder Springs
Valerie Tonkin, Dallas
Jessa Ward, Douglasville
Tiffany Watson, Dallas
Cameron Watts, Acworth
Brittany White, Dallas
Rebekah White, Dallas
Baylee Williams, Dallas
Haley Williams, Dallas
Mercedes Williams, Dallas
PICKENS 
Sasha Milks, Jasper
POLK  
Hunter Adkins, Cedartown
Rebecca Argo, Aragon
Brooklyn Barron, Cedartown
Sydney Blackmon, Cedartown
Macie Campbell, Rockmart
Lisandro Chavez, Cedartown
Nancy Cruz, Cedartown
Melissa Flores, Cedartown
David Goicochea, Cedartown
Holly Gosdin, Rockmart
Meghan Guice, Cedartown
Ashley Hawkins, Cedartown
Damaris Hunger, Cedartown
Cody Lumpkin, Taylorsville
Joy McCulley, Cedartown
Ann Merritt, Cedartown
Judy Olvera, Cedartown
Morgan Pruitt, Rockmart
Kasey Quick, Rockmart
Kimberly Sanchez, Cedartown
Justin Smith, Rockmart
Jennifer Tomlinson, Aragon
Tristan Walker, Cedartown
Regan Whitaker, Rockmart
Caleb Wilder, Rockmart
Catlynn Williams, Rockmart
Guadalupe Zarate, Cedartown
ROCKDALE  
Israel Zackery, Conyers
SEMINOLE  
Evan Hall, Donalsonville
WALKER  
Hannah Parrish, Rock Spring
KENT – MI  
Aaron Green, Wyoming
FAIRFIELD  
Emilee Brussee, Lancaster, OH
DENTON – TX
Kaylee Gauntt, Oak Point
PHOTO: Students from the most recent Honors Assembly hold up various awards.