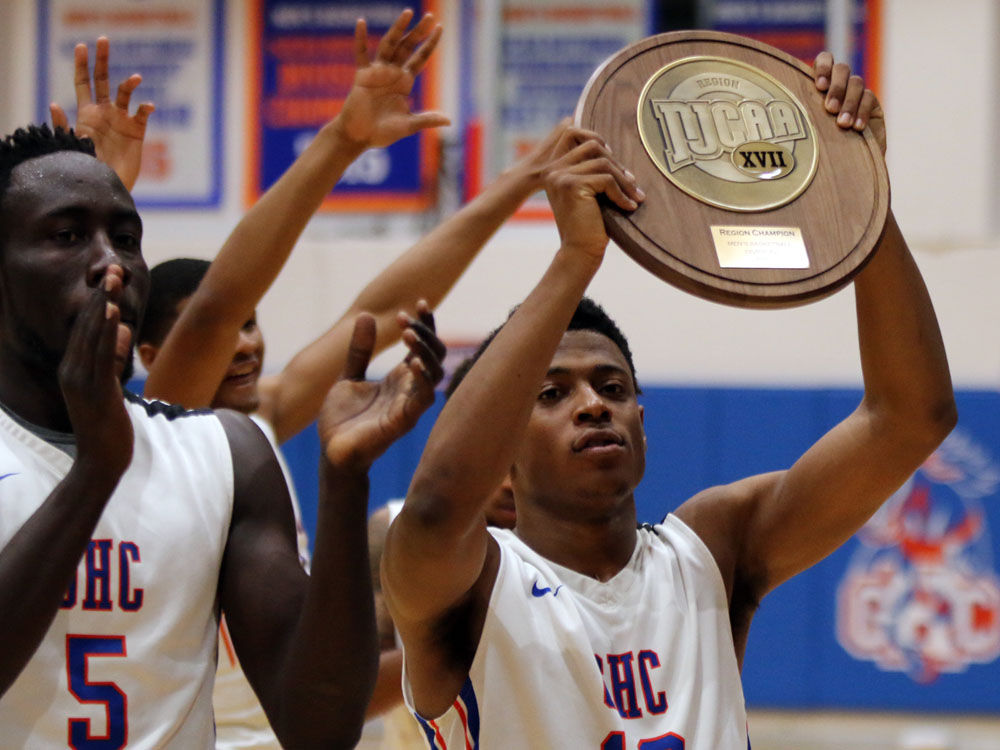 Whether it was the opening tip, just before halftime or in the final minute of Saturday's region championship game, the Georgia Highlands Chargers were going to run.
It is the same style that coach Phil Gaffney has implemented since he came to Georgia Highlands.
And it's the style that has earned the Chargers three straight years of dominance in the Georgia College Athletic Association.
"It is up and down, kind of crazy basketball," Gaffney said. "It is crazy but that's how we play, and it certainly has been pretty successful for us."
Georgia Highlands kept up that pace on their home court Saturday afternoon, pulling away in the first half and cruising to a 99-80 win over South Georgia Tech in the NJCAA Region XVII title game. It is the third consecutive year GHC has earned an automatic bid to the national tournament as the Chargers have now won 61 of their last 62 games.
GCAA player of the year Kyvon Davenport had the hot hand all night, going 13-of-14 from the field and recording 27 points and 13 rebounds. His teammates played well too, with Ty'Lik Evans scoring 19 points and Antonio Wade and Kamar McKnight each posting 14 points.
South Georgia Tech (13-20), which pulled out two upsets to reach the championship game, was led by Andre Kennedy's 22 points and Marquel Wiggins's 18 points. The Jets never wavered from GHC's track meet style, but simply didn't have the firepower to keep up.
The Chargers (32-1) didn't break away from South Georgia Tech until the midway point in the first half, when they went on a 15-2 run. The run gave GHC a 39-23 lead, and it would carry a similar 51-35 lead into halftime. Gaffney said his unit didn't change anything strategically during the run, it just stuck to its style and waited for its opponent to get weary.
"It is the same thing we always do, the pressure is just going to wear you down eventually," Gaffney said. "We put on the pressure, get some threes, get some dunks, and eventually the lead goes from two points to ten to fifteen and now the game is over."
Any big shot South Georgia Tech made was countered with a post move from Davenport or a big shot from Evans or McKnight. And as the home crowd got behind Georgia Highlands, it became clear in the final 10 minutes that the title was theirs.
"We just have to stay focused play our game and make sure we control things," Evans said of the Chargers' return to the NJCAA National Championship. "The way we play is going to produce points with the players we have. Just don't force up shots and know that those good looks are going to come with our style."
Together, Davenport and Evans would score the final 15 points for Georgia Highlands and finish as the team's top scorers. If South Georgia Tech tried to disrupt Evans up top, he would often dish the ball to an open Davenport for an easy basket.
The duo is part of the five sophomores who have now gone 66-2 in their careers at Georgia Highlands, including a run of 56 straight wins. It is a dominant run that, to Davenport, has gone by in a blur.
"It is just nothing you would ever imagine, it went by so quick, but I guess that's how it is when you're winning," Davenport said. "We came up short last season in the tournament, but I know we are coming in this season focused and we can go all the way."
The Chargers will soon be off to Hutchinson, Kansas, for the NJCAA tournament next week. Georgia Highlands has made it into the quarterfinals the past two seasons, with the team finishing in fourth place in 2015.
The team posed for pictures and cut down the nets after the game, enjoying another hard-earned win and region championship. But Gaffney and his players are all aware that this is just the start of what they want, and the real prize is in Kansas.