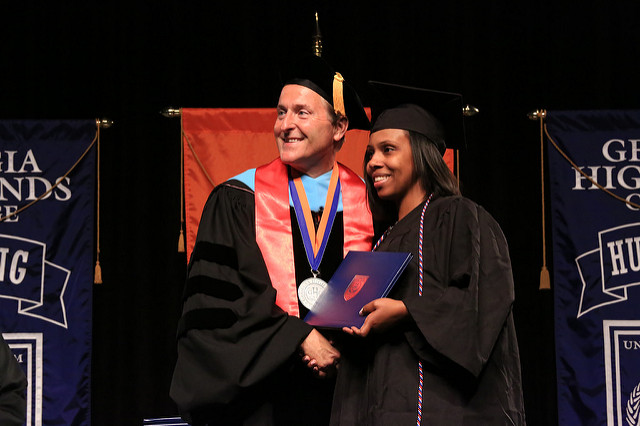 Making a quality, four-year degree program affordable to students across Northwest Georgia is the top priority for Georgia Highlands College President Donald Green.
"If we do not have the workforce, we cannot attract the business opportunities that will fuel our future economic development," Green said to members of the Rome Rotary Club during Thursday's meeting.
Green said the need to contain costs for obtaining a degree is critical to GHC.
"Twenty percent of our students who ultimately fail to pay their tuition and continue (their studies) is for a debt of $200 or less," Green said.
A student can receive a full associate degree at GHC for a total of $7,600 and a four-year bachelor's degree for $15,400.
GHC offers four-year degrees in nursing, dental hygiene, logistics and healthcare management.
Green said the college is in the process of seeking to add four-year programs in medical laboratory sciences and computer and information systems. The latter program would offer certification in multiple areas of computer technologies.
Green said personal health analysis is becoming a more important part of the healthcare delivery system every day.
"We're going to need more lab technicians to analyze genetics," he said.
An initiative to use open-access textbooks — available under open copyright licenses — has saved GHC students just short of $1 million over the last two years. He told the civic group that he chose an e-textbook for his own business law class.
He reminded Rotarians that the University System of Georgia bases its funding formula on enrollment, and usually on a delayed process over of a period of years.
That means that even though enrollment is up this year about 20 percent from three years ago, funding is down about 10 percent because enrollment decreased two and three years ago.
"This is the winter of our discontent," Green quipped.
The good news: Funding for GHC should increase in the future.
"We still need to increase enrollment and continue (physical) upgrades on the Floyd campus," Green said. "Floyd deserves more and it needs to get more."
AS SEEN IN THE ROME NEWS-TRIBUNE: http://www.northwestgeorgianews.com/rome/news/education/ghc-president-donald-green-says-college-degrees-must-be-affordable/article_bab37610-e9d4-11e6-b4af-4b41d70acfa2.html