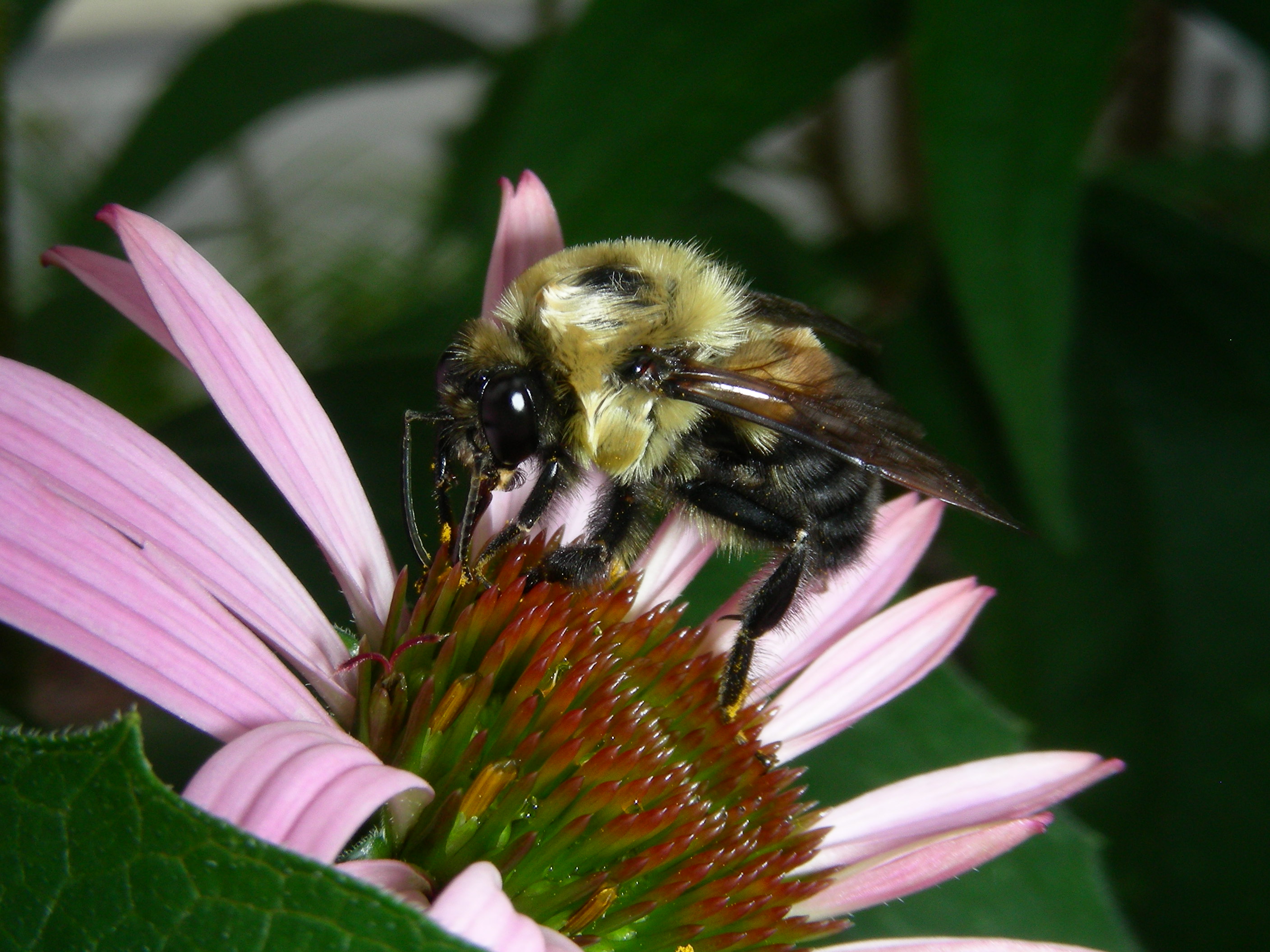 In the middle of an area surrounded by concrete and asphalt sits a flower garden designed as a refuge for butterflies, hummingbirds, bees and other pollinators that need a place to refuel.
Situated behind the academic building on Georgia Highlands College's Cartersville campus is a 300-square-foot pollinator garden started in May 2013 after one of Dr. Jackie Belwood's students brought her a hummingbird that had fallen from the sky.
"This was during a time when the hummingbird would have been migrating," Belwood said. "Those little hummingbirds are going to travel 800 miles between northern areas and warmer climate. Some of them will go as far as Mexico or the Caribbean."
The associate professor of biology knew what the problem was — the college was located in a spot where native vegetation used to be, and without flowers and other plants that were once more common, the hummingbird couldn't find a place to stop and eat on its journey to its winter home.
The incident led to the birth of the pollinator garden, a joint project between GHC's Green Highlands student environmental club, Greater Atlanta Pollinator Partnership and Keep Bartow Beautiful.
The original garden consisted of three 4-by-8 and three 4-by-4 raised beds, but more beds were added during the summers of 2014 and 2015. It contains such pollinator-attracting flowers as black-eyed Susan, blazing star, bronze fennel, erect goldenrod, giant purple hyssop, lantana, New York ironweed, passion flower and trumpet honeysuckle as well as various varieties of salvia, sage, aster, milkweed, sunflower and mint.
"From an ecological point of view, it constitutes its own small but thriving ecosystem in the middle of a biological desert of large tracts of manicured lawn surrounded by buildings, concrete sidewalks and asphalt roads," Belwood said. "Anyone who looks at the garden, myself included, is continually amazed at the large number of insects buzzing around the garden on warm afternoons or mornings. This is all the more striking considering the ecologically barren environment in which the garden is located."
The native and non-native flowers — mostly perennials — bloom from spring to frost, and some species like the butterfly bush and lantana bloom for four or more months, Belwood said.
"Most produce flowers for adult pollinators, while others — [for example] copper fennel, passion vine, milkweed — are host plants for immature forms such as the caterpillars that develop into butterflies and moths," she said.
She added the garden contains locally grown flowers rather than "fancy new varieties of flowering plants available at big-box stores" that are interesting to look at but do not attract pollinators.
The garden has been successful in drawing pollinators into it, attracting such species as bumblebees, native bees and butterflies, which are all declining in number, as well as moths, flies, beetles and ruby-throated hummingbirds, Belwood said.
"It's amazing the huge number of pollinators it attracts," she said. "Every time I see them, I think about that initial hummingbird and how it all started. I'm happy to say we have become a fuel station on their migration highway.
"We had tremendous reproduction of Gulf fritillary butterflies — from caterpillars — this past summer. Also many clear-winged hawkmoths. Monarch butterflies used the garden during fall migration as a refueling station on their way to overwintering grounds in Mexico. The garden is also home to a large number of predatory insects and spiders that rid the garden of potential pests. We don't use pesticides."
She added the gardeners are "far more interested" in attracting native insects than honey bees, which are European honey bees that have been "domesticated."
"It should be noted that anything we do to protect native species will also help protect honey bees, which most people know are in decline," she said.
The garden is doing so well that it's being featured in a 30-minute PBS special on pollinators called "Growing a Greener World," which was filmed in September and will air next spring.
"I was thrilled that PBS ... wanted to film the garden," Belwood said. "I was happy with how the filming went. The crew spent half a day at GHC and another half day in my garden at home [in Acworth] and at Smith-Gilbert Garden in Kennesaw."
Besides providing a haven for valuable insects, the garden is being used to "educate our students, faculty and staff about the importance of pollinators and pollinator gardens," Belwood said.
"The garden also has the potential to serve as a small, outdoor, hands-on laboratory and research space for anyone interested in science or an inspirational space for anyone interested in nature," she said.
On a bigger scale, "we want it to serve as a model for how individuals and other organizations in northwest Georgia can engage in pollinator conservation," Belwood said.
"In terms of pollinator conservation, it is encouraging to think that even a small plot of flowers and insect host plants, such as provided by our garden, can have a positive impact on a local scale," she said. "Our vision is to encourage others to create similar environments in a multitude of locales. Working together, we can do a great deal to help conserve pollinators one garden at a time."
Belwood's interest in pollinator conservation sprang from her lifelong interest in insects, which led to her earning a doctorate in entomology.
Before coming to GHC, she said she was "heavily involved in the conservation of natural resources, which include pollinators — bees, butterflies, moths, other insects, hummingbirds, nectar-feeding bats in the tropics, etc. — and their habitats."
"In recent years, pollinator populations have experienced serious declines as a result of habitat loss, overuse of pesticides and climate change, including drought, and I want to do everything I can to reverse those trends," she said. "Education is key in all of this."
The effect of pollinators on agriculture, Georgia's largest industry, is another reason Belwood said she wants to help conserve them, "given that one-third of all the food we eat is the direct result of the action of pollinators," she said.
"Pollinators help two-thirds of the world's crop species reproduce," she said. "I look at pollinator conservation in the light of protecting our food supply."
AS SEEN IN THE DAILY TRIBUNE NEWS: http://www.daily-tribune.com/newsx/item/6826-ghc-s-pollinator-garden-featured-in-pbs-special