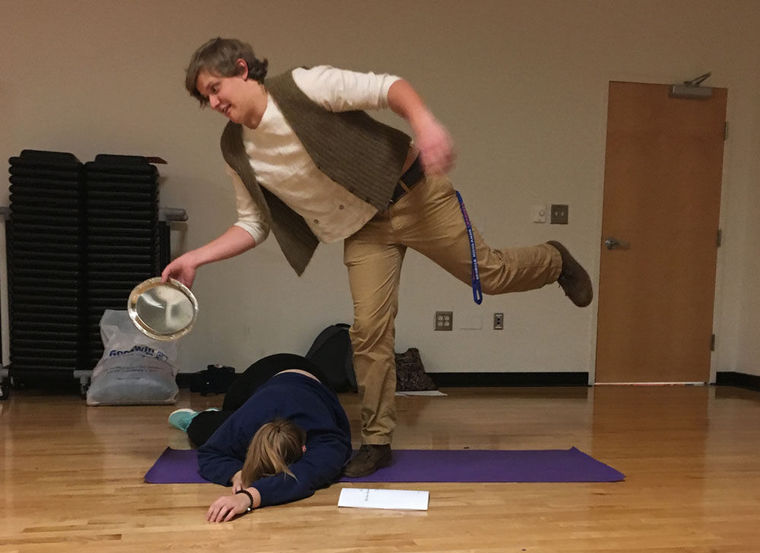 Students at Georgia Highlands College are offering a little mayhem and murder with a holiday theme during the college's upcoming mystery dinner theater.
"Murder Under the Mistletoe," a medieval murder mystery written by, directed by and starring GHC students, will start Dec. 16 at 6 p.m. at Heritage Hall, 415 E. Third Ave.
Tickets for the dinner and show cost $15 for students, both in high school and college, and $20 for adults. The price includes a meal of salad, turkey legs, mashed potatoes, vegetables and a dessert. There also will be a vegetarian option for the entree.
"We tried to stick with a medieval theme and decided turkey legs would fit," explained Bryce Pitts, member of the GHC Players and co-writer of the script.
To make sure the caterer has enough food, the deadline for purchasing tickets is Dec. 12. Tickets may be purchased through a link on the GHC Players' Facebook page or by emailing Pitts at bpitts1@student.highlands.edu.
The GHC Players just started this year, Pitts explained, because so many students at GHC wanted to participate in the arts.
"It is hard at a community college to have a big arts program," she said. "We wanted to show that there is a lot of talent at Georgia Highlands."
The dinner theater is being put on as a fundraiser for the Players, Pitts said.
"We had a group of people at the school who get together and sing," she continued. "We were singing carols one day and thought it would be fun to perform. Then we started talking and all of these ideas came up, so we decided to write a Christmas mystery play and incorporate the carols into it."
Pitts wrote the script along with fellow student Kendalyn Millsap. The production is being directed by GHC student Autumn Townsend and the group's faculty advisor is Julie Carver.
"We are really proud of the fact that students are able to write and direct the production," Pitts said. "It's completely student-driven."
The play tells the tale of King Androse and Queen Rosalind who want to marry their daughter Princess Juno to a prince. They enter into an agreement with another kingdom they've been feuding with and agree to a party at Christmas time.
"Suddenly, something goes very wrong and someone is murdered on Christmas Eve," Pitts shared. "The Royal Fool takes the audience on an adventure trying to find out who the murderer is."
The Fool breaks the fourth wall of the production and narrates the action, she added.
Right before dessert, cards will be passed out to the audience, who will be asked to write down who they think is the murderer. After dessert, the truth will be revealed.
The Players are hoping to do another, bigger production in the spring, Pitts said. "This dinner theater will help us fund that," she said.
Students from two of GHC's five campuses comprise the group, with the production being manned by Floyd County and Cartersville students.
"If we have a good response, we hope to keep doing this," Pitts said. "We hope to make this a tradition and expand the arts programs at the school."
AS SEEN IN THE ROME NEWS-TRIBUNE: http://www.northwestgeorgianews.com/rome/news/local/ghc-players-to-offer-dinner-and-a-show/article_343ac3ac-b9f7-11e6-9c50-7fdc0760498b.html