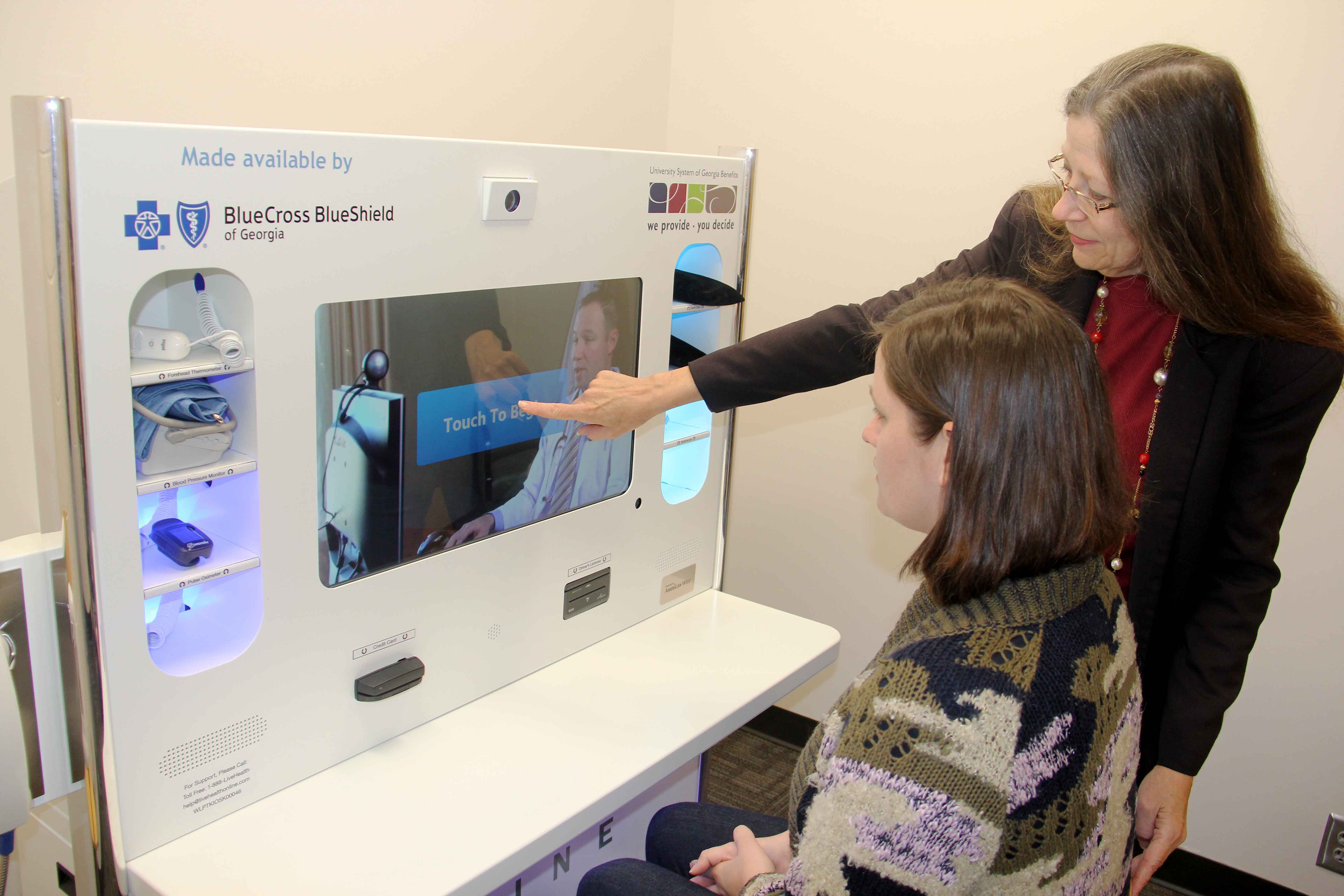 Georgia Highlands College has joined eight other University System of Georgia colleges in launching a system-wide pilot for LiveHealth Online Kiosks, a live two-way video machine with a board-certified doctor.
In 10 minutes or less, employees/students can see a physician for things like cough, cold, flu, sinus infections, urinary tract infections and so on. The doctor can answer questions, check vitals, make a diagnosis, provide treatment and even write a prescription, if needed.
The Kiosk has a touchscreen and phone. It also has several attachments, including a forehead thermometer, blood pressure monitor, pulse oximeter, stethoscope, otoscope, derm camera and scale, as well as a hand sanitation center for use before and after interacting with the Kiosk.
LiveHealth Online reports that 80 percent of consumers surveyed who have used the system stated they saved two or more hours by using LiveHealth Online and were able to completely resolve their medical issue.
The LiveHealth Online Kiosk costs $49 per visit, or if you have BlueCross BlueShield, the equivalent of an office visit copay.
Currently, GHC has only one Kiosk for use on the Floyd campus to help launch the pilot program.
Vice President for Human Resources Virginia Siler explained the installation of the Kiosk comes on the heels of GHC's proactive interaction with the system office on well-being initiatives for the college.
"We [GHC Human Resources and President Don Green] have been instrumental in the creation of well-being challenges between the USG institutions, which the system office has coordinated as pilots," Siler said. "Our initiative and support of these challenges for the past 12-plus months has, in part, resulted in the opportunity to pilot a LiveHealth Online Kiosk. We are constantly looking for ways to enable our students and employees to live healthier, happier, more active and productive lives. It is part of the culture at GHC."
PHOTO: Human Resources Coordinator Emily Farmer demonstrates the new LiveHealth Online Kiosk at Georgia Highlands College to Senior Administrative Assistant Lindsay Little.