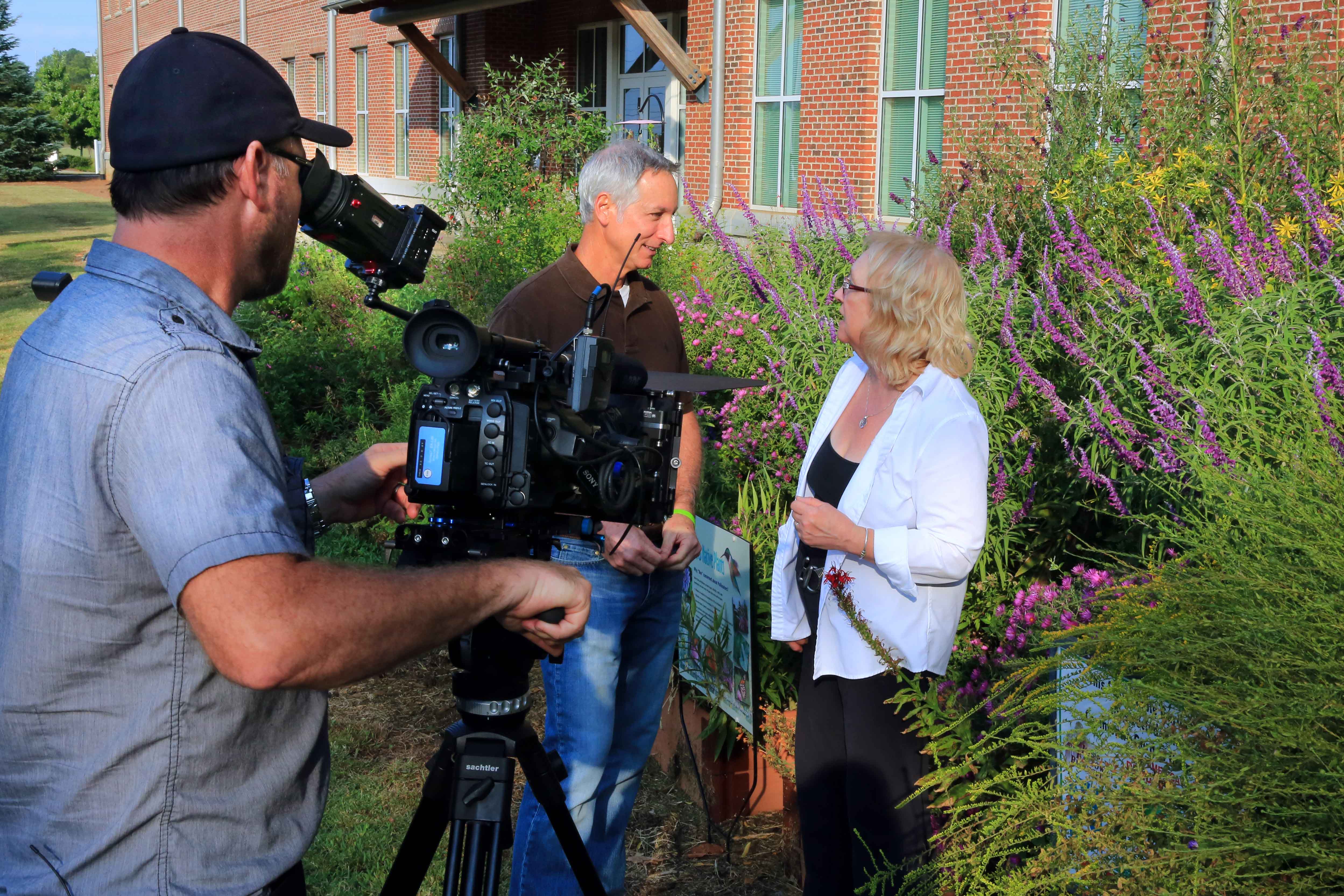 The 250-square-foot garden sits right in the middle of a lawn between asphalt, a parking lot and a major highway at the Georgia Highlands College Cartersville site. But the pollinators don't mind the busy world around them. They are too busy in their own little world. Butterflies, caterpillars, bees, and more all give movement to the purple and yellow flowers.
Belwood says the morning is just as busy as the afternoon, as she points out a bee with a yellow coat of pollen on its back digging around the inside of a flower.
Four years ago, a student walked into Jackie Belwood's office at the Georgia Highlands College Cartersville site with a hummingbird in her hands. The student explained how she had watched the bird fall from the sky on her way to class.
"This was during a time when the hummingbird would have been migrating," Belwood said. "Those little hummingbirds are going to travel 800 miles between northern areas and warmer climate. Some of them will go as far as Mexico or the Caribbean."
It was clear to Belwood what the problem was: the college now sits where native vegetation used to be, and in the absence of flowers and other plants that may have once been more common, the hummingbird couldn't find any place to stop and eat on its journey south.
What's worse is this wasn't the first time this had happened.
"It was just bothering me," she said. "There was nothing for them to feed on outside. They are such small animals and they are on such a limited energy budget, I finally said, 'That's it. Not on my watch.'"
Belwood met with student group Green Highlands that same year and together they created a pollinator garden with raised beds and perennial plants.
Meanwhile, Belwood was also working with her husband on a large-scale project they would eventually call the Greater Atlanta Pollinator Partnership.
"We were very concerned about the fact that wild habitat is being lost around the country due to development and all kinds of other things," she said. "Pollinators are taking a pretty big hit, because when you take places that used to have plentiful plants and flowers and native vegetation and turn it into parking lots and lawns and things like that, wildlife and pollinators don't have a place to go."
Belwood stated this is a growing concern, given one-third of all food we eat is a result of the action of a pollinator.
Belwood said she and her husband were originally tasked to sponsor a single garden, but they came to a consensus that one garden just wasn't enough.
"We drew a 25-mile radius circle around Atlanta, and we said we should be looking at a space like this for a pollinator conservation program," she said. "We knew it had to be a pollinator partnership."
From that, the Greater Atlanta Pollinator Partnership was born. It now holds a number of partners in the Greater Atlanta area who are all working to combat the growing problem of decreasing pollinators.
"We have a tendency to think of honey bees as the sole pollinators, but it's not just honey bees. Pollinators by-and-large are in trouble," Belwood said. "If you look at the billions of dollars' worth of crops that are pollinated by these things, a lot of growers are extremely concerned. The almond crop farmers in California truck in bees from other states to service the almonds. Bees are moving around the country from place to place in trucks, and that's common practice now."
Belwood explained this is a very poor short-term solution.
"The long-term problem is we will begin to see a lack of food, and then food prices will go way up," she said. "If you start to look at all the things you really like to eat, like fruits and vegetables, spices, coffee, herbs—those all need pollinators."
The Greater Atlanta Pollinator Partnership has slowly become a model for how to promote pollinators on a very large scale. In 2015, Belwood, her husband and others earned a Conservation Award for their efforts in urban pollinator conservation in Georgia by Wings Across the Americas.
More recently, a PBS special called "Growing a Greener World" featured Belwood and the pollinator garden at GHC.
Belwood notes although the pollinator conservation effort is growing in Georgia, more focus should be given to these issues. And the seven-year GHC associate professor of biology added, it doesn't take a lot to help make a big difference for pollinators near you—just look at the pollinator garden at GHC.
"We've added more beds over time," she said. "It's amazing the huge number of pollinators it attracts. Every time I see them I think about that initial hummingbird and how it all started. I'm happy to say we have become a fuel station on their migration highway."
PHOTO: A PBS special called "Growing a Greener World" features Belwood and the pollinator garden at GHC.