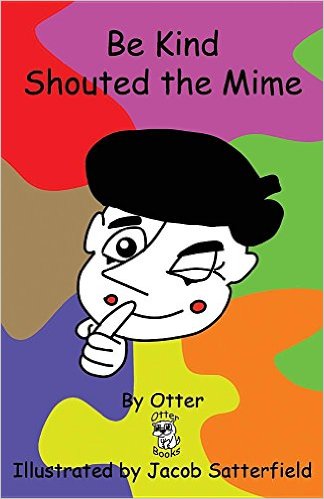 At 18, Jacob Satterfield is already a published illustrator.
The freshman at Georgia Highlands College's Cartersville campus drew the illustrations for "Be Kind Shouted the Mime" by Otter, a book that was released Monday by Yawn Publishing in Canton.
"This is the very first book I've ever illustrated," Satterfield said, noting seeing his work in print is "exciting." "I've never done something like this before. I do have to admit, I'm a bit nervous about how people are going to respond, but I'm excited to hear their feedback."
Publisher Nadine Yawn said Satterfield's illustrations are "very well-done and very effectively compliment the story."
"Be Kind Shouted the Mime" focuses on Natasha and Yauheni, two strangers who meet on a trip to the laundromat and discover they are more similar than they initially thought. They also encounter various uniquely named people from different walks of life with a wide range of interests and learn they're not that drastically different from them either.
"The book is about being kind, even when it's not easy to be kind," said Satterfield, who graduated from Georgia Connections Academy in May. "Does it cost anything to be kind? No. Do you have to go out of your way to be kind? No. Being kind is showing that you have a respect for this world and the living things that inhabit it.That's what I think the author is trying to say."
Illustrating a book wasn't something the Canton resident sought out, but he did it "because I like taking risks."
"I like living in the moment and having adventures," he said.
"When opportunity comes my way, I'm not hesitant to open the door and see what's behind. Illustrating a book just happened to come my way, and I wasn't going to let it get away from me."
Satterfield said Otter "came to me with his idea and wanted me to bring his story to life."
"We'd been neighbors for a long time, and he knew of my hobby of drawing doodles, but I'd never thought that he'd come to me with this big opportunity," he said. "When he first asked me if I would illustrate his book, I was skeptical of taking the job, but I'm happy and can't wait for my next adventure."
Satterfield, who turns 19 in January, said he had to draw "lots and lots" of illustrations for the book.
"There's some that didn't even make it into the book," he said.
But his favorite drawing is the cover.
"I really wanted something attention-grabbing and puzzling," he said. "So I took Otter's title and made a contradicting illustration. A mime shooshing doesn't really match the title of 'Be Kind Shouted the Mime.' Otter and I both agreed it was the best out of the other options I had and were very happy with it."
The book "turned out great," Satterfield said.
"I think the words really match the illustrations," he said. "I was a bit nervous about it being my first time, but I'm truly happy with it. I'm really interested to hear what others are going to say about [it], especially the kids."
Satterfield said he's taking his core classes at GHC, where he's majoring in art since the school doesn't have a theater major yet.
Once he completes his core classes, he hopes to transfer to a university where he can pursue a degree in performing arts.
"My dream is to act in films or television, but I also might want to design logos for companies or sports teams," he said.
"Be Kind Shouted the Mime" sells for $10.99 paperback and $21.99 hardcover and is available at Yawn's Books & More at 2555 Marietta Highway, Suite 103, in Canton or online at www.yawnspublishing.com, www.amazon.com and www.barnesandnoble.com. The e-book also is available at www.amazon.com and www.barnesandnoble.com.
AS SEEN IN THE DAILY TRIBUNE NEWS: http://daily-tribune.com/newsx/item/6481-new-book-illustrated-by-ghc-freshman