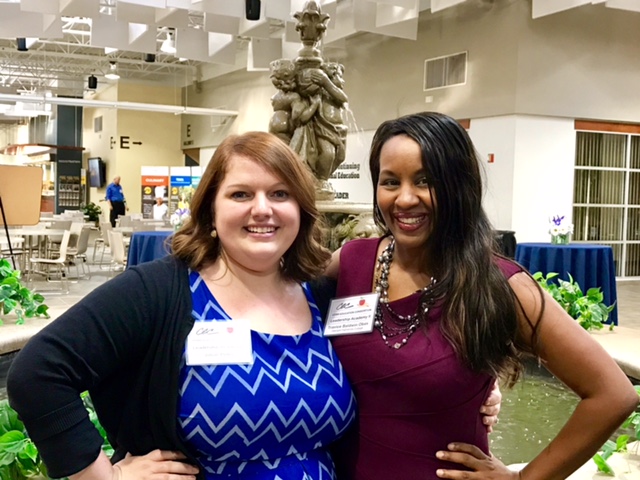 Georgia Highlands College has selected two new members to the Cobb Education Consortium (CEC) 2016-2018 Leadership Academy.
Representing Georgia Highlands College for 2016-2018 are Amy Wise, veterans affairs coordinator, from the Cartersville site and Lynzee Patrick, enrollment management specialist, from the Marietta site.
They join current GHC representatives from the 2015-2017 class, Travice Baldwin Obas, professor of communication (GHC Faculty Representative), and Jillian Petro, advisor, (GHC Staff Representative), both from the Cartersville site.
Participants in the CEC Leadership Academy are chosen at the institutional level, usually through a competitive process. The leadership academy prepares employees at member institutions for greater leadership roles in the community and the institution.
The first academy year provides participants the opportunity to network and experience a variety of seminars and presentations, retreats, school visits, governmental activities, guided readings and interaction with the CEOs. During the second year, members tackle a community based group project under the guidance of a committee of specialists, designed to further their professionalism and expertise.
The CEC consortium is composed of public educational entities in Cobb County, Georgia: Chattahoochee Technical College, Cobb County School District, Georgia Highlands College, Kennesaw State University, and Marietta City Schools. These CEC members enroll over 140,000 students from throughout their service areas.
For nearly 25 years, the CEC has been dedicated to improving the quality of education among its member institutions. The consortium is a unique, solution-based collaborative with the participating schools, colleges and universities working together unselfishly for the benefit of their students.
Cobb Education Consortium website: http://www.cobb-ed-consortium.org/