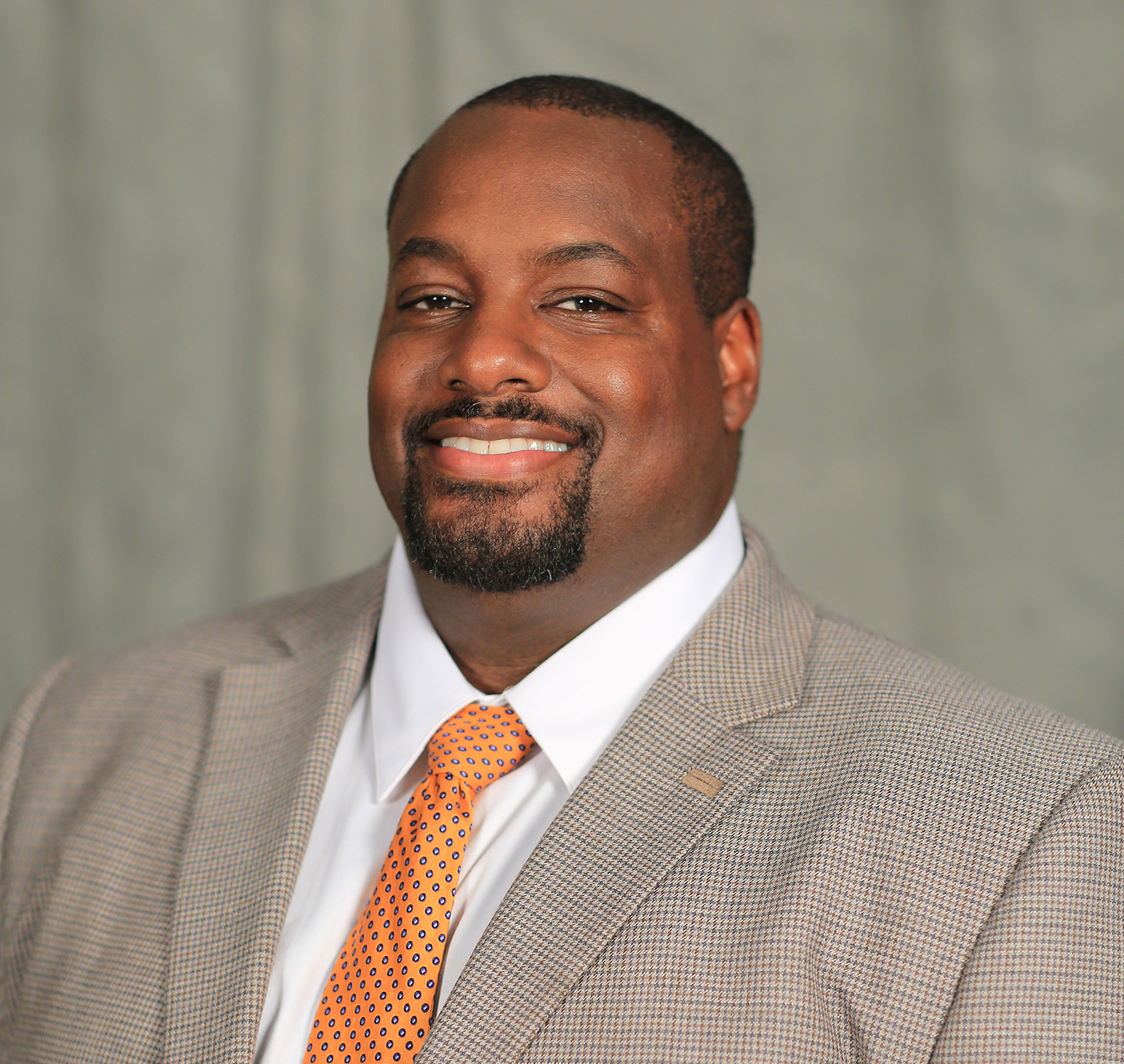 AS SEEN IN THE DAILY NEWS TRIBUNE: http://daily-tribune.com/newsx/item/6188-bartow-bio-dean-s-position-at-ghc-brought-ford-closer-to-home
Greg Ford finally got the chance to work closer to home last year.
Ford has lived in Cartersville for the past nine years and had been commuting daily to Atlanta, where he worked at Morehouse School of Medicine and was a faculty member at Morehouse College.
But in June of last year, he accepted the position of dean of natural sciences and physical education and associate professor at Georgia Highlands College's Cartersville campus.
"My wife is a surgical technologist at the Cartersville Medical Center so we made Cartersville our home," he said. "I have always had a desire to connect with the community where I live, and Georgia Highlands College was that opportunity. Since I've been at the college, I've had the privilege of working with great parents, students, teachers and administrators in Cartersville City Schools and Bartow County Schools systems."
DTN: How long have you been at Georgia Highlands, and what other positions have you held there?
GF: I've been with Georgia Highlands College for a year and two months. I originally applied as an adjunct professor, but the class did not meet that semester. Soon after, this position became available.
DTN: What did you do before you came to Georgia Highlands, and what were your responsibilities?
GF: Prior to GHC, I was a faculty member in the biology department at Morehouse College. My teaching responsibilities included general biology, comparative anatomy and neurobiology. At the same time, I ran a research lab that focuses on understanding brain injury on the molecular level. I collaborated with my postdoctoral laboratory at Morehouse School of Medicine, which was run by my older brother, Dr. Byron Ford. We worked together on a project to test a new treatment for stroke, Neuregulin-1 (NRG). Our lab discovered that NRG could prevent brain damage following stroke, even when given up to 13 hours after the stroke. We then began to test this compound on other models of acute brain injury and discovered a host of other potential uses. As a result, we have formed a biotech company, Brain-Gen LLC, with the hope of translating our research findings into commercial use, and we have produced nine U.S. patents and three worldwide patents to date. We are currently developing a partnership with a biotech company to take NRG into clinical trials for stroke. NRG is currently in FDA-approved clinical trials for heart failure and was shown to improve cardiac function in patients. It is exciting to watch this program grow, and it will be amazing to see our work actually help a human patient of stroke and other disorders.
DTN: What do you see as the most pressing issues facing GHC, and what do you think can be done about them?
GF: The most pressing issue at GHC is managing our growth. We are a multi-site institution with five physical instructional sites in Floyd County/Rome, Cartersville, Dallas, Douglasville and Marietta as well as our online instructional site. We have to ensure that we have the infrastructure, facilities, faculty and staff to serve our students so that we don't sacrifice quality for seats. As a leadership team for the college under the direction of our president, Dr. Don Green, we are keeping our fingers on the pulse of the college. We regularly meet to access growth by the numbers and work with our staff and campus deans to adjust course offerings to address this new demand. But beyond that, we talk to students, parents, community stakeholders and our team members to make certain we are making decisions that will ultimately improve student success and completion. We also want to ensure we are preparing students to transfer into four-year programs or to enter the workforce.
DTN: What do you think is/are the best thing(s) about the college?
GF: The best thing about GHC is the people. From the president to the administration, faculty, staff and students, we are truly a family. We are here for a common goal — to prepare students to live as productive members of a global society. I feel like I never truly have a bad day here. Even the challenging days are good days.
DTN: What kinds of changes would you like to see occur at the Cartersville campus in the next five years?
GF: What I would like to see is an expansion of our four-year degree offerings. GHC is a limited-access four-year college which primarily offers associate degrees. We currently offer bachelor degrees in programs including nursing, dental hygiene and business administration. I would like to see more opportunities for students in this region to complete their four-year degree here at GHC.
DTN: What trends or major changes do you see occurring in post-secondary education today, and what do you think about them?
GF: The biggest trend I see is that the term "traditional college student" is going away. With programs like Move On When Ready and adult learning programs, students are coming from all walks of life at different starting points to complete their degrees. Colleges are having to answer this call by offering more specialized courses, consider work experience for credit, look at policies dealing with minors on campus and offering more classes on nights and weekends for working people.
DTN: What is something people would be surprised to know about you?
GF: I have a huge family. My maternal grandparents had 24 children, and my paternal grandparents had 14 children. Therefore, I have 36 aunts and uncles and over 100 first cousins. We are scattered all over the world so anywhere I go, there's probably a relative there.
DTN: If you could have one superpower, what would it be and why would you want it?
GF: I'm a big X-Men fan, and I always thought Wolverine was the coolest so I want the power to regenerate, and I need that adamantium (metal bone coating).
DTN: How would you describe yourself in three words?
GF: Energetic, approachable and GREGarious.
DTN: What would the title of your autobiography be and why?
GF: It would be called "The Knee Baby: Look, I'm Down Here!" This kind of sums me up. The knee baby is a Southern term that means when there are four or more children, the one before the baby is the knee baby. You usually would see them with their arms wrapped around their mom's knees while she holds the baby. You are not old enough for anything and too old to act like a baby. You get all the hand-me-down clothes while the baby gets new stuff. I think it made me have to speak up louder for myself and taught me to appreciate what I have. It taught me to be a follower to the older brothers and a leader to the younger brother. I think this position prepared me for leadership, and also, I have never seen a book about the knee baby when the middle child has their own syndrome.
DTN: What is the best advice you have ever received?
GF: "Take time to celebrate the wins."
DTN: Do you have a bucket list, and if so, what is the one thing you most look forward to accomplishing?
GF: I want to do a Ted Talk, and I want to do a special interview with Oprah Winfrey.