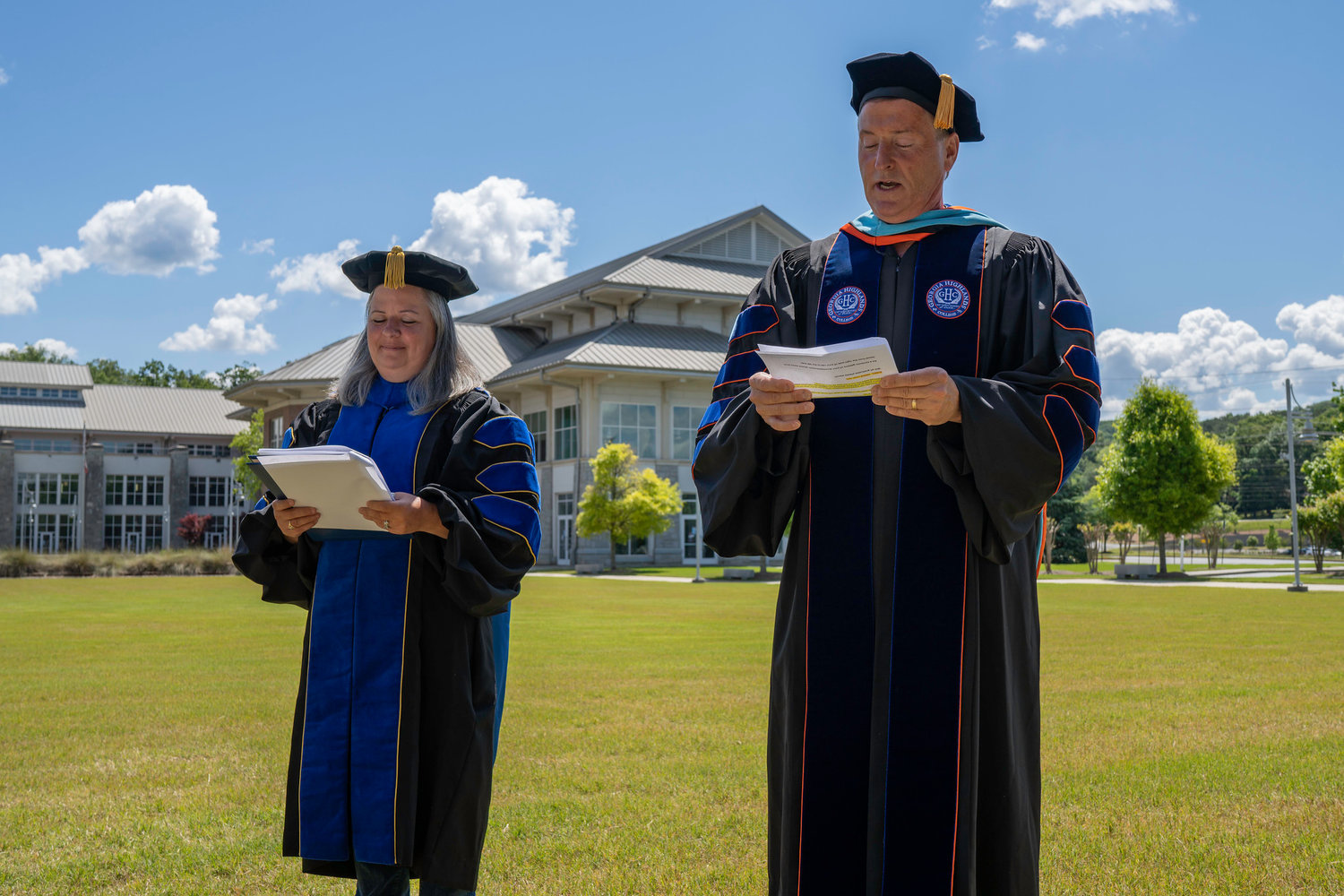 AS SEEN IN THE DAILY TRIBUNE NEWS: As Dr. Don Green prepares to take on a new role this summer, he can look back over a number of successes that have been achieved during his seven-year tenure as president of Georgia Highlands College.
Green, who came to GHC in 2014, resigned in April after accepting an offer to become the president of Point Park University in Pittsburgh.
Dr. Dana Nichols, chief academic officer and provost, will take over as interim president after Green leaves in July.
During a virtual "deskside" interview with the media Tuesday, Green and Nichols discussed future goals for and past successes of the college, particularly how graduation has become a top priority during the past five years.
"We get really hyped, really amped about graduation," Green said. "We take commencement very serious."
In 2017, the college saw a 9% increase in the number of students who graduated, the outgoing president said.
"The next year, we jumped up another 10% over that," he said. "The following year, we bumped up another 9% over that. Last year, we were up 14%, and the data isn't in yet exactly, but we know we're going to be over 14% again this year."
For the just-completed academic year, close to 1,100 students graduated during three separate commencements, he added.
Green said the college's focus has shifted since he took over as president.
When he arrived at GHC, he and his team knew the college needed to increase enrollment and "focused heavily" on recruitment the first two or three years, he said.
"But we also realized that it was very important to us that students coming in the front door needed to walk out the back door with a diploma so after about three years, we got really serious with retention and graduation numbers," he said.
As a result, the college saw "really nice, consistent enrollment growth" for first five years, according to Green.
"And then this thing called COVID hit, and it has certainly brought us challenges," he said.
But GHC decided it was a "great time to double down on a variety of strategies" like student engagement, recruiting, graduation and cost control, he said.
"We feel like we're fully loaded, ready to go back after it, and we expect that the next year will still be a bit of a challenge, but after that, we feel like we're going to be ready to really just continue our trajectory up," he said.
Green also is proud of a number of other accomplishments his team has achieved since his arrival, like saving students money on instructional materials.
"Last time we looked at the numbers, when you use as the base five years ago, we were saving our students $2.8 million in textbook costs," he said. "I'm very, very proud of that."
Nichols said the University System of Georgia's Affordable Learning Georgia program has made textbooks and other instructional materials more affordable because faculty members can create their own resources with grant assistance.
"Our faculty really jumped in wholeheartedly, recognizing that our students needed really affordable but quality instructional materials," she said. "They created a number of materials that are now being used across the nation, and they brought in over half a million dollars in grants so that they could make those affordable for students. I'm just really proud of our faculty for recognizing one of the barriers to student success and doing things to take those barriers down."
Adding more two-year programs like film production, graphic design, sports management and entrepreneurship along with increasing the number of baccalaureate programs such as a customizable bachelor's degree in health sciences is another major accomplishment of the college.
A new Bachelor of Science in building information modeling management has already been approved by USG and will go before the Southern Association of Colleges and Schools in December, according to Nichols.
"We anticipate that it will be approved there, and then we will stand it up in January, pending their approval," she said. "We're really excited about this one. I think it's going to be great for northwest Georgia."
Green said GHC has one of only two BIMM bachelor degree programs in the nation; Purdue University, a "very high-quality engineering school," has the other.
"We see tremendous growth from the opportunity toward the future and tremendous opportunity with noncredit training development as well," he said.
One highlight of the past year that has helped with rapidly developing new programs was reorganizing the college from divisions into schools.
Nichols said the reorganization has brought about "a lot of very positive things," including creating the new School of Business and Professional Studies and moving the standalone math division into the School of Science, Technology, Engineering and Mathematics.
"We're really excited about this," she said. "Each school has a separate dean and supporting division chairs to help us with our curriculum development and outreach to area employers."
But the biggest source of pride for Green is the people he's worked with the past seven years.
"I'm most proud of our faculty and staff because these are people who will run through a brick wall to help a student," he said. "I wish I could share with you the hundreds of stories of so many ways that our faculty and staff go above and beyond to help our students."
Looking to the future, both Green and Nichols said "heck, yeah, more to come" in terms of new bachelor degree programs.
"One of the more exciting ones is around data analytics and that kind of skill set in computers and data analysis but also data interpretation," Nichols said.
The final question was one Green had been waiting for: Why Pittsburgh?
Though he wasn't seeking a new position, Green said he was contacted by a recruiter and had some "intriguing" conversations about graduate and doctoral programs at Point Park.
When he discussed the opportunity with his three 20-something kids, they told him Pittsburgh is a "really cool city" so he and his wife, Cathy, visited and liked what they saw.
"It's an opportunity for me to stretch and grow, but as I say that, I will always have a very, very warm spot in my heart for Georgia and especially for northwest Georgia," he said.
LINK TO ARTICLE: https://daily-tribune.com/stories/green-proud-of-successes-during-tenure-as-ghc-president,28733?cb=1621875384