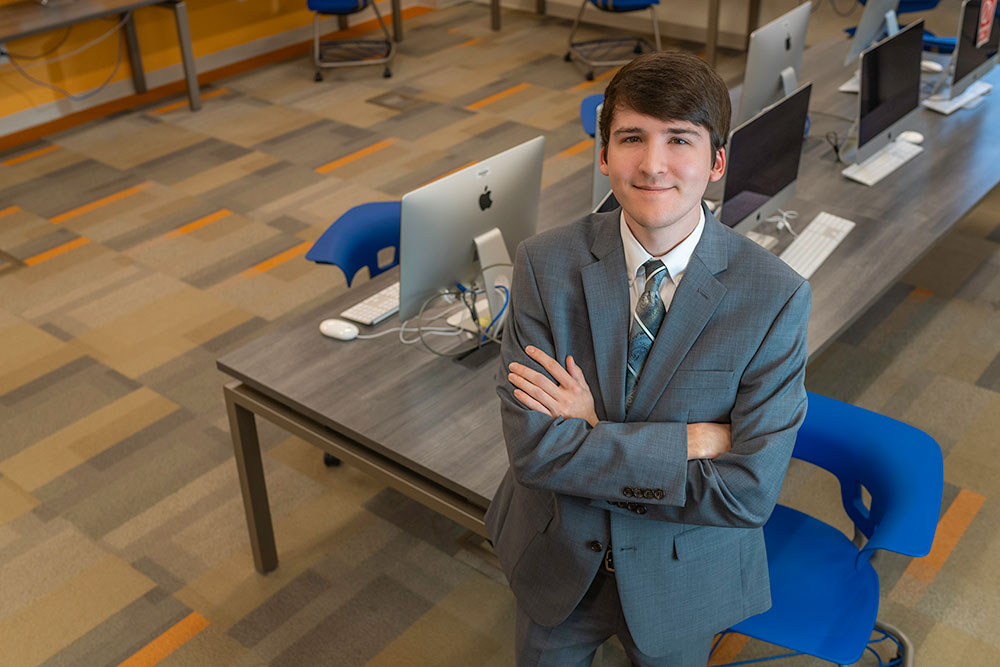 Daniel Belisle's recent internship led to work in a national competition. And for Belisle, it was an "incredibly fulfilling" opportunity to take his classroom knowledge and "apply it to a project that was viewed on a national level."
Belisle is a Georgia Highlands College (GHC) student enrolled in the Bachelor of Business Administration's Logistics and Supply Chain Management program, and he worked as an intern with a local Cartersville startup and community transportation service called URways.
He was given the opportunity to apply the skills he has learned in the classroom to a real-world setting through the internship.
"I worked on a large variety of tasks throughout the internship, but there were several things I did that stood out," Belisle said. "The first project that I worked on was helping design a PowerPoint for a national innovation competition that URways was set to participate in which contained all of the important information that investors or other interested parties needed to know about URways' unique concept."
For Belisle, helping to craft a presentation for the 2020 Shared Mobility Start-Up Spotlight competition was the most rewarding aspect of the internship.
"It was the first time that I had a project of that significance put under my control," Belisle said. "It was incredibly fulfilling to take the knowledge that I have acquired through school and apply it to a project that was viewed on a national level. I also have gained an incredible amount of comfort and familiarity in communicating in a professional setting."
He said his work with URways helped him to gain perspective on the depth of projects he will face in the workforce, such as ongoing communication with local government and business leaders.
URways founder and owner Claudia Laughridge explained that URways was one of nine top finalists invited to compete in the National Shared Mobility 2020 Start-Up Spotlight competition, in which startup companies worked to create solutions to solve transportation problems.
Laughridge said Belisle was instrumental in creating the skeleton for the PowerPoint, which was then curated and finalized by Deanna Berry, chief operating officer of McWhorter Capital and presented in competition by Claudia Laughridge.
"Daniel built the PowerPoint presentation content as well as initial structure of the competition presentation," Laughridge said. "URways competed with companies inventing battery charging stations, sensors designed to communicate with vehicles objects are in the road, specialized insurance for mobility companies providing multiple vehicles uses such as shared rides rentals, scooters and the ability to shift coverage based on usage, scooter docking stations and alternative shared ride concepts to acknowledge finalists."
Belisle lives in Cartersville and attends classes on the Cartersville site. He is a member of the Logistics and Supply Chain Management Association and serves as the organization's Student Government Association liaison.
Please visit highlands.edu for more information about GHC. Please visit lifechangingrides.com to learn more about URways.